In case you missed the memo, both Medicare and Social Security are still broken and future bankruptcy is on-target.
Program trustees just issued their 2016 public benefits "report card" and here's what they found:
"The Medicare Hospital Insurance Trust Fund will have sufficient funds to cover its obligations until 2028, two years earlier than was projected last year. Taken in combination, Social Security's retirement and disability trust fund reserves are projected to be exhausted in 2034."
And now, for another simultaneously unrealistic and comical soundbite from the Trustees:
"After Social Security trust fund depletion, annual revenues from the dedicated payroll tax and taxation of Social Security benefits will be sufficient to fund about three-quarters of scheduled benefits through 2090."
Falling bond yields haven't helped the investing public and neither have historically low equity dividend yields.
Despite all of the excited talk about how corporations are doling out a proportionately large pool of cash dividends to shareholders, the simple fact is that equity dividends, like bonds, are also depressed.
For perspective, the dividend yield on the S&P 500 was just over 5.5% in 1981 whereas today, it's near 2%.
Put another way, the current S&P 500 (NYSEARCA:SPY) dividend yield is just over 60% less compared to the early 1980s! (Trick question for mathematicians: Is a 60% income hit a lot or a little?)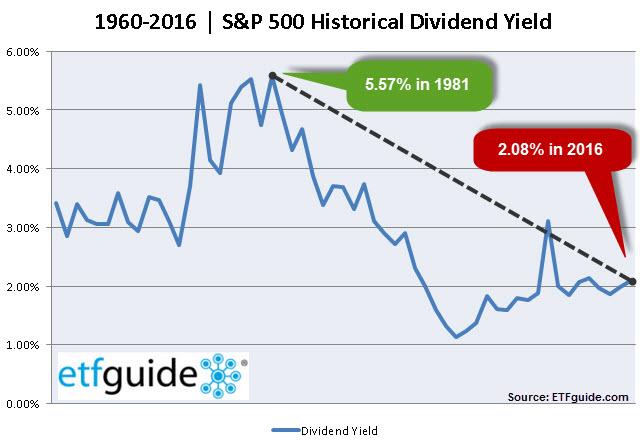 The next chart shows the target replacement income rate by household type and income level. For example, a two-earner married couple (age 65 and 62-year old spouse) making $90,000 annually requires a 78% replacement income rate.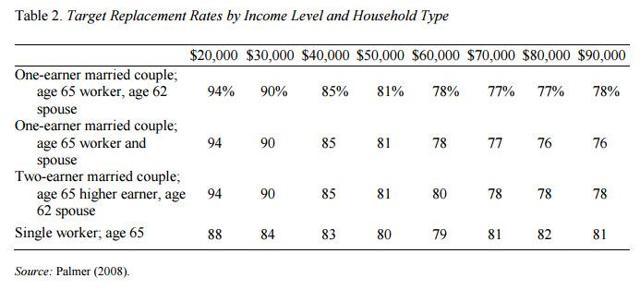 "A household is deemed prepared for retirement if their projected retirement income at a given age is equal to or greater than their target retirement income at that age," reports the Center for Retirement Research at Boston College. "One-fifth of households would fall short even if they were to delay retirement until age 70 and take a reverse mortgage."
What about the wonderful idea that people can simply work longer to fix their financial problems?
The CCR reports, "the ages at which households plan to retire are often earlier than the ages at which they will be financially prepared for retirement."
Most Americans have under-funded their retirement plans and as a result will fall badly short of every coming close to replacing an adequate portion of the income they earned during their working years.
Alternative Income Strategies
As we've repeatedly taught, architecturally sound investment portfolios have three components: 1) A core, 2) a non-core, and 3) a margin of safety.
At ETFguide.com and via our weekly podcasts, we've long recognized that Americans are facing a retirement income shortfall. And we understand it's a nationwide crisis that requires a more sophisticated approach that simply screening for the highest paying dividend stocks (NYSE:NLY), mutual funds, and ETFs (NYSEARCA:DVY) - and then vomiting out the results.
We believe individual investors already in or at retirement age should be aggressively implementing alternative income strategies inside their non-core portfolio. As stated before, these income strategies should go well beyond chasing assets or asset classes with high relative yields.
Our Income Approach
The below graph illustrates the four main tactics within our ETF Strategy Matrix. Among this group are "income" trades and investments designed to create high immediate income. (As a reminder, we believe the proper application for all of these tactical strategies is exclusively within a person's non-core investment portfolio. For example, using a non-core asset like an individual stock that's temporarily out of favor (contrarian) as a core asset or holding inside a person's core portfolio is the wrong application.)
To accomplish our mission of high immediate income, we use tactics like selling out-of-the-money call and put options. Sometimes these option sales are covered with underlying ETF positions and sometimes they aren't.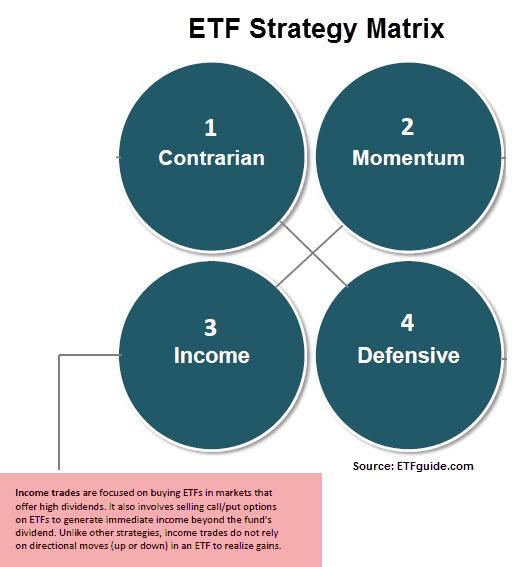 Now, let's examine two quick examples of ETFguide's income strategies and how they've worked out.
Since inception in Feb. 2012, our $100,000 hypothetical Income Mix Portfolio available to ETFguide PREMIUM members has generated $37,482 or $749 per month. The portfolio sells monthly covered calls on an all-ETF portfolio. We report the holdings and options sold so that members can follow along with monthly income trade.
The next example is selling out-of-the-money options on targeted ETFs in order to generate high immediate income.
The below table shows timestamped options trades executed at ETFguide PREMIUM for generating high income. All of the options contracts expired on June 17, but we actually collected income at the time of trade execution in April and May. In each instance, the contracts expired worthless and we pocketed 100% of the premium or income.
As you can see, the targeted ETFs were the ProShares UltraShort VIX ST Futures ETF (NYSEARCA:UVXY), the ProShares UltraShort Nasdaq ETF (NYSEARCA:QID), the Direxion Small Cap Bull 3x (NYSEARCA:TNA), and the ProShares VIX ST Futures ETF (NYSEARCA:VIXY).
The retirement income crisis isn't going away. It's already arrived and it will only get worse. Entitlement programs like Social Security are insolvent and headed for bankruptcy. Bond and equity yields are at multi-decade lows. And these far-reaching realities are forcing more people to not just re-think their income strategy, but to embrace alternative income strategies like selling out-of-the-money call and put options to boost their bottom line.
In summary, more investors, along with their financial advisors, should be employing alternative income strategies within the limits of their non-core portfolio.
Finally, the excuse these strategies are "too risky" or "too sophisticated" only apply if they are used outside of a person's non-core portfolio.
Disclosure: I/we have no positions in any stocks mentioned, and no plans to initiate any positions within the next 72 hours.
I wrote this article myself, and it expresses my own opinions. I am not receiving compensation for it (other than from Seeking Alpha). I have no business relationship with any company whose stock is mentioned in this article.