The US energy landscape is set to transform at an unprecedented pace with the rise of distributed solar. The traditional electric utility industry, in particular, should feel major downward pressure as a result of this transformation. Major electric utilities like Edison International (NYSE:EIX) and Public Service Enterprise Group (NYSE:PEG) will likely experience far greater volatility and uncertainty moving forward. The idea of traditional electric utilities being stable investments will almost certainly be challenged like never before.
The rise of large distributed solar companies like SolarCity (SCTY) and Sunrun (NASDAQ:RUN) is seriously challenging the status quo of the electric utility industry. Even regional/local distributed solar companies are starting to take market share away from electric utilities. While some electric utilities are making notable efforts to adapt to the changing energy landscape, evident in the massive electric utility and distributed solar collaboration in New York, many are doing everything in their power to fight the rise of distributed solar.
Distributed Solar Is Becoming A Serious Threat
The electric utility industry's continual attempts to get rid of pro-distributed solar policies like net metering are indicative of the industry's growing anxiety. Despite the electric utility industry's anti-solar efforts, the distributed solar trend only appears to be accelerating. In fact, distributed solar companies are starting to become serious players on the energy stage despite the fact that the industry was practically nonexistent just a few years back.
Tesla's (NASDAQ:TSLA) recent offer to acquire SolarCity only further threatens the traditional electric utility industry. If Tesla does end up acquiring SolarCity, the world's largest lithium-ion battery business and distributed solar business will all be under one roof. Considering the fact that cost-effective lithium-ion energy storage technology will be a key component to grid independence, this potential pairing should make US electric utilities terrified.
A Tesla and SolarCity pairing should only further accelerate the adoption of distributed solar. These two companies' compatible management teams (Tesla CEO Elon Musk is the chairman of SolarCity and the cousin of SolarCity cofounders Lyndon Rive and Peter Rive) should make a SCTY acquisition highly workable. Moreover, SolarCity will be able to increase its addressable market as Tesla customers will also likely find SCTY's products highly attractive. As TSLA puts it, "those who are interested in buying Tesla vehicles or Powerwalls are naturally interested in going solar, and the reverse is true as well."
Tesla also believes that its "experience in design, engineering, and manufacturing should help continue to advance solar panel technology." Given that Tesla has manufactured some of the most revolutionary technologies over the past few decades and employs some of the most capable engineers in the world, the company will almost certainly be able to contribute to the success of SolarCity. Tesla's engineering expertise should be especially helpful given that SolarCity is currently constructing one of the world's largest module manufacturing facilities.
While it is debatable whether or not Tesla benefits from this acquisition (Elon Musk himself believes that this acquisition will help TSLA become a $1 trillion company), there is no doubt that SolarCity will benefit tremendously. This puts SolarCity in an even better position to grow its customer base and take share from electric utilities.
A SolarCity and Tesla merger would pose a large threat to the traditional electric utility industry.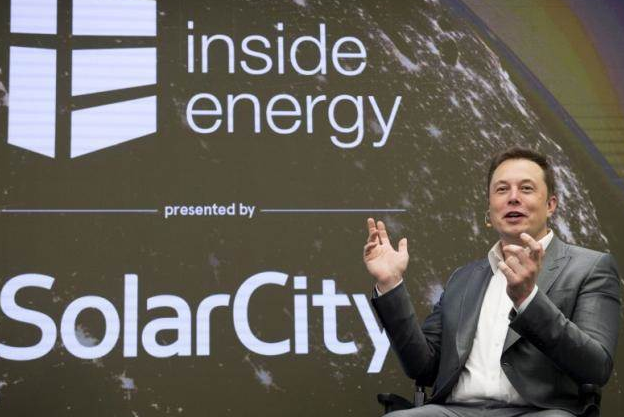 Source: NBC News
Electric Utilities Will Have To Adapt
Currently, electric utilities like Edison International can still use their grids as a means to stunt distributed solar's growth. However, the rise of battery technology will enable renewable energy companies to rely less on the grid. This means that policy battles will have less of an impact on the future of distributed solar. While truly cost-effective energy storage is still some ways off, energy storage technologies will likely progress much faster than most expect given the exponential demand growth in electric vehicles. In fact, Tesla's Model 3 smashed many pre-order sales records.
In addition to residential customers going solar at unprecedented rates, commercial customers are leaving their utilities in greater numbers. Recently, MGM Resorts (NYSE:MGM) stated that it will pay an $86.9 million exit fee to leave NV Energy as the company has an "objective to reduce MGM's environmental impact by decreasing the use of energy and aggressively pursuing renewable energy sources." This decision undoubtedly hit NV Energy hard especially considering the fact that the company has fought hard to suppress solar. In fact, NV Energy played a major role in crippling the Nevada rooftop solar industry.
It is increasingly clear that distributed solar growth will not slow down any time soon despite the efforts of utilities like NV Energy. Even if electric utilities are able to temporarily stunt rooftop solar's growth, these companies' long-term prospects are dim. Traditional electric utilities will likely be best served by adapting their business models to include distributed energy sources. Even still, these utilities will likely experience declining electricity sales moving forward. If Tesla acquires SolarCity, electric utilities like Edison International and Public Service Enterprise Group will have far more to worry about.
Traditional electric utilities should no longer be viewed as safe and stable investments given the uncertainties and challenges facing the industry. Even investors looking for high-yield investments should stay away from electric utilities given the growing risks associated with these companies. Innovative companies like Tesla and SolarCity represent the future of the rapidly shifting US electricity industry.
Conclusion
Investors should be extremely wary of major utilities like Edison International or Public Service Enterprise Group moving forward. While some utilities like Duke Energy (NYSE:DUK) and AES Corporation (NYSE:AES) are taking measures to adapt to distributed solar's rise, most are woefully unprepared for the transition. Energy investors would be much better off buying companies involved in distributed solar like SolarCity, SolarEdge (NASDAQ:SEDG), and SunPower (NASDAQ:SPWR). Even Tesla can be a great energy investment despite the fact that the company currently focuses more heavily on electric vehicles.
While Elon Musk's proposal to combine Tesla and SolarCity has generally been met with disbelief and even disdain, there is no doubt that SCTY at least stands to gain tremendously from this acquisition. Given SCTY's already sizable presence in the distributed solar industry, a more powerful SolarCity will represent an even greater threat to traditional electric utilities. It is becoming clear that traditional electric utilities will be long-term losers in the rapidly evolving energy landscape.
Disclosure: I am/we are long SCTY, SEDG.
I wrote this article myself, and it expresses my own opinions. I am not receiving compensation for it (other than from Seeking Alpha). I have no business relationship with any company whose stock is mentioned in this article.