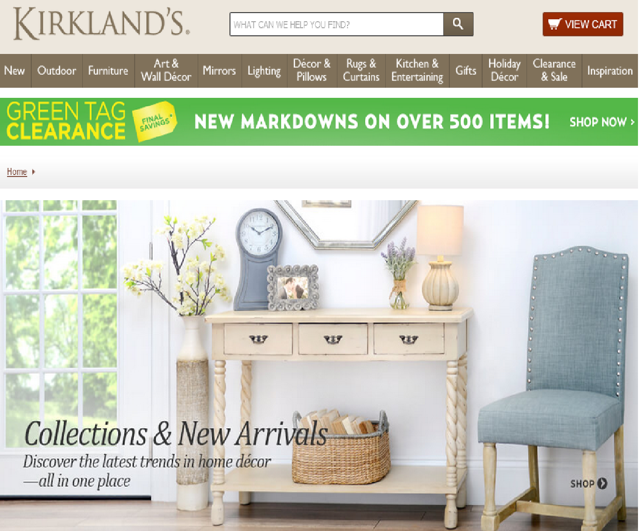 In a financial context, the law of large numbers purports a rapid growth rate cannot go on and on and on. As well, the larger the entity, the truer the law. In that regard, headlines citing atypical growth clips often refer to small or immature ventures.
Retailers embarking on direct-to-consumer sales often cite astronomical growth at the onset of an online presence. Frankly, it's easy to ignore. But, every now and then, there's a situation worth noticing.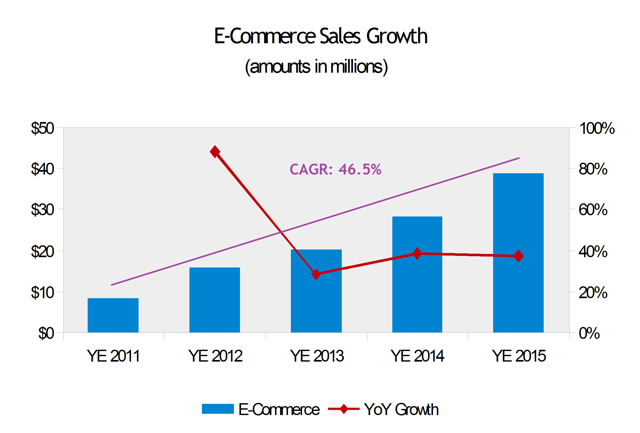 Source: Author-created from company data
Of late, developing its online functionality has been a critical component for home décor retailer Kirkland's (NASDAQ:KIRK). Convenience is a powerful driver in many buying decisions. Especially in the home furnishings arena, the consumer is much more likely to pre-shop online to help choose which stores to visit. Shopping is no longer a task done during store hours but, rather, is done 24 hours a day, 7 days a week. Using a mobile device to shop any hour of the day without stepping into a store is not just a highly-appealing option - it's now considered a necessity.
Kirkland's defined an achievable near-term goal for its e-commerce business - reach 10% of total sales.
At fiscal year-end 2014 (in January 2015), the e-commerce total was tracking just over 5.5% of total sales. For the full year in 2015, the online channel accounted for revenue of approximately $38.6 million, about 6.9% of total revenue. In the first quarter of 2016 , the percentage of total sales grew to 7.6%.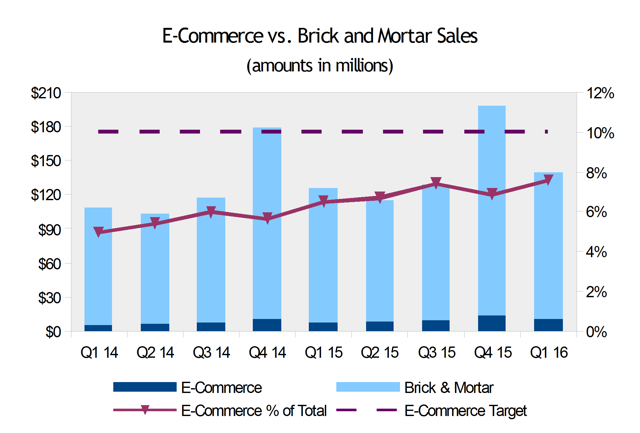 Source: Author-created from company data
Growing a percentage point against a stable total is hard enough. Growing a percentage point against a growing total is much harder. In the same time frame Kirkland's was expanding its online presence, it also planned to expand its brick and mortar footprint (relative to square footage) by 10% annually.
Even though Kirkland's e-commerce sales are growing impressively as a percentage of total sales, the law of large numbers is taking shape. The year-over-year growth percentage is healthy, but it is declining. The company projects e-commerce sales will grow minimally by 25% year-over-year in the next few years.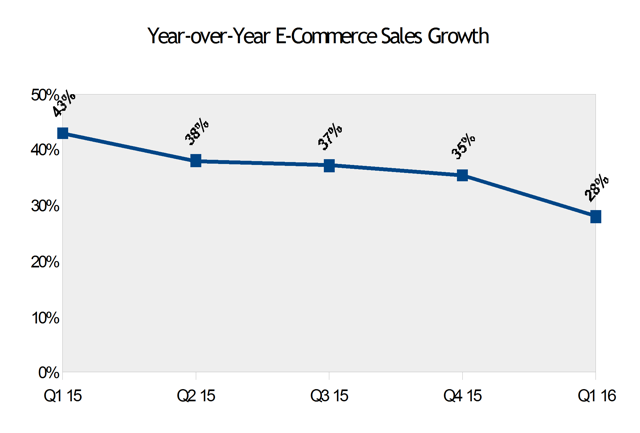 Source: Author-created from company data
There are a couple of pertinent curiosities emerging in the trend lines. First, it is obvious Kirkland's is a retailer experiencing seasonal fourth-quarter revenue surges. Second-quarter sales, typically, slightly trail the first quarter. An encouraging trend is also emerging. First-quarter sales are greater than the third quarter of the previous year.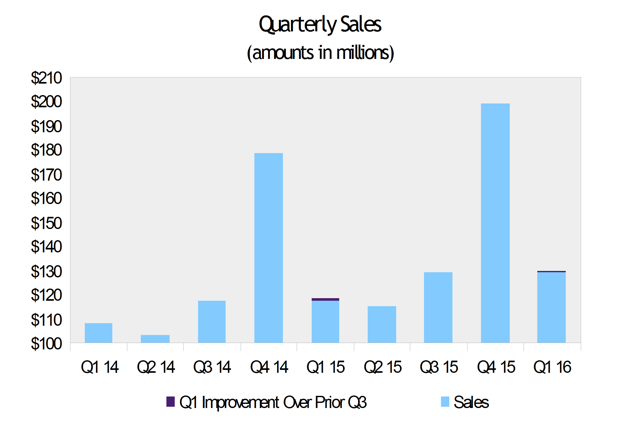 Source: Author-created from company data
Secondly, while it appears the e-commerce business slacks off in the fourth quarter, it only does so regarding the percentage of total sales. The actual dollar amounts do improve quarter-over-quarter. Also encouraging are the second-quarter numbers. Unlike the total sales trend, e-commerce sales have not slipped below first-quarter sales but, rather, have increased. Excluding the expected surges in the fourth quarter, each subsequent quarter has topped the prior quarter's results.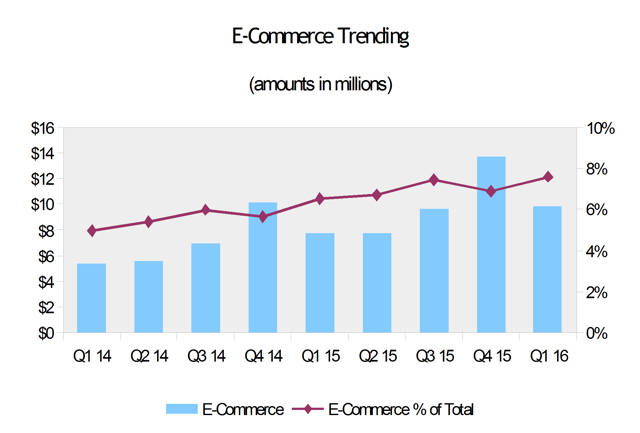 Source: Author-created from company data
Based on its recent trends, Kirkland's is on track to reach its "e-commerce as 10% of total sales" goal in early 2018.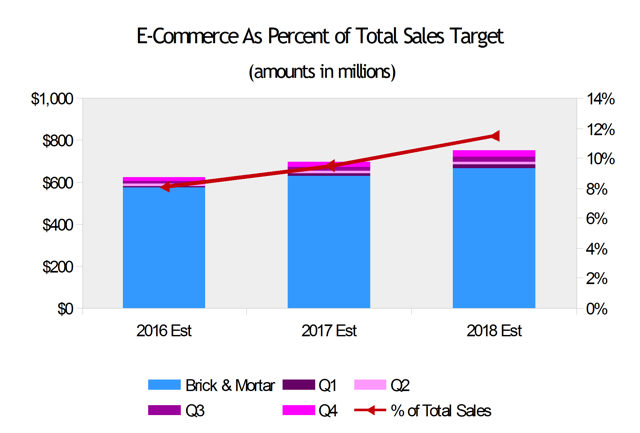 Source: Author's analysis
However, the retailer does not plan to rely only on historical trends.
The company notes 43% of its online orders are for online-only, exclusive product. Online orders tend to be for higher-ticket products such as furniture, art and wall décor. Thus, it made perfect sense for Kirkland's to expand the number of vendors in its direct fulfillment program in the first quarter of 2016. The direct fulfillment program allows Kirkland's to carry multiple styles not available in stores and ship product directly from its third-party suppliers. The company plans to add more vendors to the program throughout the year. It also introduced a special order program in stores that allows customers to order seating and benches that are not necessarily displayed or stocked in stores. The program utilizes Kirkland's e-commerce platform and Ship-to-Store fulfillment process.
Customers are using the Ship-to-Store fulfillment model on approximately two-thirds of e-commerce transactions. Kirkland's has tracked these same customers through the pickup process. Once in the store, they are conducting additional transactions and spending more. Because of this tendency, the company is purposely designing e-commerce promotions geared toward in-store pickup.
Kirkland's is working on speeding up delivery times for its online customers. It's also decreasing shipping costs. Typically, speeding up delivery would cost a customer more. In March, Kirkland's moved into its new distribution center dedicated to e-commerce activity. It's testing an offering of free shipping based on transaction thresholds. The company is also developing a system to fulfill orders from store inventory rather than requiring a shipment from a distribution center.
Technology updates are also expected to enhance the direct-to-consumer portion of the business. Kirkland's will invest in an upgrade of its warehouse management system. The data accumulated from its loyalty program and e-commerce customers will be used for marketing campaigns as well as assist with future site selection.
Kirkland's brick and mortar stores average just 7,700 square feet. The ability to sell larger pieces such as furniture, art and wall décor without consuming valuable floor space is quite beneficial for the company. Shipping directly from the supplier rather than routing through a warehouse saves both time and costs.
Relative to this venture, an area gaining in criticality is Kirkland's vendor relationships. Being able to offer an almost-infinite assortment online will only be beneficial, if customers can rely on the product quality and differentiation they've come to expect.
Kirkland's has relationships with approximately 200 vendors. In its 2015 annual report, the company stated it does not have exclusivity contracts with any vendor. But, it does have a history of developing products designed strictly for Kirkland's customers.
"Our buyers work closely with our merchandise vendors to identify and develop stylish products that appeal to a broad base of customers while reflecting the latest trends. These products are often proprietary, the result of the development and collaboration between our buyers and our vendors."
Having proprietary products is key in the online world. In the brick and mortar world, a customer may settle for buying at the moment. They often have neither the desire nor time to run from place to place comparing product offerings from different retailers. But, on the World Wide Web, clicking from site to site is hardly tiring making comparison shopping a practical endeavor. Knowing a product is unique and won't be popping up on each subsequent click is essential.
Kirkland's continues to hone its website, its processes, its marketing campaigns, its product assortment and the like to reach its e-commerce goal. While it is a practical and necessary task to track the progress against one's personal goals, it's also essential to understand how one compares to the industry as a whole. According to the U.S. Census Bureau's 2016 first-quarter retail e-commerce sales report, e-commerce sales accounted for 7.7 percent of total sales. At 7.6%, Kirkland's is "honing" well.
Interested investors should note the company does not pay a dividend. Therefore, return must come from share price appreciation. Based on analysts' average 2017 EPS estimate of $1.25, Kirkland's forward P/E ratio is under 13. For a company projecting annual sales growth at 10% to 12%, it is certainly not overvalued. If the debt-free retailer continues to grow its geographic footprint and virtual footprint as projected, investors can rightfully expect share price appreciation to follow.
Disclosure: I/we have no positions in any stocks mentioned, and no plans to initiate any positions within the next 72 hours.
I wrote this article myself, and it expresses my own opinions. I am not receiving compensation for it (other than from Seeking Alpha). I have no business relationship with any company whose stock is mentioned in this article.
Additional disclosure: I belong to an investment club that maintains KIRK on its watch list.