Her Majesty's Treasury has recently released an assessment of the immediate and the long-term economic impacts of Brexit. The assessment of the immediate impact of Brexit suggests: 1) a 4-6% decline in UK GDP; 2) a 2-2.5% rise in unemployment; and 3) a 3-4% decline in average real wages.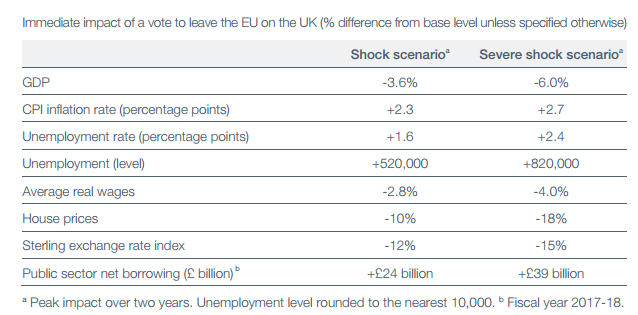 Source: HM Treasury
A rise in unemployment and a decrease in real wages are clearly negative for the consumer credit segment.
According to the 1Q16 Bank of England survey, the annual growth rate in the stock of consumer credit (excluding student loans) picked up to 9.3% y/y in Feb., the highest since December 2005. Within this, non-credit card loans and advances continued to account for the majority of the net flow.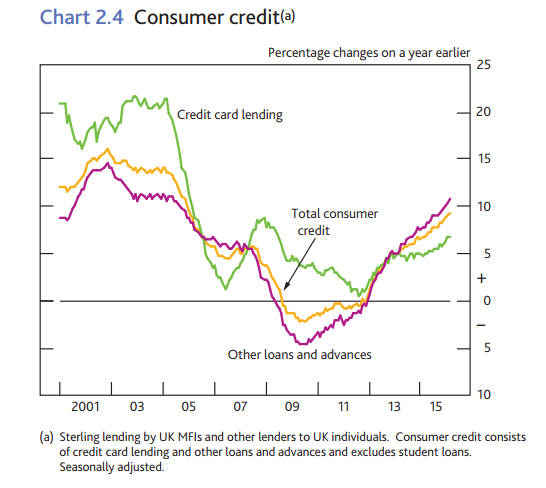 Source: Bank of England
Car finance through dealerships has been an important contributor to the pickup in non-credit card loans and advances in recent years. Data from the Finance & Leasing Association suggested that the gross flow of new advances was in excess of £28 billion in 2015, double that in 2011.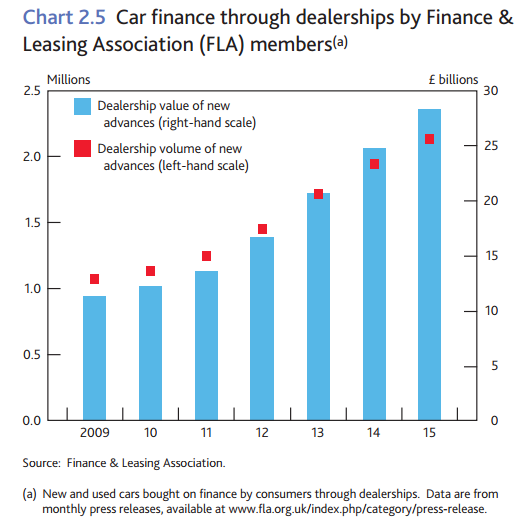 Source: Bank of England
Santander (NYSE:SAN) has grown its UK consumer credit book (including car finance) by more than 60% (!) in two years. This is clearly very fast growth. Hence, in the event of a rise in unemployment and a decrease in real wages, as suggested by HM Treasury's severe shock scenario, Santander UK would likely see a material asset quality deterioration.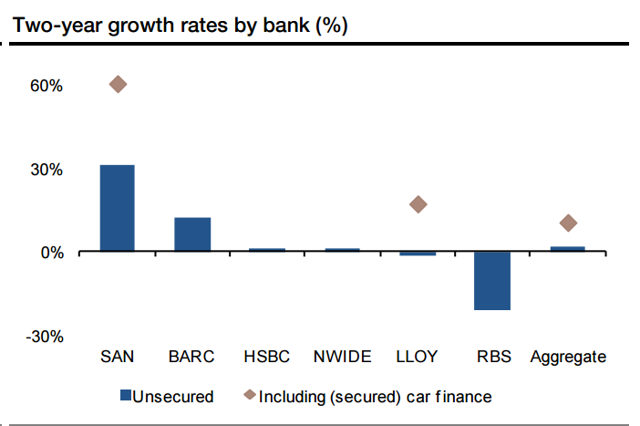 Source: SG Research
UK consumer credit represents more than 40% of Santander Group's tangible equity, hence asset quality risks are significant at a group level.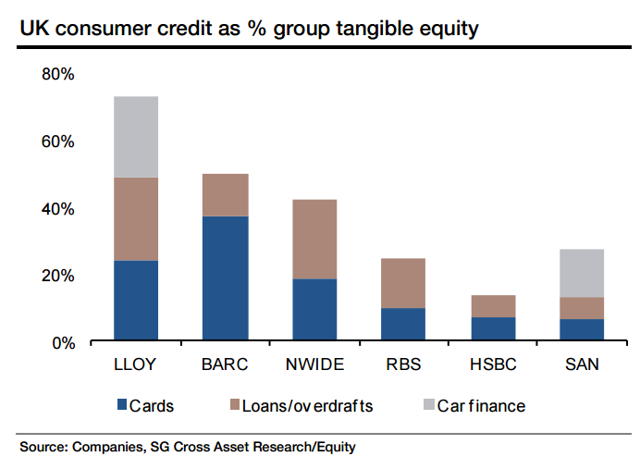 Source: SG Research
To recap, Santander UK represents circa 14% of the total group's revenues.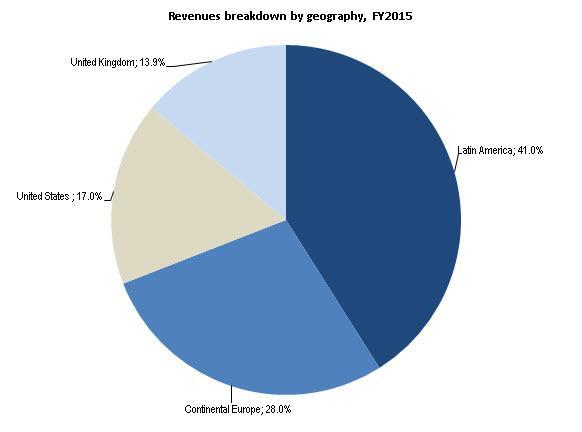 Source: Bloomberg, Company data, Renaissance Research
What are the other headwinds?
1) With Brazil facing one of its worst recessions in recorded history, we expect the worsening economic situation to be reflected in higher provisions in the coming quarters;
2) Santander Brazil (NYSE:BSBR) has the lowest profitability among its peer group and is clearly overvalued;
3) revenues in Spain are still under pressure as: a) a zero-to-negative interest rate environment weighs on margins; b) loan volumes continue to decline; and c) fee income growth is subdued;
4) we do not expect good news from the US unit, considering elevated cost of risk levels and a very likely failure of the CCAR exercise;
5) Santander has one of the weakest capital position amongst European banks. Its CET1 is below current minimum regulatory requirements;
6) Banco Popular's (OTCPK:BPESF) capital raising renewed concerns over Spanish banks' asset quality; and
7) Poland's CHF mortgages story represents a significant tail risk.
Bottom line: Avoid the stock
Santander's stock price performance gave a brutal lesson for bottom-fishers. With credit quality deterioration in UK, revenue headwinds across all key geographies, a very weak CET1, asset quality/profitability issues in Brazil, a very likely failure of the CCAR, and several tail risks (Bank Zachodni's (OTC:BKZHY) CHF-mortgages, concerns over Spanish banks' asset quality), we are reiterating our recommendation: Santander is a stock to avoid.
I provide equity research coverage on U.S., European, LatAm and CEEMEA banks/financials, including fundamental analysis complete with a valuation, commentary on price-sensitive events and actionable trading ideas. If you are interested in the topic, click the "Follow" button beside my name on the top of the page.
Disclosure: I/we have no positions in any stocks mentioned, and no plans to initiate any positions within the next 72 hours.
I wrote this article myself, and it expresses my own opinions. I am not receiving compensation for it (other than from Seeking Alpha). I have no business relationship with any company whose stock is mentioned in this article.