Introduction
More than a year ago, I wrote the original article for the Half Million Dollar Income Portfolio. This article discussed the income portfolio that I am currently building for my son's retirement. In that article, a number of people asked me to discuss the portfolio that had allowed me to personally retire. This portfolio is the portfolio that has not only allowed me to retire but continues to provide me with strong and growing income along with the cash to take advantage of new opportunities.
Just under a year ago, I wrote the first article discussing my own personal Hundred Thousand Dollar investment portfolio. This portfolio is the portfolio that has allowed me to personally retire providing me with over $100,000 in annual income. In the most recent article, I discussed how the portfolio's income has grown by more than 10% in the past year. In this article I will discuss my recent change to the portfolio along with its continued growth.
Portfolio Goal
One thing that the Half-Million Dollar Income Portfolio has that I noticed recently this portfolio does not have is a clearly stated goal. Most would think that this portfolio has already accomplished its goal by allowing me to retire. The portfolio has allowed me to retire providing a significant income of over $100,000 per year. However, despite this, there is more that the portfolio can accomplish.
As I have stated numerous times on this website already, my son is attending college in the fall. This will increase my expenses respectably as a result of the cost of college tuition and other associated expenses. More importantly, I have decided that I also want some additional buffer against increased future inflation and some more income to, well, spend.
As a result, I am setting the goal for this portfolio to reach a total annual income of $250,000. More so, for the purposes of keeping easier track of this on Seeking Alpha, I am splitting my account into two. The first half will hold the entire present portfolio along with $500,000 in additional cash to make more investments. The second half will hold all of my other cash and assets for other investments.
That will prevent me from accomplishing my goal of $250,000 in income generation by adding a significant amount of cash into the portfolio. That would not be particularly impressive at all - it would just show I have a lot of cash not currently invested in stocks.
Portfolio
Now that we have an overview of the factors that lead up to me publishing the portfolio on Seeking Alpha along with my portfolio goals, it is now time to publish the portfolio.
| | | |
| --- | --- | --- |
| Portfolio Name (Ticker) | Number of Shares | Yearly Dividend |
| SPDR S&P 500 ETF Trust (NYSEARCA:SPY) | 3000 | $16195 |
| Vanguard Healthcare ETF (NYSEARCA: VHT) | 1500 | $2573 |
| Vanguard Energy ETF (NYSEARCA: VDE) | 3000 | $6539 |
| Vanguard REIT Index ETF (NYSEARCA: VNQ) | 4500 | $15912 |
| Vanguard Total Stock Market ETF (NYSEARCA: VTI) | 6000 | $12245 |
| Pimco Strategic Income Fund (NYSE: RCS) | 12000 | $11522 |
| Pimco High Income Fund (NYSE: PHK) | 6000 | $7450 |
| Healthcare Property Investors (NYSE: HCP) | 3000 | $6897 |
| AT&T (NYSE: T) | 3000 | $5754 |
| Chevron Corporation (NYSE: CVX) | 3000 | $12846 |
| Berkshire Hathaway (NYSE: BRK.B) | 1500 | $0 |
| Consolidated Edison (NYSE: ED) | 3000 | $8047 |
| Johnson & Johnson (NYSE: JNJ) | 3000 | $9600 |
| Realty Income (NYSE: O) | 4000 | $9600 |
| Gilead Sciences (NASDAQ: GILD) | 2250 | $4230 |
Total Cash: $500,000
Annual Dividend Income: $129,410
As you can see above, our dividend income has increased by a few percent over the past month. However, this change in dividend income came with several major shifts. The first is several annual dividend numbers such as those from the Vanguard ETFs were readjusted down significantly. These adjustments came from the fact that these funds pay out dividends on a basis that varies from quarter to quarter. As a result, it is difficult to figure out the dividend yield for the year until the year is over. I assume that the dividend on Google Finance is accurate when making decisions.
However, our purchases last month provided a significant boost in dividend income. The primary source of this boost in dividend income was the significant position in Realty Income. Since Realty Income's stock remains near all time highs, I have decided not to add to the position. However, I announced in the last article that if Gilead Sciences stock remained low I would continue to aggressively add to my position. Since Gilead Science's stock remained low, I chose to add another 1500 shares. The cost basis of my shares has dropped from ~$84 to ~$83.
From now, staying with what I discussed above, all future purchases will be subtracted from the given $500,000 cash pile. Any other investments to the account made with money outside of the $500,000 cash currently in the portfolio will not be discussed on Seeking Alpha as this might lead to an artificial inflation of my progress towards my goal.
Portfolio Discussion
So far in this article, we started with the history of creating the Hundred Thousand Dollar Income Portfolio on Seeking Alpha. We then went on to discuss the portfolio's new goal of reaching $250,000 of income with only the holdings presently in the portfolio and a maximum of $500,000 of new investments using cash that I have placed into the portfolio.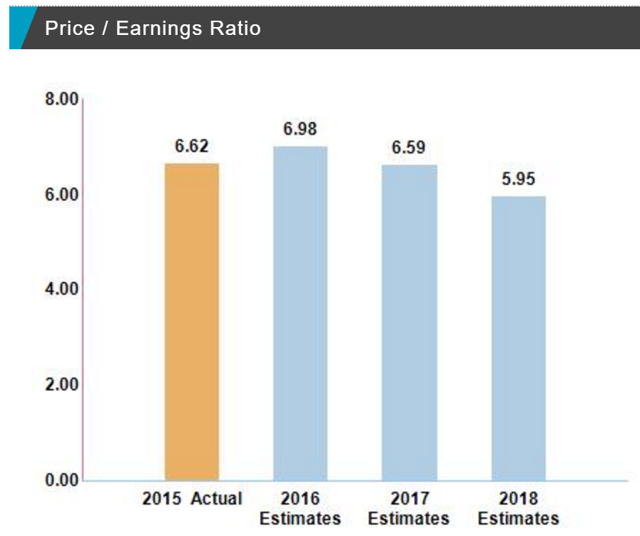 Gilead Sciences P/E Ratio - Nasdaq
We also discussed the recent stake change in my Gilead Sciences investment. Over the past month, I have increased my stake in Gilead Sciences by 1500 shares to 2250 shares mainly due to how undervalued the company is at present prices. The company's present P/E ratio is around 7 and even with the slowdown of the company's Hepatitis C franchise, the company's P/E ratio is expected to continue dropping to less than 6 in 2018.
With the present overall market having a P/E ratio of over 20, a P/E ratio of less than 6 is often a P/E ratio reserved for companies in their death that are losing their market position and having their profits drop significantly. But that is not Gilead Sciences. Gilead Sciences may not be launching another multi-billion dollar franchise in the next year, but the company is expected to continue growing its earnings in the single digits for the coming years.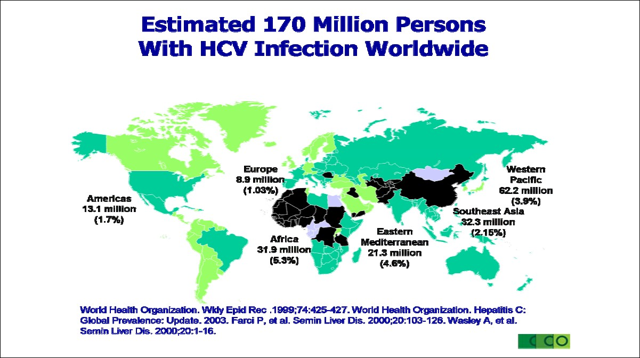 Worldwide Hep C Prevalence - SJKDT
And with an estimated 170 million people with the Hepatitis C infection worldwide, Gilead's target market remains enormous. The company will not be able to get $100,000 from each of these people, but it does not need to. The company's opportunities in this market stems from two major factors. The first is the obligation industrialized healthcare providers have to their customers. The second is the company's pan-genotype Hep C treatment due for release.
One of Gilead Science's major opportunities stem from the requirements industrialized healthcare providers have to their customers. In the United States, there are currently a large number of class action lawsuits about how the United States Medicare system is required to bear the costs of providing Hep C treatments to their patients. This lawsuit is being pushed further ahead in the prison system where prison inmates cannot purchase their own medication and as a result the state is seen as having an obligation to purchase this medicine for their constituents.
Approximately 30% of those in the United States with Hepatitis C pass through the prison system. Currently there are 13.1 million people with Hep C in the USA meaning that 3.93 million of them pass through the prison system. Should the lawsuit pass through making the US responsible for this cost - which is likely given the country's trend towards a liberal governance - that would mean four times as many doses as Gilead Sciences has sold to date will now be required.
Gilead Sciences could help facilitate this process by providing a high volume low cost deal to the U.S. prison system. The company could offer a 90% price cut to just $10000 per dose and still bring in $40 billion in revenue. That would provide the company a very impressive one time earnings boost.
The second advantage the company has is its pan-genotype Hep C treatment due for release. The release for this treatment is expected to come any day now. And the advantage of a pan-genotype treatment is it would allow the company to sell treatment to third world countries where genotype testing is far too expensive. In mid-level industrializing nations such as India, a pan-genotype treatment could easily fetch several thousand dollars per treatment. This would bring Gilead a respectable earnings increasing providing a boost to the slowdown in its Hep C franchise.
For these reasons, I think Gilead Sciences is still the most undervalued stock in the market currently. I expect that over the next month or two, I will use the portfolio's cash position to come close to doubling the Gilead Sciences stake.
However, I also want to introduce another company that I am planning on investing in in the coming days. The company, Frontline LTD (NYSE: FRO) is the world's largest oil tanker shipping company and has gone through very difficult times since 2008. However, the company has recently emerged as a much stronger company with a very high dividend yield. As a result, the company is a strong income investment at the present time. But because of the risk with the company, I will minimize the size of my investment compared to my other positions.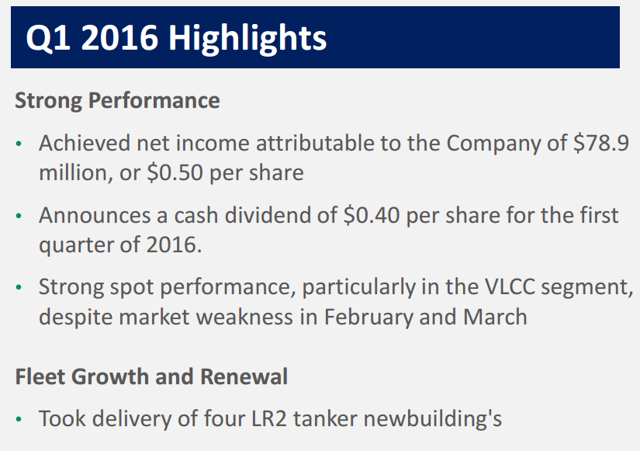 Frontline Q1 2016 - Frontline Investor Presentation
The above image shows Frontline LTD's Q1 2016 highlights. The company achieved net income attributable to the company of $0.50 per share and paid out 80% of the dividend in the form of a cash dividend. More so, if VLCC market rates do not change, the company's recent acceptance of new deliveries mean that its income will stand to increase.
It is important to understand the discount this company is trading in as a result of its recent weakness. At the company's present share price of $8.44 per share, that means that on an annual basis the company is trading at a P/E of just under 4.25. More importantly, it means that the company is paying out shareholders a very respectable dividend yield of 18.96% assuming the company does not increase its dividend yield from increased earnings.
Hopefully, I will manage to open up a respectable position in Frontline LTD at the present prices and the company will continue to pay out a respectable dividend yield. This will help increase the portfolio's income.
Conclusion
The Hundred Thousand Dollars Of Income Portfolio has continued to have strong performance and the portfolio has strong prospects. I have chosen to separate the portfolio into two portions and set a goal for the portfolio which will give Seeking Alpha users something to track along with.
And despite the portfolio's present significant holdings, there are a large number opportunities still ahead. Gilead Sciences and Frontline LTD represent two of my favorite opportunities for the present time. Gilead Sciences has continued growing and it is impressively undervalued. The portfolio already has an impressive position in Gilead Sciences that I will expand. The portfolio has yet to have a position in Frontline, but I will open up a position in the coming month.
Disclosure: I am/we are long BRK.B, CVX, ED, GILD, HCP, JNJ, O, PHK, RCS, SPY, T, VDE, VHT, VNQ, VTI.
I wrote this article myself, and it expresses my own opinions. I am not receiving compensation for it (other than from Seeking Alpha). I have no business relationship with any company whose stock is mentioned in this article.