Your correspondent is now a 3DNAND hands on expert! Bought the MX300 from Micron Technology's (NASDAQ:MU) Crucial Memory division. It arrived much faster than their free shipping option suggested. Unfortunately the need for a USB/SATA cable to clone the existing hard drive to this spiffy new Solid State Drive was not plastered all over Crucial's website. No matter, Amazon Prime to the rescue with two day shipping. Downloaded the software to clone my HDD to the new SSD. Plugged in the cable. Pressed "Clone". Waited about 30 minutes. Pulled out the Phillips screwdriver to remove one screw and open the drive bay on my 5 year old Lenovo laptop. Slid out the old and popped in the new. Feels like a have a brand new very fast computer!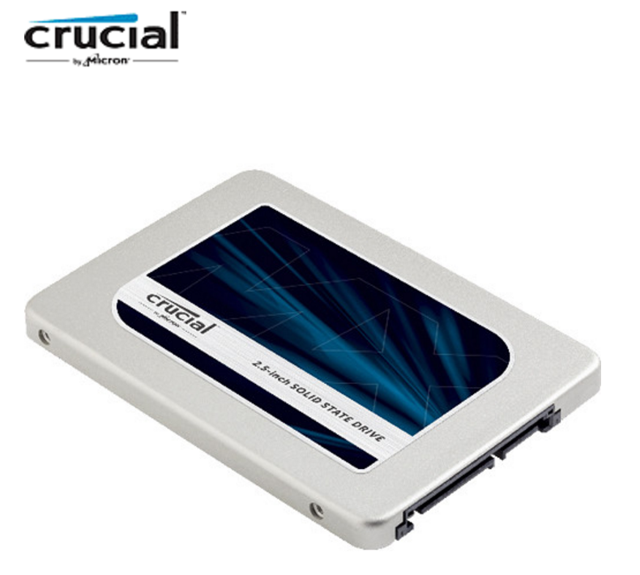 I suspect a lot of people are going to breathe new life into old PC's just as I have. This isn't so great for my Intel (NASDAQ:INTC) investment stretching out the PC replacement cycle. But it's great for Micron.
So how is Micron doing on 3DNAND production? CFO Ernie Maddock offered this in a recent presentation:
More than 50% of the bits the company produces will be from 3D sometime in the fall of this year. So that's an improvement from some of the things we've previously talked about.
But at least one analyst doesn't seem to have such rosy numbers. I am a huge fan of Bernstein's Mark Newman who is out today with one of his gigantic graph and table filled 39 page spectacular reports titled: "Global Memory: NAND Supply / Demand Deep Dive; Unraveling the 3D NAND Enigma." Let me preface a blitzkrieg summation of Newman's work by saying first, he feels Samsung will win the 3DNAND race, and second, that he is much more positive (than in some of his recent reports) on Micron. He's still at an eps of -0.12 for the 3Q. But he's raised his 2016 FY estimate to 21 cents from 17, and his 2017 FY estimate to 97 cents from 77 cents.
A pair of slides shows that Newman isn't buying CFO Maddock's claim that Micron will hit 3D crossover in the fall of this year: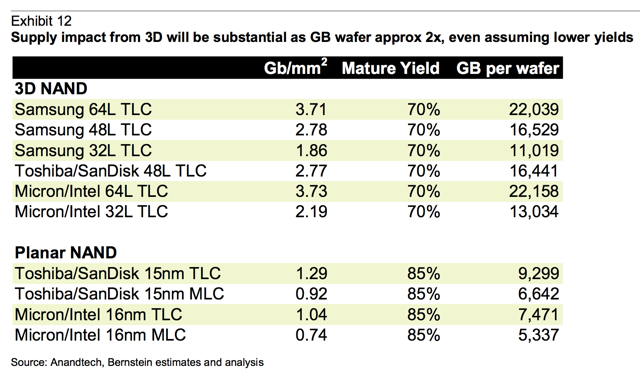 These are very, very useful slides. One may argue with Newman but at least he is presenting his data for one to look at. (One quibble is Newman's use of the shorthand of IMFT. Not all of Micron's NAND wafers are in the IMFT venture. But we get the picture.)
And now a bit of math, taking the case that all planar production at IMFT/Micron is 16nm TLC (which it isn't):
| | | | | |
| --- | --- | --- | --- | --- |
| | kwpm | GB/wafer | GB (000's) | % |
| 2D | 256 | 7,471 | 1,912,576 | 79% |
| 3D | 38 | 13,034 | 495,292 | 21% |
| Total | | | 2,407,868 | 100% |
(kwpm is an industry shorthand for thousands of wafers per month)
So while CFO Maddock has stated very clearly that over 50% of bits produced will be 3D in the fall of this year, it seems that the leading industry analyst is saying they might be at 21%. Just another of many things to keep an eye on as Micron presents their 3Q earnings next Thursday June 30.
And what about that iPhone 7 and what it will do for NAND demand? Again, it's Newman to the rescue with a couple of slides: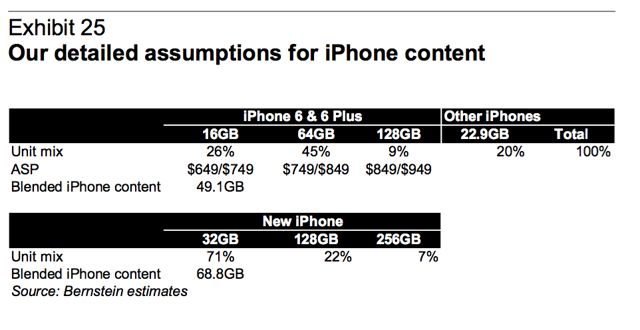 So Newman and Bernstein are estimating that the "content" of NAND in the iPhone7 will zoom to 68.8GB per phone, way up from 49.1GB in the iPhone 6 family.
And what does that do for total industry NAND demand?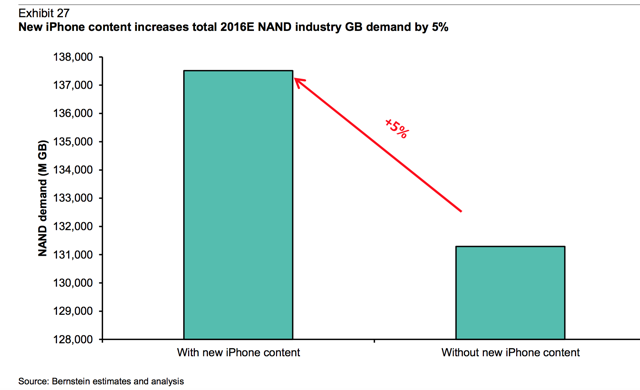 The memory upgrade on one little old product consumes 5% of the industry's supply! Alas for us Micron holders, Newman feels this will be Samsung 3DNAND.
So what to make of all this? I've been taken to task in another article for my imprecise wording. So let me try to be precise. At their 2Q earnings announcement Micron gave guidance of $2.8 to $3.1 billion in revenue, and (0.05) to (0.12) in earnings per share, both figures applying to the 3Q to be announced next week on June 30. I will not be surprised if they disappoint on both numbers. As to their forward guidance for the 4Q, the soaring DRAM prices on DRAMeXchange and some penetration on 3DNAND ought to make for some nice numbers. Will analysts and institutions believe the 4Q guidance if there is a bad miss on the 3Q? Is Maddock correct that they will have over 50% of their bits in 3D by this fall? Or is Newman correct?
A big piece of forward guidance will be this NAND story. Here I disagree with Newman who feels Samsung will be the hands down winner. His own industry roadmap shows Micron is catching up fast:

For the time being I am in the camp that feels Micron's floating gate 3D technology may prove superior (read more economic and more dense as the footnote to the chart above reads) to Samsung's Charge Trap technology.
In the meantime, help amaze Newman and other analysts at the SSD attach rates by buying an MX-300 and become a hands on 3D expert yourself.
Disclosure: I am/we are long MU, INTC.
I wrote this article myself, and it expresses my own opinions. I am not receiving compensation for it (other than from Seeking Alpha). I have no business relationship with any company whose stock is mentioned in this article.