BCE Inc (NYSE:BCE) is a Canadian communications company providing internet, phone and television services across the country. The company is part of an oligopoly in the heavily regulated and capital intensive Canadian telecommunications industry. While this business model has its hindrances, the competitive positioning is a powerful moat.
The reason I wanted to analyze shares of BCE is because while the stock is breaking out to all time highs, it also has a dividend yield above 4%. This is pretty unusual in today's yield-starved market. So I want to take a closer look at the financial trends supporting this potential investment income.
Before we get started though, here's a long-term chart of BCE to help provide a little perspective.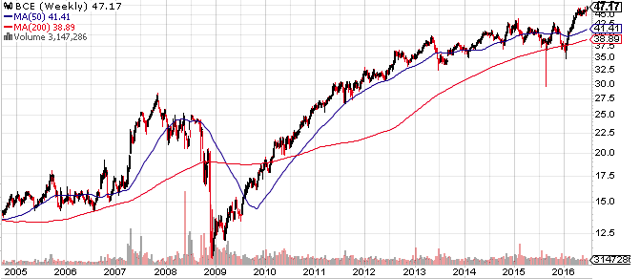 Now, let's take a look at some trends in financial and operating results over the last 10 years. This might help us better understand the nature of the business model, and determine if this dividend is sustainable going forward.
BCE: Historical results in review
When looking at historical trends in performance, I always like to start with the top line. I think this gives good perspective on how the company is competing. So here are the 10 year, and trailing twelve-month data for BCE (source).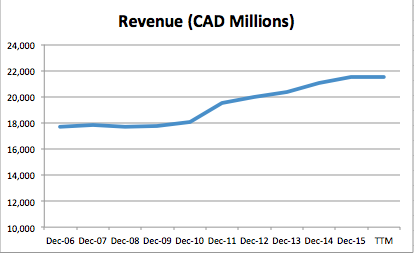 While revenue growth hasn't been fast, it's heading in the right direction. And one of the other interesting aspects of BCE is that a lot of this revenue is recurring. Customers are locked into multi-year contracts, and the monthly payments provide a steady stream of incoming cash. In terms of how those cash streams break down, this table from the recent annual report provides useful perspective (source):

As long as Canadians keep using their cell phones and consuming wireless data, I think BCE is in a powerful position. And everywhere I look, people are face down in their cell phones. For that reason alone, I'm willing to give BCE the benefit of the doubt. Plus, it looks like revenue from wireless and data have more than offset the losses from the wireline segment.
But revenue isn't the whole picture either. So let's look at how this is dropping to the bottom line. Here are the data for the last 10 years, and the trailing twelve-month period.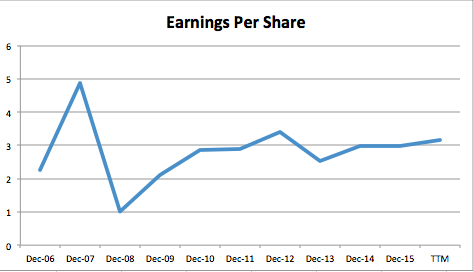 Unfortunately, I don't love this earnings graph. It's sort of just bounced around the last 10 years. While there hasn't been a negative year, we can't really call this growth. If anything, it's just slow, steady and status quo. The truth is, this is a very capital-intensive business, with a big percentage of operating income being used to fund maintenance and repairs. Plus, Canada is a huge country so as a national carrier there is a lot of infrastructure to keep in working order.
Another place this business characteristic shows up in the data is when you look at book value per share growth. In reality, this isn't much of a surprise, because BCE is primarily a dividend payer. Earnings aren't being retained if they don't need to be. See for yourself: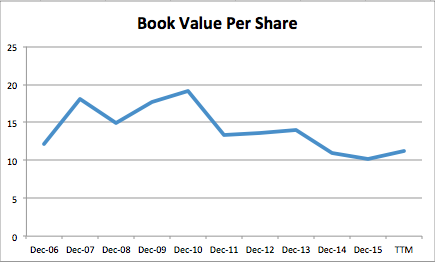 And in contrast, here's the dividend growth. It looks great, no doubt about it. But note the payout ratio. It has really crept up recently so the company will need to be careful going forward. With dividend payments being such a high percent of earnings, I'm skeptical they will continue to be able to maintain the historical dividend growth going forward. Plus, they've cut the dividend in the past so it's not out of the question.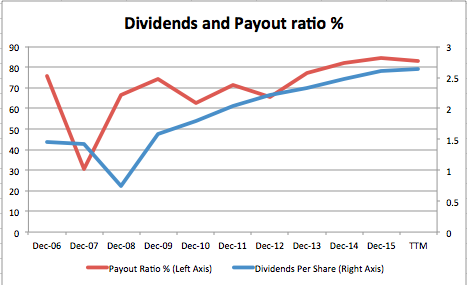 There's one more concerning item that I want to mention before concluding this analysis. Specifically, the balance sheet deserves some attention. Here's a look at the debt/equity ratio to give you some perspective: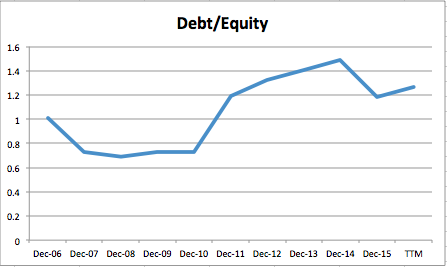 Now, I realize debt is cheap these days. But the company has been taking on both short and long term debt. The interest expense has crept up to almost 25% of operating income. Of course, BCE has billions in cash flow coming in each quarter but the costs still seem a little high in this low interest rate world. However, if they can refinance to reduce debt-servicing costs, this may present an incremental lever for BCE to grow the dividend.
So given this picture, is BCE worth making an investing in? Are these historical trends going to impact the dividend going forward?
Conclusion: I Can't Resist This Canadian Appeal
From the analysis above, it's clear that there are some hurdles facing BCE. And to be honest, the historical trends don't look very encouraging. Plus, the structure of the competitive environment isn't changing. While I expect BCE can maintain their dividend in the face of these headwinds, growing it in line with recent years will be a major challenge.
Despite all this, I decided to invest in shares of BCE as part of a diversified portfolio. I like the yield, I have a long investment timeframe, and I don't have much other telecom exposure. One word of caution to some readers would be that the numbers above are in Canadian dollars. So as an American, your dividend payment might end up not going as far, which may be another reason to pass on the stock.
So what do you think? Does BCE look like an attractive investment to you? Or do you think the risks outweigh the reward?
Disclosure: I am/we are long BCE.
I wrote this article myself, and it expresses my own opinions. I am not receiving compensation for it (other than from Seeking Alpha). I have no business relationship with any company whose stock is mentioned in this article.