After reading a great article titled "Is Now The Right Time To Buy GE?" by Team Money Research, I felt the need to chime in and provide my thoughts on the question of whether or not General Electric (NYSE:GE) is a good investment at today's price/valuation. Before I get into details, I wanted to clarify the reason why this question even needs to be posed to investors.
Remember, GE is transitioning into a more industrial-focused company (i.e., a simpler and more valuable one) and has been able to report impressive industrial EPS growth over the last few quarters. So, why would someone not want to purchase shares of this company? Simply put, GE currently appears to be fairly (or richly) valued based on estimated earnings and the company is trading at a premium when compared to its peers, Honeywell (NYSE:HON), United Technologies (NYSE:UTX), and 3M (NYSE:MMM). GE is trading at ~20x 2016E earnings based on today's stock price.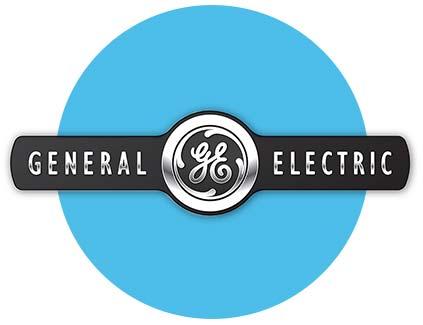 (Source)
However, as I described in this article, GE appears richly valued only if investors are solely focused on trailing earnings and/or short-term earnings estimates. Instead, I believe that long-term investors should take a step back and consider the numerous levers that are now being pulled that will create shareholder value in the future. These levers, or long-term catalysts, will contribute to the company's stock price outperforming the market through at least 2018.
How Did We Get Here?
GE's stock price has greatly outperformed the market, and the company's peers, since early 2015.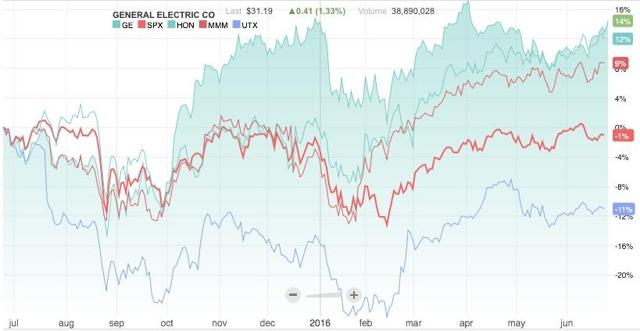 (Source: Nasdaq.com)
Over the last year, GE is up 14%; only Honeywell is even in the same ballpark when it comes to stock performance. Anyone that follows me here on SA knows that I have been a big GE bull since January 2015 (my first article on the site was a bullish call on GE), but now I believe that the company is rightfully being rewarded with a premium valuation, for several reasons.
The most talked about reason is the decision to sell a majority of the GE Capital assets and focus on returning the company to its industrial roots. This transition has been touted by management over and over again, and there are good reasons for investors to be excited. GE plans to return $90b of capital to investors through 2018 and more importantly the company expects for 90% of earnings to come from its industrial businesses. Furthermore, the company is currently ahead of schedule when it comes to selling the GE Capital assets, so analysts are starting to finally see the potential future state since the water is a little less murky.
Another reason that GE has been rewarded with a premium valuation is the fact that the company has performed well over the last year by reporting impressive industrial EPS growth. For example, the industrial EPS were up 17% YoY at fiscal year-end 2015.
Therefore, CEO Jeffrey Immelt and company have not only clearly described where the company is heading, they have also been able to produce better-than-expected operating results since mid-2014.
All of these factors combined, along with others, have greatly contributed to the rich valuation that GE has received since mid-2015. But, now investors must ask themselves where they believe this company can go from here and if management actually has what it takes to build upon its already strong foundation.
Nice Start, But Where Do We Go From Here?
I have long stated that GE is setup to reward shareholders over the next few years, and I still believe this today. The company has multiple long-term catalysts in place, but, in my opinion, two of the most important are the Alstom integration and the opportunities that the company has in the digital space.
I recently covered the Alstom acquisition in this article, so I will not bore you with the same facts and thoughts. However, I do want to mention the fact that I believe that the true value of this acquisition has not yet been realized by the market.
On June 23, 2016, management gave a presentation on the opportunities that GE has in the digital space at an Investor Meeting. During the presentation, management did a great job describing the large market opportunity that GE has in the Industrial Internet industry and even highlighted how they envision the company progressing over the next four-to-five years.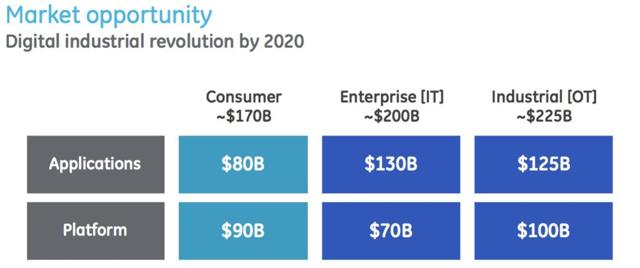 (Source: Digital Investor Meeting)
The numbers for the market opportunity being thrown around are huge and hard to believe, but GE has already been able to make some noise in the industry. In 2015, GE brought in $5b in digital revenue and is expecting to bring in at least $6b in the current year. More importantly, management is estimating for digital revenue to almost triple by 2020 and reach the $15b mark.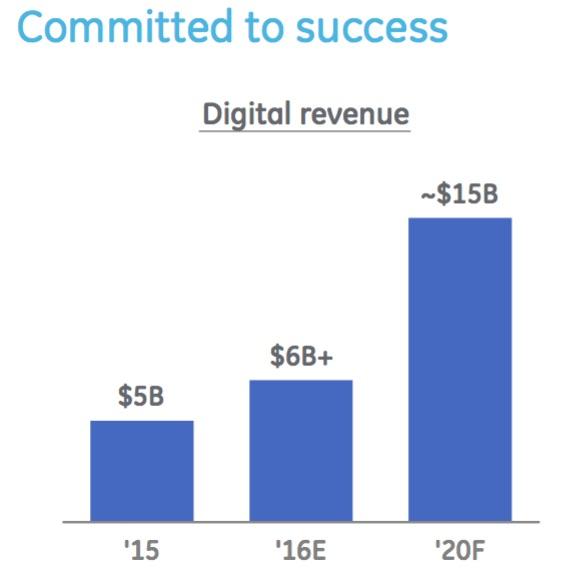 (Source: Digital Investor Meeting)
A significant digital transition is hard to imagine in such a short period of time, but it is important to remember that digital is the way of the future. Robots, autonomous cars, internet of things, industrial internet of things, and countless other examples are already impacting our everyday lives.
Additionally, an analyst is already estimating that digital could eventually represent as much as 25% of GE's earnings. I agree with this analyst in that I believe that digital will play a major role in this company's future, and this is becoming more clear as management continues to hammer home the idea that they are committed to investing in GE Digital. From a long-term investor's perspective, it is encouraging that GE is getting out ahead of others by committing to invest now in order to prosper later.
Bottom Line
The article written by Team Money Research poses a legitimate question about a stock that has run-up fast and that is richly valued when compared to its own historical valuation and its peers. There is no denying the fact that GE is trading at a healthy premium, but I believe that the premium is warranted. Therefore, I believe that now is the right time to buy GE shares.
On one hand, investors may get a chance to start a position in GE well under $30 due to external factors (i.e. Brexit vote), but, on the other hand, GE's stock price may not give investors an opportunity to purchase shares at what they consider "the right price". Timing the market is hard to do, so it would be wise for investors that are able to hold onto shares for at least the next three-to-five years to layer into a position at today's price.
Author's note: I have written several other articles on the topic of digital/predix, so please feel free to visit my profile for additional information on GE digital and how it is impacting the company. If you found this article to be informative and would like to hear more about this company, or any other company that I analyze, please consider hitting the "Follow" button above.
Disclaimer: This article is not a recommendation to buy or sell any stock mentioned. These are only my personal opinions. Every investor must do his/her own due diligence before making any investment decision.
Disclosure: I am/we are long GE.
I wrote this article myself, and it expresses my own opinions. I am not receiving compensation for it (other than from Seeking Alpha). I have no business relationship with any company whose stock is mentioned in this article.