Forgetting to Ask How Much
As a long term investor, I'm inherently suspicious of "no-brainer" situations. It's a phrase that was used recently to justify Tesla's (NASDAQ:TSLA) $2.86B offer for Solarcity (SCTY), a move so brazen that it rendered me speechless. I don't have anything new to add to that discussion except to say that while I wouldn't bet money against Elon Musk, people who call themselves 'investors' should probably be running for the hills with bags of popcorn. The risk/reward may be fanciful, but excitement is guaranteed.
Railroads are considerably less exciting -- but you wouldn't know it listening to the coverage on Canadian National Railway (NYSE:CNI). They call it a buy-and-hold-forever stock because railroads are 'safe' and CNR represents the best of the bunch. Its leadership position in North America is undeniable, with its access to three coasts, record operating ratios, and negligible exposure to the secular decline of coal and the cyclical weakness of oil.The problem is that this bull argument has simply become too easy to make, and 'easy' arguments make me suspicious. It raises three cautionary questions that I'll try to tackle separately in this article:
Why is a long term dividend play in a cyclical industry being valued at growth multiples? (16.36x earnings, 10.5x EBITDA)
What are the short to medium term headwinds that threaten CNI's margin growth and pricing power?
What direction is the balance sheet trending? (i.e. how alert is management in their planning and response to these potential headwinds?)
Question on Multiples
Having just reread Graham and Dodd's 1940 edition of Security Analysis, I was reminded of a time when a child's savings account generated more returns than your average railroad. Following the deregulation of the industry in the 1980s, which allowed railroads to price competing routes and enter into confidential contracts, railroad operations improved dramatically, resulting in record volumes and profits. But here's the important point: a railroad being able to generate returns above its (considerable) cost of capital is a pretty recent phenomenon, one that was no doubt bolstered by a commodities boom and the strength of the economic recovery following the Great Recession.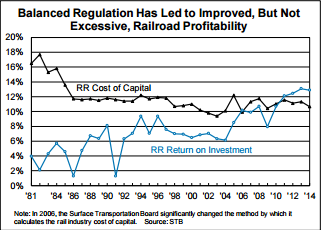 In CNI's case, the company has generated an average return on invested capital of close to 15% and a 25% annual return on equity. At the current trajectory, the market is implying that the railroad can achieve compounding returns in the high double digits for the foreseeable future, or the ability to double its book value every three years. How likely is this outcome for a slow and steady earner in a cyclical business?
This is why I'm baffled as to why CNI is still trading at 16.72x earnings and over 10.5x EBITDA despite clear short to medium term headwinds that are widely acknowledged by operators and analysts alike.
Question on Headwinds
There are three clear headwinds facing CNI over the short to medium term:
Recovering oil prices
Adverse FX movements
Wage inflation
These headwinds are happening against the backdrop of slowing industrial activity and weakness in import/export markets, partially offset by a gradual U.S. housing recovery.
Let's address each point separately. Fuel typically accounts for 10-15% of CNI's operating expenses, which means if medium term estimates of $70 oil are to be believed (a 40% increase), this will put significant pressure on margins that may or may not be passed onto customers given the weakness in the overall economy. As the Canadian dollar is strongly correlated with the price of oil, this means CNI, as the largest North American operator will also be dealing with concurrent currency headwinds.
To top this off, labor represents CNI's largest operating expense at over 20%. In the most recent earnings call, management estimated wage inflation at 3%, which taken on its own is higher than their anticipated price increase of 2.5% for 2016.
Put all three factors together and the current trend suggests a gradual erosion of CNI's pricing power in the short to medium term.
Question on Financial Position
Given the railroad's 3% exposure to coal, record operating ratios (~58.2%) and superior geographical advantages, it's quite easy to build a bull case comparing CNI's operating metrics to its competitors. But what additional insight does that give the cautious investor? What does this tell us about its current valuation? I would argue not much except what we already know -- that if you want to own a truly North American railway network, CNI is basically your best and only option.
However, it's dangerous to compare the operations of a cyclical business in relative terms. What's more important for me is not the level of debt CNI holds versus inferior competition, but the directional trend of its balance sheet over the past 4-5 years.
I believe the following evidence from CNI's financial statements paints a more cautionary picture of the overall health of the industry:
Operating ratio is currently at a record levels (58.2%)
Multiple headwinds to both revenue and expenditures puts pressure on CNI to continue to break cost cutting records
2016 CapEx spending is $2.9B, up 7.5% from 2015
Dividend yields are sub 2% despite recent payout increases
Long term debt has grown by double digits over the past two years (Q1 2016 position is up 35% compared to the end of 2013)
What this means for the long term investor
Contrary to popular belief, it's quite possible to earn mediocre returns on a forever stock. Buyers of Wells Fargo (NYSE:WFC) today are unlikely to earn the same returns enjoyed by investors 15-20 years ago. Part of this has to do with the law of diminishing returns but a lot of it is the result of buying a universally "safe" stock at unreasonably high multiples.
I don't own the stock currently, but if I did, the prudent thing to do would probably be to rebalance my portfolio in anticipation of material headwinds and the erosion of pricing power. While I would love to buy a railroad of CNI's caliber, I believe that the current valuation is unsustainable and that the business is reaching the peak of its cycle. I anticipate a significant correction over the next 2-3 years and will be keeping dry powder for now until its balance sheet starts moving in the right direction.
Disclosure: I/we have no positions in any stocks mentioned, and no plans to initiate any positions within the next 72 hours.
I wrote this article myself, and it expresses my own opinions. I am not receiving compensation for it (other than from Seeking Alpha). I have no business relationship with any company whose stock is mentioned in this article.