The internet continues to change the retail landscape. However, every action has a reaction. And right now traditional brick and mortar stores are trying to figure out how to survive. It's getting increasingly interesting...
Hard to compete
By selling over the internet, companies like Amazon.com (NASDAQ:AMZN) remove a big and expensive layer in the retail process-physical stores and sales associates. There's notable expenses on the distribution side of the equation for an online-only retailer, but the most efficient operators can make up for that without too much trouble. Add in the ease of online shopping and physical retail stores have a real problem.
One of the quick results of the increased competition is simply retailers going out of business. For example, Sports Authority and Wet Seal have booth been pushed into bankruptcy because of their own missteps and the internet's helping hand. There are plenty of others that have gone the same way. Electronics retailer Circuit City comes to mind and shows the breadth of the impact that online retail is having on physical retail.
Some companies are being more proactive in trimming down, closing stores to beef up profits. Macy's (NYSE:M) is a pretty good example here. The company is a regular anchor store for malls, but the department store model is under material pressure right now. The company's sales have pretty much flat lined over the last four years or so. Looking further back, however, the company earned around $27 billion in fiscal 2007 and $27 billion in fiscal 2016. There was a top-line dip during the recession, but there really hasn't been material sales growth in years. While earnings have held up reasonably well, some of that is related to an around 20% reduction in the share count since 2011.
At the start of this year, Macy's announced that it would be culling out its weakest stores. The idea is pretty simple, the more successful stores will add more to the bottom line because they don't have to carry the less profitable stores that get closed. Macy's is far from alone in this effort and it's probably a solid decision. Even retail juggernaut Wal-Mart (NYSE:WMT) announced plans to cut an uncharacteristically large number of stores.
Doing more
But just closing stores isn't enough, and Wal-Mart, among others, is trying new things. For example, the company recently brought in bull riders to some of its stores. Before you pass that off as a silly stunt, which it clearly is to some degree, this isn't the only example of what you might call retail-tainment. Whole Foods Market (WFM) has a putting green at one of its stores. The Kroger Company (NYSE:KR) is testing out cooking classes, wine bars (including a cigar selection), and lounge areas complete with leather couches. There's even a ShopRight, part of Village Super Market, Inc. (NASDAQ:VLGEA), with a workout studio in it that teaches yoga and Zumba, among other things.
Some of this makes Wal-Mart's bull rider effort seem tame by comparison. But the idea is basically the same across all of these efforts: Do something that can't be done "online." This isn't exactly a new thing, malls have been pushing in this direction for some time. Everything from movie theaters and bowling to rope courses and comedy clubs have migrated into malls, with an increasing focus on eating and entertainment. Things that you might prefer to do in the physical world and in a retail shopping environment.
To be fair, all of these ideas won't be successful. But they speak to an industry that isn't about to give up and play dead. And, frankly, there's still a lot of value in a physical presence... Indeed, even Amazon is opening brick and mortar stores. But there needs to be a way to stand out and that's where innovation of some sort is going to be at play. The current experiments, though, are pretty much par for the course if you look back far enough.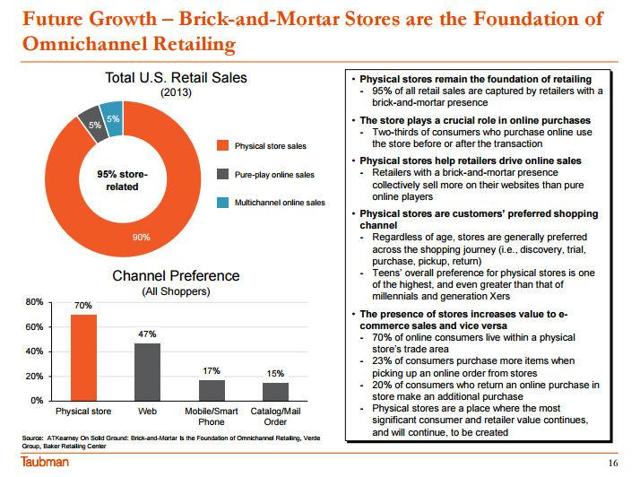 Mall owner Taubman Centers (NYSE:TCO) has long focused on innovation to set itself apart. Think things like food courts and ring roads around the mall. We take these for granted today, but they were big changes when Taubman was incorporating them into its business. The highly focused mall owner, which has industry-leading sales per square foot metrics, paints a persuasive case for the importance of finding a way to merge the physical retail world with the digital retail world. The key is finding a way to do it, "...on the customers' terms."
Taubman, by the way, has sold more malls over its history than it owns today (it has around 20 malls). It's clearly taking a highly focused, and active, approach to figuring out where things are going in retail. And at the same time that many retailers are deciding that smaller may be better. What's the point of owning a collection of middling malls and a few good ones, like struggling WP Glimcher (NYSE:WPG)? There's a reason why WP Glimcher shares yield over 9% and Taubman yields around 3.4%...
Can they make it?
Will the internet result in the complete death of physical retail? No, not by a long shot. Will it change the retail world as we know it? It already has and there's plenty more to come. Which leads to the investing angle. First, the weakest retailers (online and off) are likely to struggle the most and, if recent history is any guide, go away. Weak is a broad term, but it includes things like financial strength and how much shoppers want to shop at the concept. Sears Holdings (NASDAQ:SHLD) or Macy's: There's no question in my mind the answer is Macy's, which notably just announced a leadership change to bring in a fresh perspective. Wal-Mart would also rank well above Sears in my book, not only because of its size but also because it has shown a willingness to experiment with new business models. Looking at niche retailers, I'd shift the equation to the risk of a mall store or owning the company that owns the mall, like Taubman or Simon Property Group (NYSE:SPG), another high-end focused mall owner (though with a much larger portfolio).
Increasingly you'll also want to look at how proactive and innovative retail stores and malls are when you consider investing. Taubman's history stands out here and is one of my favorite mall REITs, though it's expensive today. But the efforts by the grocery stores noted above and Wal-Mart also stand out. You'll have to focus on which changes work and which don't, but no change is clearly not an option. It will be interesting to see what the new head of Macy's tries to do.
In the end, physical retailers will change and adjust, innovating to stay alive. But all retailers won't make it through to the other side. While some of the experiments may seem silly or out of place, that's part of the process. Sticking with quality, financially strong, and innovative companies is going to be increasingly important in the retail space.
Disclosure: I/we have no positions in any stocks mentioned, and no plans to initiate any positions within the next 72 hours.
I wrote this article myself, and it expresses my own opinions. I am not receiving compensation for it (other than from Seeking Alpha). I have no business relationship with any company whose stock is mentioned in this article.