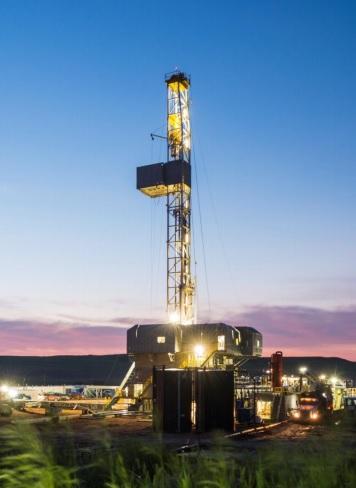 Source: Helmerich & Payne
In my first article on Kinder Morgan (NYSE:KMI) many readers expressed frustration that I was only looking at Kinder Morgan as a dividend growth stock, rather than as a potential investment poised to profit from oil's unpredictable, yet inevitable recovery.
However, while Kinder Morgan will indeed benefit from an eventual rise in crude prices, the fact is that there are two high-yield energy companies that are likely to return far higher capital gains than the pipeline giant. What's more, they also happen provide high, secure, and growing yields that pay investors handsomely to wait for that investment thesis to play out.
Kinder's exposure to commodity prices is minimal
The vast majority of Kinder's distributable cash flow or DCF, is tied to its long-term, fixed-fee contracted pipelines and oil storage assets. While this is a great thing from the perspective of investors seeking stable cash flows to secure, and one day, grow Kinder's badly gutted dividend, it also hurts Kinder's potential as an oil recovery stock.
For example, Kinder's most direct exposure to energy markets is its interest in the SACROC, Yates, Katz, Goldsmith, and Tall Cotton oil fields. In 2015 Kinder's oil wells produced an average of 57,000 barrels per day, but its interest in the wells only gave cash flow benefit from 41,400 bpd. Given the gigantic scale of the company this is a mere drop in the ocean of its vast cash flow stream.
By far Kinder's largest exposure to oil prices is in its CO2 operations, which consists of 1,300 miles of CO2 pipelines and 1.2 billion cubic feet per day of gas production. This business segment mainly produces, and transports CO2 to oil producers in the Permian basin, including Kinder's own oil fields.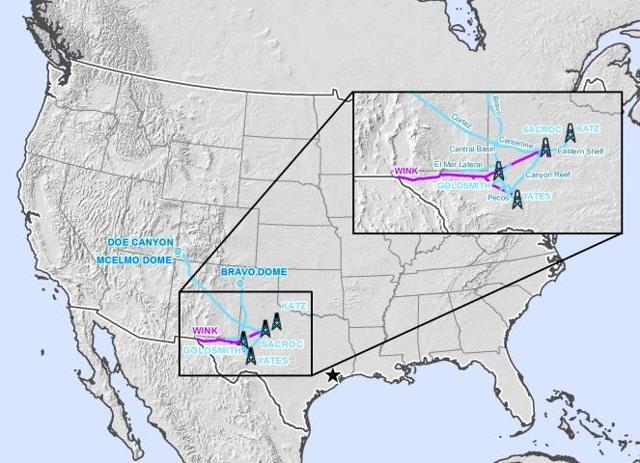 Source: Kinder Morgan
The CO2 segment has been, in large part, the biggest reason for Kinder's backlog shrinking from $22 billion to $14.3 billion over the past 9 months. Because an oil recovery could once again make its CO2 expansion projects profitable management estimates that each $1 per barrel increase in West Texas Intermediate crude equates to about $6.5 million in additional DCF.
While that may sound like a lot in absolute terms, consider this. Oil bottomed out at $26 per barrel back in February. Assuming it eventually triples to $78, that would increase Kinder's cash flow by about $340 million, or just 7.2% growth over 2015's $4.7 billion in DCF. In other words, even if crude rallies sharply Kinder is hardly likely to experience needle moving growth because of it.
Now that's not to say that Kinder investor's won't benefit. After all, at the end of the day share prices are set by the market, and as you can see, Kinder's price does rise with that of oil.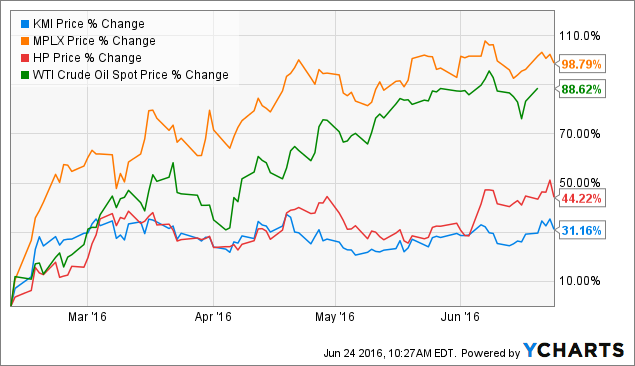 KMI data by YCharts
However, the relationship isn't that strong, which is why I recommend MPLX (NYSE:MPLX), and Helmerich & Payne (NYSE:HP), as two higher-yielding alternative energy recover investments. Not only are they more likely to benefit from a potential crude recovery, BUT they also will pay you generous and growing distributions while you wait.
MPLX is THE midstream MLP to own if you want to profit from an energy recovery
MPLX is a fast growing midstream MLP that's base growth is provided by its sponsor and general partner, Marathon Petroleum (NYSE:MPC), one of America's largest independent refiners. Marathon set up MPLX to monetize its vast midstream assets, and over the years has been steadily dropping down an increasing fraction of these assets, all with long-term, fixed-fee contracts with minimum volume commitments.
This business model provided for exceptionally fast growing and stable cash flow that was immune from oil and gas prices. However, back in 2015 Marathon Petroleum engineered a $10 billion merger between MPLX and MarkWest Energy Partners, the largest midstream operator in the booming Utica and Marcellus shale gas formations, which ended up causing major investor pain.
That's because MarkWest's higher commodity exposure now in the mix, low gas prices meant that during its first quarter as in integrated MLP, MPLX didn't see any increased DCF from the merger. In fact MarkWest resulted in a $16 million decrease in DCF while MPLX's balance sheet took on $4.2 billion in MarkWest debt. With a strong need to pay down that debt, management was forced to cut its payout forecast in half, resulting in MPLX's unit price collapse.
However, with gas prices recovering strongly in recent months things are looking up for MPLX. In Q1 the MLP reported a 314% increase in DCF and a strong 1.18 distribution coverage ratio. That should be more than sufficient to meet management's still impressive 12% to 15% payout growth target for the year. Add in the already generous 6% yield, and I am confident that MPLX can deliver both excellent income and unit price growth over the coming decade.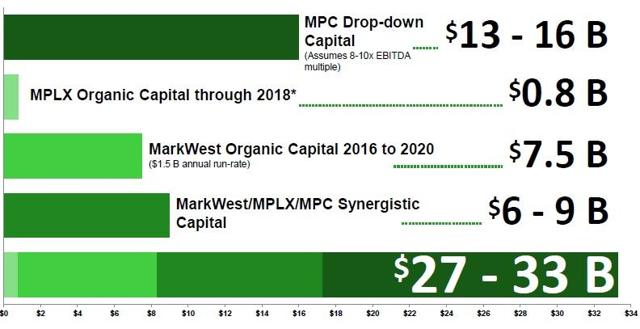 Source: MPLX investor presentation.
That's especially true given that, with the combined growth backlogs of both Marathon Petroleum and MarkWest, MPLX now has a growth pipeline of around $30 billion in potential asset expansion. This means that, in addition to potentially strong capital gains that could result from a recovery in energy prices, MPLX investors are likely to see strong payout growth driving total returns for at least the next decade.
Helmerich & Payne: dividend aristocrat with the most direct exposure to a crude recovery
Helmerich & Payne is one of America's premier oil rig operators, specializing in hi-spec rigs that are perfect for the kind of complex horizontal drilling that created America's shale oil boom. While the oil industry is incredibly volatile, its conservative management team has greatly enrich investors over the past few decades. That's in large part because the company is a dividend aristocrat, having just announced a slight bump in its dividend to $0.70; marking its 45th straight year of growing payouts to investors.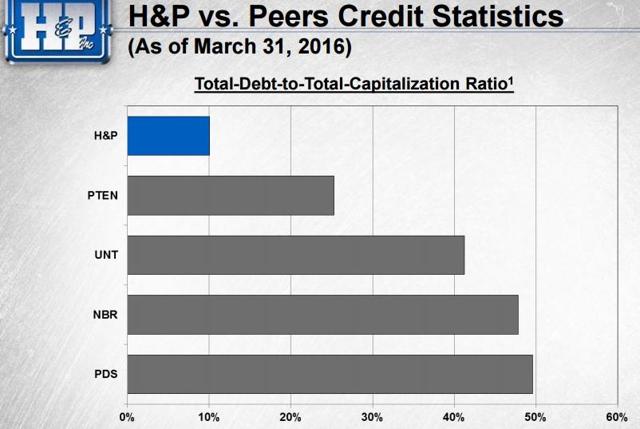 Source: Helmerich & Payne investor presentation.
There are three main reasons I highly recommend Helmerich & Payne: an appealing 4% dividend yield, a TTM free cash flow payout ratio of just 54.5%, and the strongest balance sheet in its industry. Once crude prices recover Helmerich & Payne investors can be reasonably certain that this dividend growth champ will continue its impressive payout growth streak.
Risks to consider
While oil prices recently doubled off their February lows investors need to realize that this doesn't necessarily indicate the oil crash is truly over.
That's because the rally was caused by a combination of oil supply disruptions such as Canadian wildfires, and terrorist attacks in Nigeria. In fact over the past few months 3.6 million barrels per day of supply have been taken offline, which has done wonders to temporarily alleviate the global crude supply glut.
However, in the coming months products from those affected regions could return and potentially help drive oil prices lower, with some analyst predicting a return to under $40 oil.
In addition don't forget about all the thousands of drilled but uncompleted, or DUC wells that are just waiting to be fracked. Over the past two years US energy companies have been forced by necessity to become far leaner and more efficient. Which in turn means their break even prices per barrel are now far lower than they were before Saudi Arabia initiated this global crude price war.
For example, we've already seen three weeks of rising oil rig counts in the US, indicating that America's shale producers feel that $50 oil is profitable enough to resume investment. That in turn could put a price cap on oil a lot lower than many oil speculators were initially planning for.
Bottom line: Kinder Morgan WILL benefit from rising oil prices BUT not as much as these higher yielding alternatives
Don't get me wrong, I'm not saying that Kinder Morgan is necessarily a bad long-term investment. However, I view it more as a speculative turnaround play than as either a good long-term dividend growth stock or a potential for capital gains investment due to a recovery in energy prices.
With their higher exposure to commodity prices, yet still generous, secure, and growing payouts, MPLX and Helmerich & Payne are the better choices for long-term investors wanting to maximize their profits from an inevitable recovery in energy prices.
Disclosure: I/we have no positions in any stocks mentioned, and no plans to initiate any positions within the next 72 hours.
I wrote this article myself, and it expresses my own opinions. I am not receiving compensation for it (other than from Seeking Alpha). I have no business relationship with any company whose stock is mentioned in this article.