It has been an incredible week of ups and downs for the Planet Fitness (NYSE:PLNT) share price. On Monday, it was trading a little below its 52-week high at $19.50, before dropping down to close Wednesday over 12% lower at $16.91. Anyone who sold out at that point may be kicking themselves now with the share price bouncing back by 12% on Thursday. The cause of this was an announcement of a secondary offering of common stock.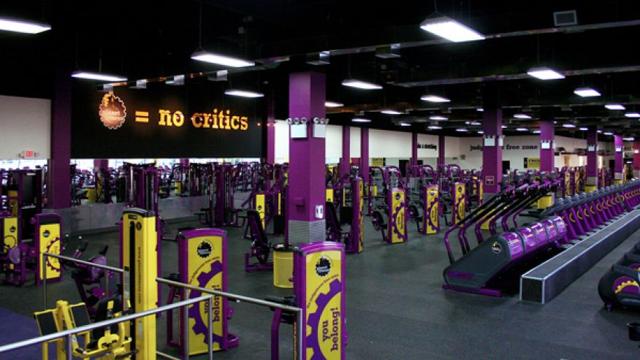 A secondary offering is enough to spook most investors, but this one was slightly different to the usual offering. As the press release stated:
"… announced that certain of its existing stockholders intend to offer for sale 10,000,000 shares of its Class A common stock pursuant to a registration statement on Form S-1 filed with the Securities and Exchange Commission. Certain of the selling stockholders have also granted the underwriters a 30-day option to purchase up to an additional 1,500,000 shares of Class A common stock. The Company will not sell any shares or receive any of the proceeds from the sale of shares of Class A common stock by the selling stockholders."
The secondary offering is on behalf of its largest shareholder TSG Consumer Partners, which wishes to offload 10 million of its stock at $16.50 per share. According to the prospectus, TSG and investment funds affiliated with TSG will control 56.2% of the voting power of Planet Fitness's common stock once the offering is complete.
TSG Consumer Partners acquired Planet Fitness in 2012 for $479.3 million. After it acquired the company, it grew its gym count by 57% and memberships by 86%, before taking it public around a year ago and leading us a year later to today. The sale of these 10 million shares will net TSG $165 million, which isn't a bad return on investment to say the least.
Often when a major holder sells a large amount of shares, it can worry shareholders. But we don't believe that shareholders have anything to worry about with this transaction. Because Planet Fitness doesn't pay and has no plans currently to pay a dividend, you cannot blame TSG for wanting some return on this investment it made in 2012. There could be many reasons why it is doing this, but perhaps the most likely reason is that TSG may be looking at making another investment elsewhere and thus needed the funds to do so.
If it is another investment, then presumably it is one that offers a great return because we think there is a lot of upside to come from Planet Fitness. The company does come under a lot of scrutiny by the market, but we believe it has a very bright future. As you can see below, it continues to perform incredibly well with more and more gyms opening and same-store sales growing at a strong rate.

(Source: Company Report)
It comes as little surprise that the company is having such success. Last year, it reported that on average each new gym attracted approximately 1,300 members before opening their doors. Its memorable marketing campaigns appear to be the reason why Planet Fitness has a strong and recognizable brand, which can attract new member en masse.
A lot of focus is placed on its $10 monthly membership fees. This is a unique selling point for sure and is probably part of the reason many go to join up. But surprisingly more people do opt for the $19.99 monthly Black Card membership over the normal $10 membership. Currently, 57% of members are Black Card members, up from 42% in 2011, which translates as an average monthly due per member of $15.64. Black Card members receive additional in-store amenities and affinity partnerships with well-known retailers for discounts and promotions. Both membership tiers are far below the industry average of $52 per month, so we would expect more conversion and more new members signing up as Black Card members.
As people live longer and healthier lives, we expect there will be sustained demand for gym memberships that will support the future growth of Planet Fitness. According to its report, as of March 31 this year, it had commitments to open more than 1,000 new stores under existing area development agreements. This is putting it on the path to its 4,000 target and should keep this growth machine pumping for some time to come. As we mentioned previously, as of 2014 there were a total of 54.1 million gym memberships in the United States. As costs stay low and the focus on health and wellness continues to take priority in many people's lives, we expect this number will continue to rise.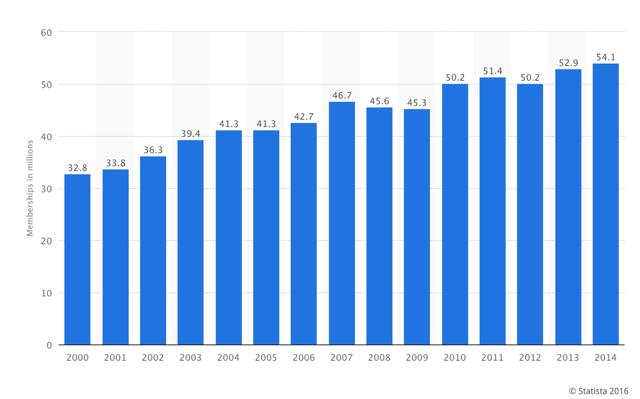 (Source: Statista)
As per our previous thesis, our price target of $18.67 remains based on a 4.75 price to sales ratio. Whilst the price target may have been met now, we expect the share price will be driven much higher in the next 12 months as sales increase in the double digits next year, thanks to its strong store growth. So, for us, we feel it is best to look beyond the TSG sale and hold tight to your holding.
Disclosure: I am/we are long PLNT.
I wrote this article myself, and it expresses my own opinions. I am not receiving compensation for it (other than from Seeking Alpha). I have no business relationship with any company whose stock is mentioned in this article.