GDP is virtually useless as an investment or policy metric. It was created for the US Congress in 1934 to help justify borrow, taxing, and consumption.
The following graph shows GDP in comparison with the metric Disposable Energy. GDP is nearly featureless. GDP fails to register the crisis of the 1973 Oil Embargo, 1979 Iranian Revolution, boom of the 1990s, and barely registers the near economic collapse of the Great Recession in 2008.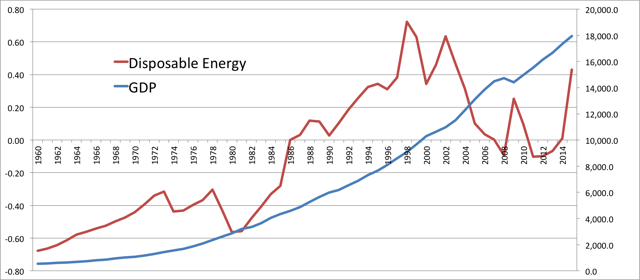 Disposable Energy is a simple metric of how much energy families can buy with their take-home-pay. This metric might be better refined, but in its current form it can be easily recreated by taking the price of gasoline and dividing it by the typical family's disposable income, then normalizing to 1986.
In contrast to featureless GDP, Disposable Energy indicated the boom of the 1990s starting with steady growth in 1982. Warnings of the 2008 crisis began in 1998.
The economy should be viewed as a flywheel:
As labor and energy are applied, economic momentum builds into the flywheel. As money is borrowed and spent, this also adds to the momentum.
As debts are repaid, energy becomes less affordable, resources deplete, unemployment decreases labor being applied, the moment of the flywheel decays.
GDP is a historical assessment of momentum, output. Disposable Energy is the current measure of inputs generating economic work.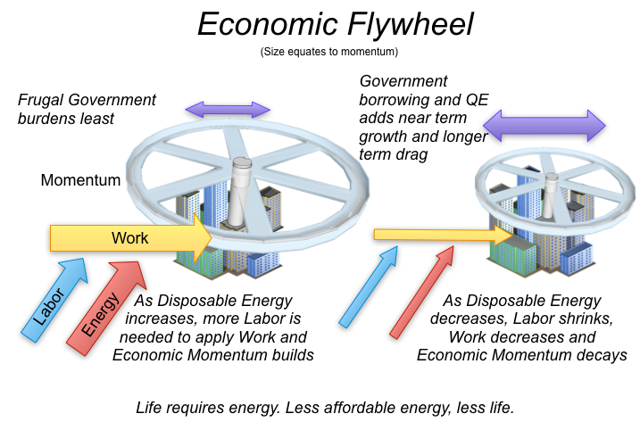 Disposable Energy includes aspects of take-home-pay, taxes, unemployment, energy costs and other factors. A key component of input is the price of gasoline. Simply logging the price of gasoline provides a warning of problems and potential improving markets about 18 months in advance. In the following graph, unemployment is shifted one year earlier (light red line shows actual time). The price of gasoline is normalized to 2015 dollars.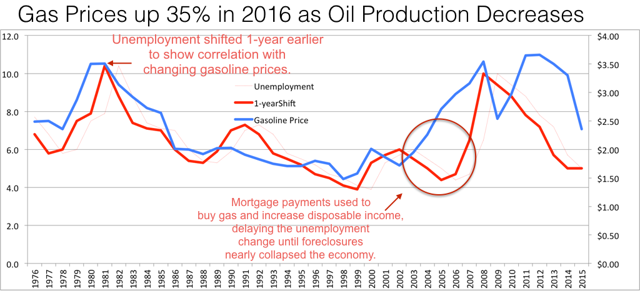 The law of supply and demand will require gasoline prices to continue to rise. US Oil production is decreasing at the rate of about 1 million-barrels/day/year (mb/d/y), 1 Mb/d Oil Depletion Vs. EIA's Rosy Forecast. Gasoline prices are up 35% so far in 2016 and will rise much higher, much faster than the market is current priced at.
The "glut" of oil is not a glut, but a storage problem in a highly "just-in-time" industry. The TWIP reports of June 2016 underscore that "markets are wise". Despite difficult storage problems, as US oil production declines, buyers are buying foreign oil to compensate. If buyers thought there was a "glut", they would not burden themselves with additional costs of storing inventory. Buyers would let US inventories deplete. Markets aggregate insights.
As noted by Saudi Arabia and China, energy markets are shifting their nature, $100 Trillion Shift From 'Just-In-Time' To 'Just-In-Case'
Oil prices and gasoline prices will continue to ratchet higher, and at a faster rate, than is currently forecast by EIA. Buyers acting in the real market illustrate the willingness to pay for more "just-in-case" inventory.
This could impact investments in oil and gasoline ETFs, such as the United States Gasoline ETF (NYSEARCA:UGA), the United States Oil ETF (NYSEARCA:USO), the iPath Pure Beta Seasonal Natural Gas ETN (NYSEARCA:DCNG), the iPath Pure Beta Energy ETN (NYSEARCA:ONG), the iPath DJ-UBS Energy Total Return Sub-Index ETN (NYSEARCA:JJE), ELEMENTS Linked to the MLCX Biofuels Index (Exchange Series) Total Return ETN (NYSEARCA:FUE), the UBS E-TRACS CMCI Energy Total Return ETN (NYSEARCA:UBN), the United States Diesel-Heating Oil ETF (NYSEARCA:UHN), the iPath DJ-UBS Natural Gas Total Return Sub-Index ETN (NYSEARCA:GAZ), the DB Crude Oil Long ETN (NYSEARCA:OLO), the United States 12-Month Natural Gas ETF (NYSEARCA:UNL), ELEMENTS Linked to the Rogers International Commodity Index - Energy Total Return ETN (NYSEARCA:RJN), the iPath Pure Beta Crude Oil ETN (NYSEARCA:OLEM), the ETRACS S&P GSCI Crude Oil Total Return Index ETN (NYSEARCA:OILX), the Credit Suisse X-Links WTI Crude Oil ETN (NYSEARCA:OIIL), the PowerShares DB Energy ETF (NYSEARCA:DBE), the United States 12 Month Oil ETF (NYSEARCA:USL), the United States Brent Oil ETF (NYSEARCA:BNO), the PowerShares DB Oil ETF (NYSEARCA:DBO), the United States Natural Gas ETF (NYSEARCA:UNG), and the iPath S&P Crude Oil Total Return Index ETN (NYSEARCA:OIL).
Disclosure: I/we have no positions in any stocks mentioned, and no plans to initiate any positions within the next 72 hours.
I wrote this article myself, and it expresses my own opinions. I am not receiving compensation for it. I have no business relationship with any company whose stock is mentioned in this article.