MannKind (NASDAQ:MNKD) investors have seen yet another disappointing week of Afrezza sales. The diabetes drug sold just 257 scripts last week with only 93 of those scripts being new patients. The sales path is even tracking below my most conservative estimates. Simply stated, the re-launch of Afrezza needs to be a grand slam as the company lacks the finances swing and miss even once.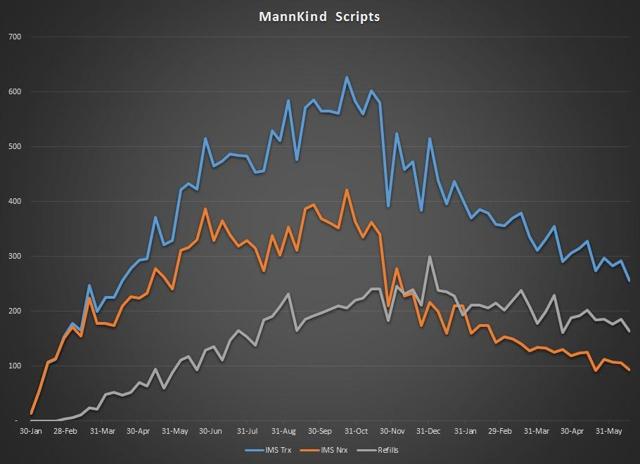 Chart Source - Spencer Osborne
Last week I spoke about the importance of investors building models to ensure that one's expectations are not emotionally driven. Many investors contacted me privately to express gratitude with regard to the models I developed. There were some however that simply do not seem to want the accountability of outlining any form of expectations. One comment that I thought was intriguing was this:
"Spencer,
I will give my projections in time. I'd be speculating if I do it at this time. Not enough data. Give the sales force time to educate endo and MNKD to fix label.
Long MNKD and adding shares"
Investing is all about speculating, and whether the author of this comment realizes it or not, they are speculating when adding shares. In the course of three sentences, this individual indicated that they do not want to speculate, that they feel there is not enough data, and that they are adding shares despite all of the "uncertainty" they had in the previous sentence. Further, this person wants to give MannKind enough time to "fix the label".
This is the label that MannKind agreed to. If it was broken, then perhaps it should have been discussed with the FDA prior to getting approval. A "broken label" is not a compelling reason to invest. Perhaps the time to invest is IF they can fix the label, and when that fix is announced.
Set aside the seemingly constant debate about whether Afrezza is good or bad for a moment. Look at this investment from a business perspective. MannKind is in a race against time. The company has limited cash and some substantial expenses. If educating ENDO's is of paramount importance, might it not be prudent to get a large educational sales force out on the street with the re-launch?
MannKind is now 73 weeks into its launch, and scripts are back to the level that we saw in week 11. This is regression, not progress. On a quarter over quarter basis we see that sales are tracking 22% lower than the numbers posted in Q1. This gap in sales is getting wider with each passing week.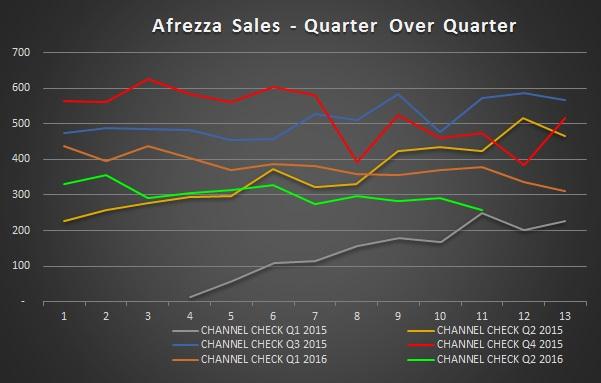 Chart Source - Spencer Osborne
On a year over year basis, Afrezza sales are now down 9%. Year over year comparisons are not going to be very pretty on quarterly reports for the next few quarters.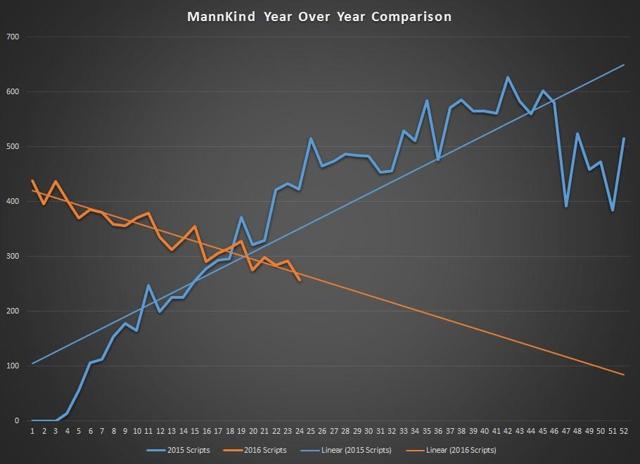 Chart Source - Spencer Osborne
Passionate MannKind investors will likely be quick to attack the reporting of script numbers. I will get comments about how the dynamic has not changed, and questions as to the timing of my article. Script numbers come out each Friday. Tracking these scripts allows investors to assess the current situation and project what situation is most likely in the weeks ahead. If you do not like the numbers, do not make excuses. Assess and decide what course is best for you.
MannKind will remain a speculative play as the company prepares to take on the costs and responsibility of a re-launch. Management is saying what its sales people need to hear, and is fighting the good fight. That does not make MannKind a good investment. Some investors that are already down 75% or more may well simply want to bet on hope. Savvy longs are assessing things carefully and trying to preserve capital without giving up on the potential. Some will use options plays to accomplish this. Others will sell and move on. Still others will trade the peaks and valleys with a better understanding that speculative stocks can make some wild swings on very little news.
If you have not yet modeled your expectations, I encourage you to do so. Do not be scared to be honest with yourself. This is not about your opinion of former marketing partner Sanofi (NYSE:SNY). This is about the ability of MannKind to move forward and whether they have the finances to accomplish what is needed in a short enough time-frame to make your investment improve. Stay Tuned!
Disclosure: I/we have no positions in any stocks mentioned, and no plans to initiate any positions within the next 72 hours.
I wrote this article myself, and it expresses my own opinions. I am not receiving compensation for it (other than from Seeking Alpha). I have no business relationship with any company whose stock is mentioned in this article.