The mining industry and global commodity markets performed well over the period 1990 to 2001, and the mining industry grew cap-ex from $5.7bn to $14bn, producing a cagr of 9%. By 2001 China's fixed-asset investment boom was taking off in earnest and global miners responded by dramatically increasing cap-ex which grew at a cagr of 22% over the period - from $14bn to $123B. These factors drove the up-cycle way above historical peak cycle levels, and coupled with a boom in Chinese demand for all types of commodities spawned what is now called the Great Commodity Super-Cycle. Several things stand out from this cycle - it was driven in large part by huge debt fueled infrastructure investment in China, especially after 2009; it was fairly clear that demand for raw materials from China couldn't last forever - yet many global miners over-invested in capacity to the point that when demand began to subside in 2012 the downturn was over-amplified.
Supply and Demand starts to align…
The price of China's main infrastructure inputs started to peak in 2011. Below are charts from Bloomberg (and Shanghai Longzhong International Co) showing average prices.
This charts shows average Rebar prices which have declined 68% from peak.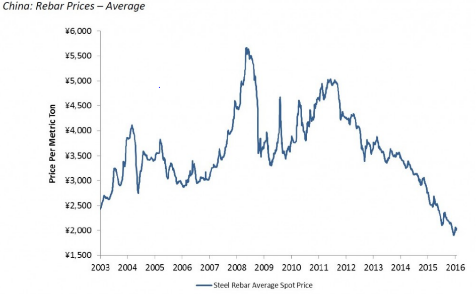 Chinese average Iron Ore prices have declined 76%.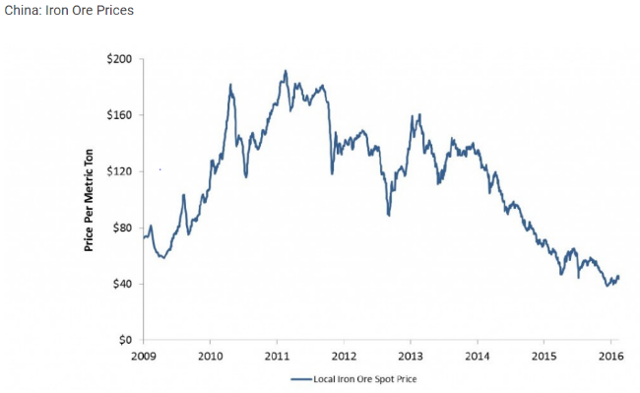 China average rubber prices have declined 78%.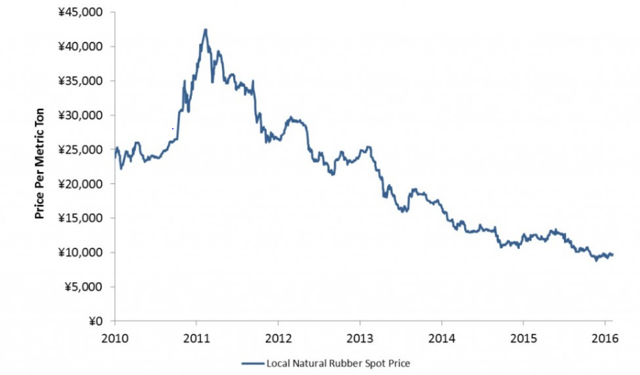 Where is China today….
In 2015 Chinese GDP grew at an official figure of 6.9% the slowest pace since 1990. With fears that the government would allow events to take their course and GDP would collapse - global markets began to sell off. The government responded in Q1 2016 by stepping in and dramatically increased new credit supply into its over indebted SOE's. Negative trending construction statistics reversed course with completed construction surging by 17.7% in Q1. Demand for steel and metals began to soar, with the price of iron ore rising 62% and base metals as much as 21% in Q1. Local government projects that had been shelved were put back on-line and development applications were quickly accepted. With the global mining industry having responded proactively to the downturn, with assets sales and debt reduction plans, mining equities responded strongly. Below is a chart from Bloomberg showing the pick-up in construction in China in 2016.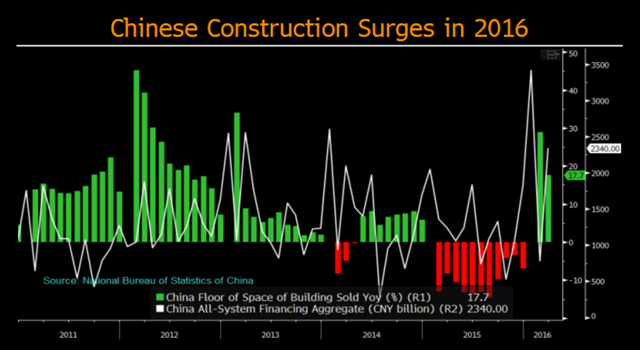 To bolster the Chinese auto-market the government cut taxes and sales responded rising 5.9% in March despite the chronic oversupply of steel in the wider market. Perhaps, the most significant event however, was the resurgence in real estate and in housing market. Floor space of newly started buildings, an early-stage construction indicator, surged to 19.2% through March. Land purchases have fell at the slowest pace in 17 months, to a 11.7% decline in 1Q from a year earlier.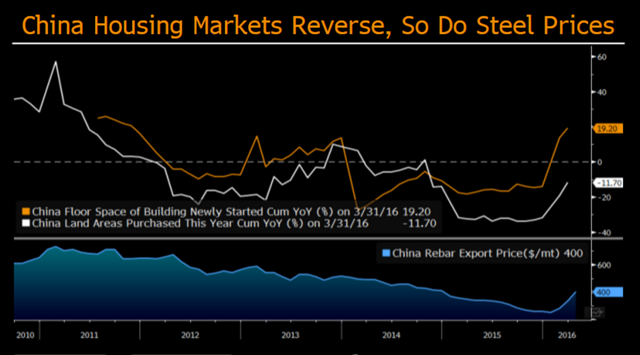 So Where now for Global Mining?.....
In May 2016 at the Global Metals and Mining Conference Glencore (OTCPK:GLNCY) outlined it's view that global top 5 diversified mining capex will fall to $24bn in FY2016 from a peak of $71bn in 2012. Below is a slide from Glencore's presentation showing 10 year industry trends.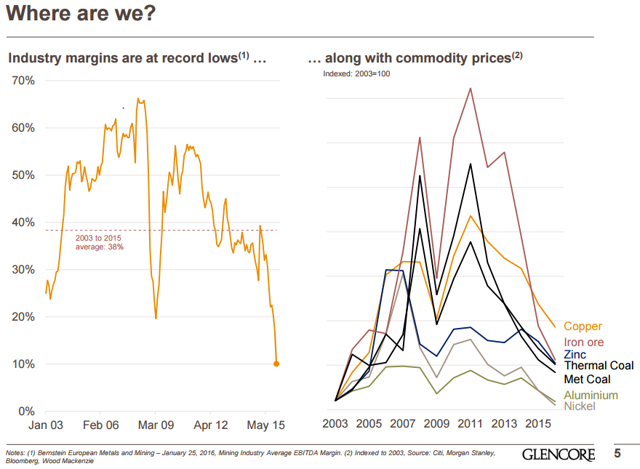 The slide below from Glencore's presentation shows the rapid increase in supply since 2003.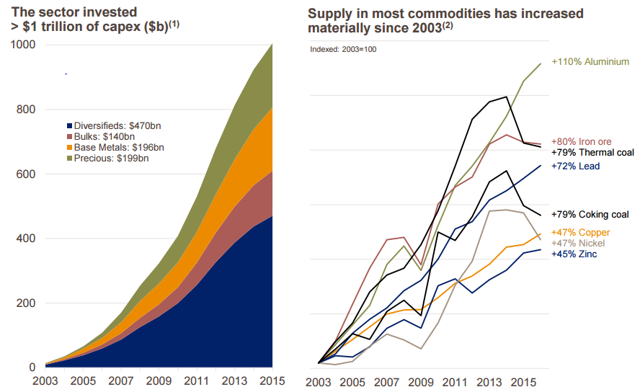 After 8 years of life-support…
Commentators and analysts see China as adopting a trial and error approach to policy making in 2016. So far this has translated to ensuring tighter capital controls, a firm hold on the RMB, and a massive injection of new credit in Q1 to roll over ailing debt. Added credit stimulus to elevate debt that is turning sour at some point will become so risky that it cannot be undertaken. At this point debt restructuring has to take place (Some estimates place the size of the banking system at 2x that of the US financial system in 2007). Outside of commodity markets fundamental measures of global demand are showing that the world is still lacking genuine consumer demand after nearly 8 years of monetary easing by western central banks. Dry bulk good shipping prices as measured by the Baltic index have recovered slightly but are still at multi-year lows. Below is a 5-year chart from Bloomberg of the Baltic Index.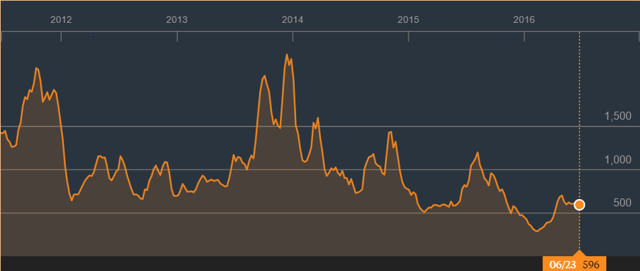 The index is a solid barometer as it is considered devoid of speculative sentiment. The supply of cargo ships is inelastic - it takes two years to build a new ship and the cost of laying a ship aside for short intervals is too high. The common shopping phrase is; "Customers don't book freight shipping unless they have cargo to move". The Index fell to its lowest level since January 1985 in February before rallying off the low. Yet through March 4th 29 cape-size vessels with an average age of 21.4 years were turned into scrap according to GMS Inc, the world's largest cash buyer of ships for recycling. That's a faster pace than the 93 destroyed in all of 2015 and the 25 destroyed in total in 2014. Scorpio Bulkers has liquidated its entire capsize vessel fleet with their CEO saying that the global shipping market will, "be in pure survival mode for the coming year".
Shippers who don't want to demolish their vessels are parking them - a very expensive option. Brunei Bay off the coast of Malaysia, a designated area for anchoring bulk carriers has filled its 135 slots according to International Shipcare, a provider of lay-up services. This is the first time anchorage at the bay has reached capacity in the 41 years Shipcare has operated at the bay. Ship owners are paying an average $36,000 a month for parking and the waiting-list has 50 ships - an unprecedented situation. Another high-quality gauge is LNG prices. They have risen off lows but it is difficult to see where demand is emerging from. Below is a graph showing generic 1 month futures for Liquefied Natural Gas.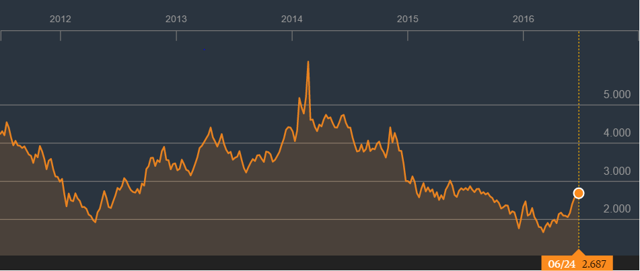 In the US rising default rates in the auto financing industry and poor jobs data is showing a consumer who is working in lower quality and less-formal jobs - in sum a consumer under pressure. The Fed has held out again and again and now it seems that printing money (helicopter money) will be the only route to some form of financial system normalcy. Meanwhile in China…the dragon is slowly running out of puff….
Disclosure: I/we have no positions in any stocks mentioned, and no plans to initiate any positions within the next 72 hours.
I wrote this article myself, and it expresses my own opinions. I am not receiving compensation for it (other than from Seeking Alpha). I have no business relationship with any company whose stock is mentioned in this article.