(Editor's Note - Please note that amounts are presented in GBP, unless otherwise stated.)
Introduction
It's great to find undervalued companies, but it's more rare to find companies where the market is completely mispricing a business. In this article, I'd like to provide you with an in-depth analysis of Flybe (OTC:FLYBF), a regional airline company whose share price has been death spiraling for the past 24 months now, losing approximately 70% of its value. I will show you why the market still has to catch up with the tremendous improvement of Flybe's situation, and why the company will start to surprise people in the next 6-24 months. To be honest, this company was a real head-scratcher as I just couldn't figure out why the market was valuing Flybe at just ~US$150M (coming from $500M just two years ago).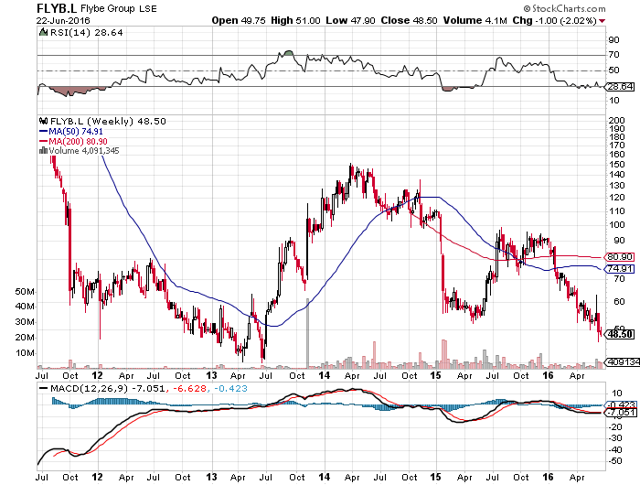 Flybe is a British company and I would strongly suggest to trade in the company's shares through the facilities of the London Stock Exchange where Flybe is listed with FLYB as its ticker symbol (pretty easy to remember). The average daily volume is approximately 600,000 shares.
FY 2016 - the first profitable year since the company went public
The company's revenue increased by more than 10% to 624M GBP which is a pretty decent result. Of the 624M in revenue, approximately 90% was generated by the company's own activities whilst an additional 14M GBP was received from companies it's flying white label services for (Scandinavian Airlines and Brussels Airlines). The higher revenue was also associated with higher expenses, but fortunately,Flybe was able to report an operating income of 8.7M GBP, which is much better than the operating loss of almost 13M GBP in FY 2015.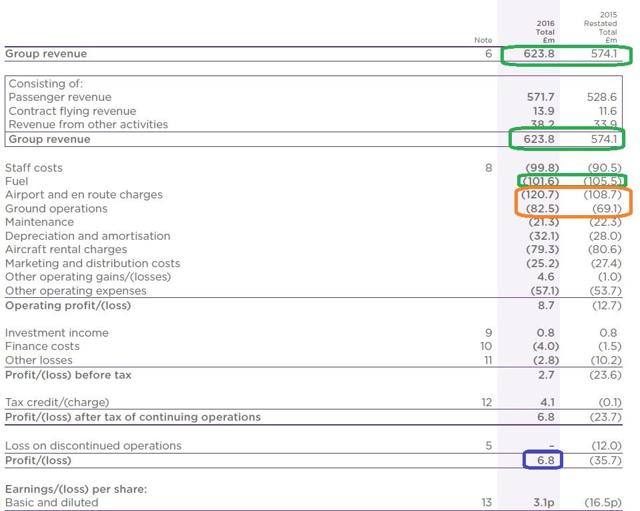 Source: annual report
Thanks to a tax credit of approximately 4.1M GBP, Flybe's bottom line shows a net profit of 6.8M GBP which still isn't high, but it is a historic moment as this is the first time Flybe was able to show a net profit since it got listed on a stock exchange approximately 5 years ago.
That's nice, but that alone isn't enough reason to pop the champagne corks, given that there still are some legacy issues the company has to deal with. In a later part of this article, I will explain what the company did wrong in the past, and how it's trying to mitigate the risks. I will also explain why the fuel expenses fell by just 15% even though the jet fuel price on the world market nosedived.
The cash flows were acceptable, and the high capex shouldn't scare you
Even more important than the income statement is the cash flow statement. After all, it's extremely important to figure out how much cash a company is really generating as you can't really pay your bills with an accounting profit, you need to have hard dollars (or British Pounds) to pay your bills.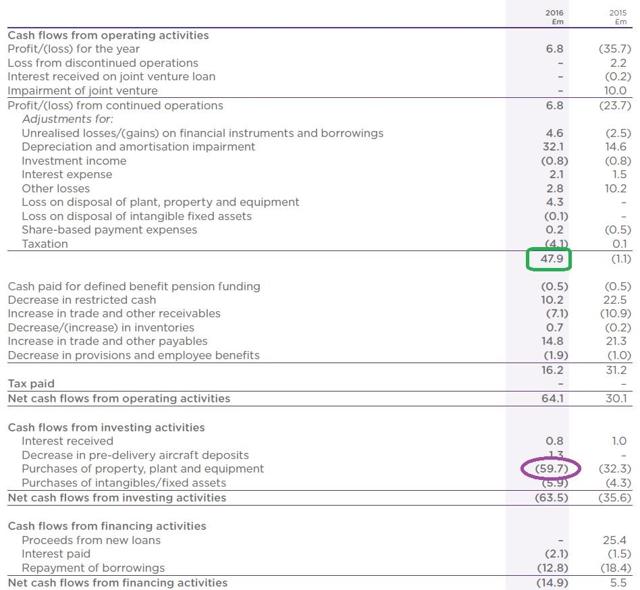 Source: annual report
Flybe's operating cash flow remained pretty strong at 48M GBP, and even after paying the interest expenses, the adjusted operating cash flow was still approximately 46M GBP, which basically means the company is trading at just 2 times its adjusted operating cash flow (excluding the positive impact from changes in Flybe's working capital position on the cash position). Yes, the total capex of 65M GBP might seem to be a bit high, but there are two important things I would like to emphasize here.
First of all, approximately 40% of this capex was caused by Flybe buying 3 new planes (well, second-hand planes), which is a non-recurring expense and should be seen as growth capex rather than sustaining capex. A second important thing is the fact that Flybe is capitalizing a large part of its maintenance capex (considering some of the checks it has been performing will allow the company to stay in the air for a few more years). This means that the total sustaining capex is actually higher in some years compared to other years and considering Flybe reported a maintenance charge of 21M GBP (on the income statement) in FY 2016, it's pretty clear the maintenance capex is 'overstated' by 10M GBP (considering the total maintenance capex on the cash flow statement was approximately 30M GBP). That's not abnormal, but this could mean FY 2016 was a capex-intensive year, and the maintenance capex could be lower in the current financial year
One important thing is also immediately becoming perfectly clear after investigating the balance sheet; Flybe's current market capitalization is approximately $160M (105M GBP), but the balance sheet contains approximately $80M in net (unrestricted) cash, resulting in a total enterprise value of just $80M for Flybe!
Flybe should NOT be trading at the current level as the legacy damage is being repaired
So why did Flybe's share price spiral down in the past 24 months? Simply put; bad decisions. Early in the previous decade, the company operated a fleet of turboprop airplanes (as well as some tiny 4-engine Bae's) on small routes (routes that were, and still are, completely unappealing for operators like British Airways, easyJet (OTCQX:EJTTF) or Ryanair (RYAAY) given the negative impact on their load factors by flying with larger aircrafts).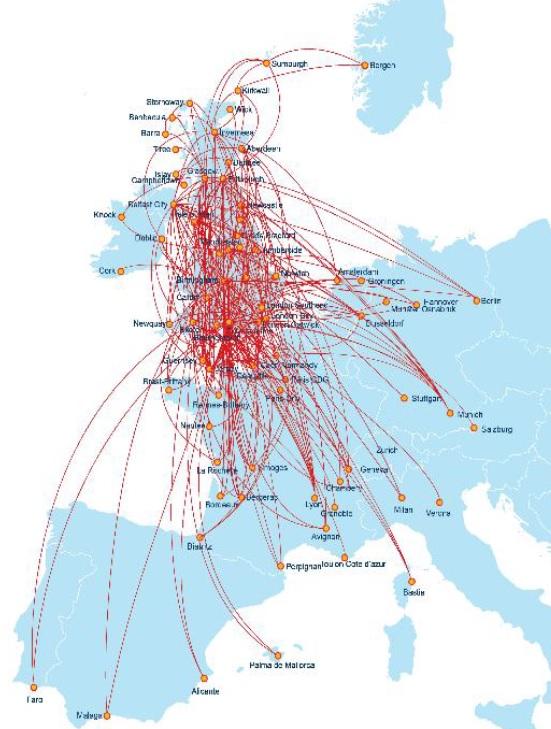 Source: company presentation
But then the company made the decision to start using larger jet planes such as the Embraer 175 and 195 series (introduced in 2006). True, these planes offer a better fuel efficiency per seat as they are larger than the Dash-400s (built by Bombardier) Flybe was flying, but the problem were the load factors. Due to the limited markets served by Flybe, it was unable to fill the Embraer planes on its normal routes (You might find 50-60 passengers for a Groningen-London Southend flight, but you won't find the 100 you would need to keep the load factors stable in the larger E195 jet).
It tried to use these larger planes on more popular routes, but it was unable to compete with the real no-frills airlines which already had a strong foothold on those markets. This completely backfired and Flybe was stuck with planes that are too large for the routes it was serving. Unfortunately, its lessors didn't agree to an early re-delivery of the planes, so Flybe is still stuck with them and is still using them. Fortunately, the lower fuel expenses will mitigate the impact of flying these more expensive planes, but it's pretty clear the management of Flybe dropped the ball there, and overestimated its capability to fill the seats.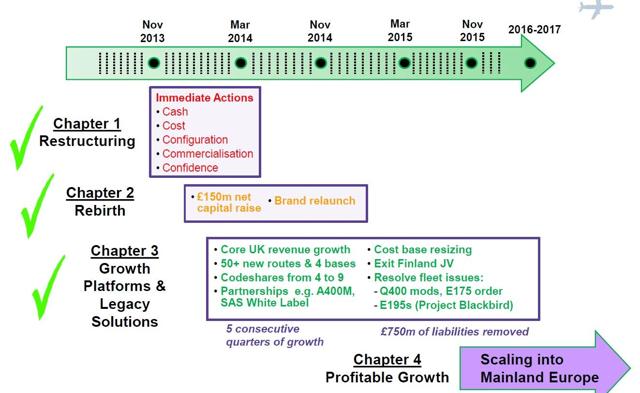 Source: company presentation
That being said, I do think the market has 'overpunished' Flybe, as all financial metrics are pointing in the direction of a huge undervaluation by the market.
Granted, the P/E is approximately 16 based on the market capitalization of the company, but if you'd take Flybe's net cash position into consideration, the EV/Profit ratio is just 8 which is comfortably low.
On top of that, another one of the metrics I frequently use, the EV/EBITDA ratio, is currently less than 1. I don't think I have ever seen this before. With an EV/EBITDA of less than 1, Flybe seems to be priced for bankruptcy which won't happen anytime soon, given its net cash position of $80M, and its positive sustaining free cash flow (excluding the acquisition of new planes in FY 2016, the company would have generated 10M GBP in positive free cash flow).
The Enterprise value of Flybe is approximately $80M, whilst the company is generating almost $180M in EBITDAR (recurring EBITDA, excluding maintenance depreciation), resulting in an EV/EBITDA of 0.45.
So why is the EV/EBITDA ratio this low?
That's a good question. It does look like the market is running behind the facts. As Flybe's EBITDA increased in FY 2016 whilst the enterprise value decreased, the company's EV/EBITDA ratio was impacted from both sides. The ratio was reduced dramatically as you can see in the next table where I compared the EV and EBITDA of Flybe from FY 2015 with the results of FY 2016.
| | | |
| --- | --- | --- |
| | 2015 | 2016 |
| Enterprise Value (end of year for 2015 | 60M GBP | 54M GBP |
| EBITDA | 83.5M GBP | 120.1M GBP |
| Operating Cash Flow | (1.1M) GBP | 45.8M GBP |
| | | |
| EV/EBITDA | 0.72 | 0.45 |
| EV/OpCF | NEGATIVE | 1.18 |
As both the Enterprise Value decreased and the EBITDA increased, the company's EV/EBITDA ratio continued to fall, whilst the total operating cash flow increased substantially on the back of the higher EBITDA.
Of course, the air travel sector has traditionally been and will very likely always be a cyclical sector, so why is Flybe different here?
Let's get back to the origin of the issues. Back in 2006, the company decided to purchase E-195 jets with a seating capacity of 118 passengers instead of the 70-90 range on Flybe's other planes. It became pretty clear Flybe overreached and overestimated its own possibilities, and unfortunately, it had to deal with these 'legacy issues' where it was stuck with planes that were too big.
Its leasing contracts for the remaining E195s are binding, and the impact is currently still being felt (The last one of the E195 jets will only be returned to its lessor in FY 2020, so until then Flybe will have to continue to pay the leasing fee, even though it's unable to maximize the capacity of the planes). The company's management team has admitted that returning these plans to the lessor will reduce the leasing expenses by 20M GBP per year.
Flybe's decision to fall back on its 'original' business plan is a great idea
I think everybody will agree the air travel sector is all about competition. You need to find a way to distinguish yourself from other air carriers, and this is actually Flybe's strong point. There are plenty of airline companies in the UK that are operating a London-Barcelona route (British Airways, easyJet, Ryanair, Jet2, Thomas Cook/TUI Travel are five operators that immediately come to mind).
It wouldn't be smart of Flybe to try to compete with the existing carriers on this route as it would very likely either lose the battle against the no-frills airlines or see its operating margins fall to next to nothing. That's exactly why it's a good plan to go back to the basics, and compete directly with train and boat. Flybe originally was a small airline company that was focusing on small and unconventional routes without any competition, and will continue to do so.
Why does this make sense? Because any sort of competition from a competing (AIR) carrier is practically impossible. Flybe can operate these routes profitably due to the smaller size of its aircraft (needing fewer staff and reaching a higher load factor), but none of the aforementioned air carriers uses planes that are as small as Flybe does.
Just to give you an example here, Flybe operates the route Manchester-Aberdeen, and is the ONLY operator servicing Aberdeen from Manchester (an airport with 23 million passengers per year). As this isn't a high-density route, it also wouldn't make any sense for a British Airways to initiate this route as A) British doesn't have a hub at Manchester and B) the lowest seat capacity on British Airways' planes is the Airbus 319 which seats 132 passengers.
Remember what Flybe's problem was? Its planes seating 118 passengers were too big and the company was losing money on it. So you can be 100% certain British Airways (min. 132 passengers) or Ryanair (min. 180 passengers) won't compete with this as they have much more to lose rather than to win by opening this potential route. British Airways has acknowledged it wouldn't make sense for them to operate flights between city pairs with light traffic, and has also signed a codeshare agreement with Flybe, whereby BA-ticketed passengers will be accommodated on Flybe-operated flights.
And these codeshare agreements are becoming one of the cornerstones of Flybe's business model.
There's no way the fancy large long-haul airline companies will put their customers on a no-frills airline (like easyJet) in case they need to connect to get to another destination in the UK (or Europe) from Manchester.
Flybe, which has signed a codeshare agreement with several of these long-distance carriers to bring their customers to their final destination in the UK upon landing in Manchester. And these aren't small deals, as out of Manchester, Flybe is responsible for the Paris and Amsterdam connections for Cathay Pacific, as well as ALL domestic flights for Virgin Atlantic and Etihad arriving in Manchester. If you know Etihad by itself is transporting almost half a million passengers per year through Manchester, you realize this is quite big a deal.
It's very important for Flybe to have its fingers in these pies as the company becomes the 'to go to' airline company for the more 'unusual' routes inside the UK that allows these major carriers to serve more smaller cities thanks to this deal with Flybe, as the barriers to entry are too high for these companies to service these markets themselves.
The company also signed a new codeshare agreement with Air India and additional codeshares with Virgin Atlantic and this will also help Flybe to increase its load ratio's as Air India will direct its customers to Flybe for the short domestic flights upon landing in Birmingham. Virgin Atlantic started to sell new codeshare tickets about two months ago, and according to Flybe:
"The demand for forward bookings has exceeded early expectations".
So, the codeshare agreements are starting to pay off already, and I would expect Flybe's load factors to increase.
The one thing that everybody seems to be forgetting…
What are the main expenses for an airline company? Staff, airport charges, maintenance, and fuel. Most of the US-based airline companies have bene able to post huge net profits and massive free cash flows on the back of the low oil price which caused the jet fuel price to tumble as well.
Flybe didn't realize full benefit from this, given that the company had entered into hedging agreements for its FY 2016 fuel needs before the price really started to tumble. That's a pity, and it's the main reason why its fuel cost per ton fell by just 15%.
Too bad, but there's more than what meets the eye here. Flybe usually only hedges for a relatively short term period, and I have the impression The Market missed the fact Flybe will now be able to fully capture the low jet fuel prices. It has already locked up 90% of its fuel needs at a total price per ton that is approximately 40% lower than the price it paid in FY 2016.

Source: Annual report
These new hedges will provide the company with a massive windfall of additional profits and cash flow. I re-did this calculation several times just to make sure I did it right because the impact of the lower fuel price will be more important than you'd originally expect.
Back in FY 2016, Flybe used 173,000 tons of jet fuel, for which it paid an average of $826 per ton.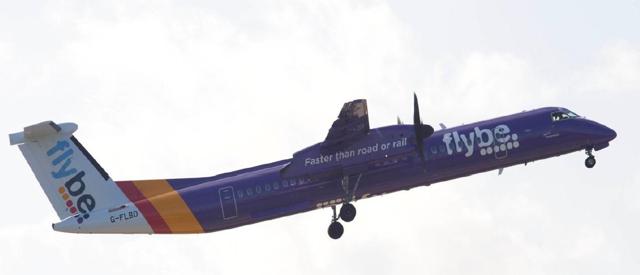 Source: company presentation
Okay,$826/t was already much lower than $949/t in FY 2015, but the real windfall will start this year. If you'd assume the total fuel requirement will remain stable (it will actually very likely increase, but so will the total amount of available seats, so for simplicity sake I will assume the additional seats will take care of the additional fuel consumption, I'm just explaining the impact of the fuel price in the greater scheme of things) at 173,000 tons, and assume the current spot price of the jet fuel will remain at $456/t (which is indeed lower than the current hedged price), then the calculation will look like this:
155,000 tons (90% of the total demand of 173,000 tons) at $569/t for a total amount of $88.2M
Plus
18,000 tons at $456/t for a total amount of $ $8.2M, resulting in a total fuel cost of approximately $557/t, which is approximately $269 lower than the $826/t last year.
And this is where it gets really interesting. As the cost of the fuel will fall by 32% this year, the company will save $46.5M on fuel (173,000 tons of fuel X $269/t in cost savings), and that's huge considering the current enterprise value is just $80M. Almost 60% of this enterprise value will be generated in additional free cash flow in the current financial year thanks to the low jet fuel price.
But it gets even better, as Flybe has also already hedged 50% of its FY 2018 fuel requirement at $473/t. I hope Flybe will lock in the price of its entire FY 2018 fuel need at the same price, which would reduce the fuel cost by an additional $10M in FY 2018, for a total cost saving of $56M compared to FY 2016.
All other things equal, Flybe will generate a net free cash flow of in excess of $100M in the next 22 months based on the savings on the fuel expenses alone.
And that's why Flybe seems to be an intriguing investment opportunity.
What does this mean for FY 2017?
Does this mean we will see a huge boost in the company's free cash flow results? Yes and no. You will very likely see a break-even situation or even a net cash outflow on the cash flow front, but that's purely because Flybe will take delivery of some new planes it will purchase rather than lease. However, as these are one-time expenses, you should consider this to be a growth capex rather than a sustaining capex, as a) this will reduce the need for Flybe to lease planes, thus reduce the lease costs and b) it's unlikely Flybe will (have to) buy 10 planes per year from here on.
So I would expect to see a substantial investing cash outflow to purchase these planes, but you should really see this as a 'short term pain to create a long-term gain'. Just think about this; right now, Flybe is leasing the majority of its planes, and that's quite expensive compared to owning them outright. It also reduces the company's financial flexibility by committing a large amount of cash to buy the aircraft rather than leasing them. So the question now is what the long-term benefit is to own a plane rather than leasing it.
The lessor of some of Flybe's planes has announced its lease yield was in excess of 13% in the previous financial year
So if Flybe would lease a plane with an acquisition value of $20M for 20 years, its average annual lease cost would be $2.5M. That's very reasonable, but it also means that over a 20-year hull life, it would pay the lessor $50M, rather than coughing up the $20M by itself. This means Flybe would save $30M over the entire hull life of its turboprop planes. Whilst it's capital intensive to acquire a plane, the economics are clearly in favor of an owner-operated fleet rather than a leased fleet. Of course, older planes will have more mechanical failures, but Flybe should still end up on the better side.
That being said, Flybe doesn't want to own its entire fleet, but the company is working towards a 50/50 ratio of owned planes and leased planes which is the middle ground between financial flexibility and cost savings.
And that's what Flybe will start doing right now. It will increase the amount of planes it effectively owns (towards the 50% ratio) and even though this will result in a high capex bill in the next few years, after just 9 years the company is better off than leasing the planes.
Of course, older planes will have more mechanical failures, but Flybe should still end up on the better side, considering the
And the pieces of the puzzle are nicely falling into place here.
Flybe is set to take delivery of 10 Dash Q-400 aircraft (71 seaters) from Republic Airways (OTCPK:RJETQ) this year under a sub-lease agreement (which includes a total of 24 planes). The purchase cost of these planes will be in line with the three 7-year-old planes it bought for $12M per plane in the previous financial year.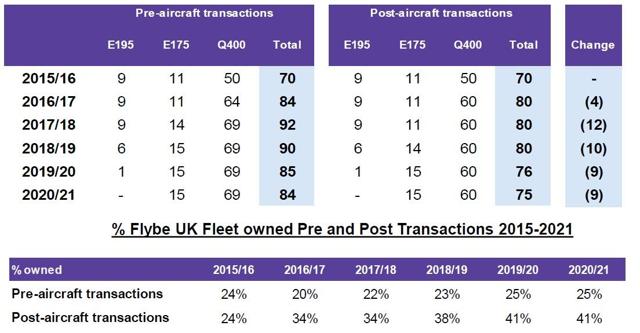 Source: company presentation
Based on the schedule above, Flybe would like to own 31 planes by the end of this decade, versus 17 planes right now. This means the total savings on the lease expenses will very likely reach $40M+ per year before the end of this decade. Buying those 14 additional planes will be quite a capital intensive operation (depending on the plane age you should expect Flybe to spend $150-225M on acquisitions), but with $80M in net cash and an expected fuel cost driven cash flow benefit of $102M in the next two years, Flybe should be able to pull it off without raising more cash in equity. It's also not difficult to fund these acquisitions with debt, as competitor Finnair received a commitment from BNP Paribas which will provide 100% of the acquisition cost of its new Airbus planes with debt.
Where do I see the company go from here?
That's always a tricky question, but I did some research to find out how the other airline companies are trading. In the next table I calculated the expected EV/EBITDA of eight aircraft carriers, and then selected the three cheapest European airliners (in bold) to see how expensive/cheap they were.
| | |
| --- | --- |
| | EV/EBITDA (expected 2017) |
| Airline Company | |
| Lufthansa | 2.7 |
| Int'l Consolidated | 3.3 |
| Finnair | 2.1 |
| Aegean | 2.2 |
| Ryanair | 7.5 |
| easyJet | 6.6 |
| Qantas | 2.9 |
| Cathay Pacific | 5.8 |
| | |
| Average | 4.14 |
| Avg of 3 lowest | 2.3 |
| Flybe | 0.45 |
| | |
| Upside potential based on the average EV/EBITDA of 3 cheapest European Carriers | 411% |
The conclusion is a bit surprising. Even if you'd take the three 'cheapest' airline companies based on their EV/EBITDA valuation, Flybe is extremely undervalued with its EV/EBITDA ratio of 0.45 versus the average of 2.3, which is more than 5 times higher (411% to be exact).
Does this mean Flybe will close this gap overnight? Absolutely not. It has disappointed the market with its E195 move and it will take a while before the market trusts Flybe again. But one day, this gap will be closed and I think this will happen sooner rather than later considering the expected windfall of the fuel cost savings this year and next year.
Wrapping it up
It's not easy to understand the Flybe story, and I think that's exactly why this opportunity has presented itself. The most important thing you should remember is that Flybe is dealing with its legacy issues. It's getting rid of its Embraer planes and is trying to find a new home for the remaining E195 jets (on a sub-lease basis). Getting rid of all the E195 jets (either by sub-leasing them or by letting the leases expire) will save the company 20M GBP per year in leasing fees on these planes alone.
The most important thing you should keep in mind is the massive windfall that is about to occur from the lower fuel cost. Based on the current jet fuel prices, I expect Flybe to save $46M in the current financial year and an additional $56M in the next financial year for a total cost saving of in excess of $100M, and in excess of its own enterprise value (which is currently approximately $80M). The current EV/EBITDA is less than 0.5 which compares extremely favorable with the three 'cheapest' European 'competitors' which all have EV/EBITDA ratios of in excess of 2, indicating further upside for Flybe.
The stars are really aligning for Flybe as it can use these proceeds to start rolling out its plan to own 50% of the fleet it's flying, rather than relying on leased planes (the company paid in excess of $110M in leasing expenses in FY 2016).
With an anticipated positive free cash flow of in excess of $50M in the current financial year (excluding the growth capex to fund the potential acquisition of new planes, including the fuel hedging benefits), an enterprise value of $80M is indicating the market still doesn't fully appreciate Flybe's turnaround plan. This plan has now entered the final phase wherein it's waiting to return the E195 jets to the lessor and replace them with smaller turboprops that suit Flybe's needs better on the low-traffic routes where it's dominating the British skies. Keep in mind the barriers to entry for the larger carriers are too high, simply because their planes are too big to have a decent load factor (70%+), and these larger carriers prefer to enter into codeshare agreements with Flybe rather than starting up a new service to compete with Flybe.
I think Flybe offers a very compelling opportunity, and you should have a closer look at the company as the 30% discount to its book value provides you with an additional margin of safety.