Realty Income Corporation (NYSE:O) is a great triple net lease REIT. That quality comes with a high price tag. As an analyst and investor, I'm willing to pay a premium for high quality, but I'm also hesitant to pay a large premium. O has been trading at a premium to most other triple net lease REITs and has been flirting with record high levels a few times in the last few months. Whether investors want to believe it or not, Brexit just supported O's share price.
Understanding Realty Income Corporation
This will be a very quick introduction for any investor that isn't familiar with the stock. As a triple net lease REIT, Realty Income Corporation owns physical real estate and leases it out to high quality tenants on a triple net lease basis. The vast majority of their predicted revenue for the next several years is already under contract. That doesn't mean that the revenue is 100% going to be received. The contracts are to tenants so the "guarantee" is only as good as the credit of the company signing the lease.
In my opinion, the risk there is fairly minimal. O invests in high-quality properties that are attractive to other potential tenants, so they are unlikely to experience high vacancy rates even if the business of a single tenant becomes weak. Because O is securing their revenue years in advance, it exhibits a very strong correlation with high quality bonds and often moves with treasury securities.
Brexit Impact
As the results from the Brexit vote were coming in, the yield on treasury securities was dropping. The 10-year treasury yield dropped to nearly 1.40% in overnight trading before bouncing back. It is currently (10:35AM Mountain Daylight Time, 12:35PM Eastern) at 1.56%. When the normal domestic markets were closing on Thursday, the yield on the 10-year treasury was about 1.75%, so this was a massive flight to quality.
The funny thing about the flight to quality is that it sometimes hits the bonds before investors are comfortable slapping a limit order on the triple net lease REIT. The gain for triple net lease REITs wasn't too hard to predict, though my cash positions were limited, so I couldn't have set the kind of huge orders I would have wanted.
I predicted the gains last night, with the potential for a weak opening price, in my subscriber chat room: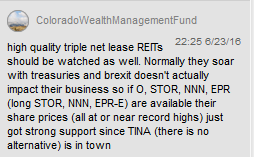 The other companies mentioned there are STORE Capital (NYSE:STOR), National Retail Properties (NYSE:NNN), and EPR Properties (NYSE:EPR).
Share Price Movements
After the market opened with treasuries at very high prices, investors started moving out of the treasuries and jumping into the alternative vehicles for yield. The iShares 20+ Year Treasury Bond ETF (NYSEARCA:TLT) and the Vanguard Extended Duration Treasury ETF (NYSEARCA:EDV) reported huge gains when the market opened and then started falling off as investors jumped into the high-quality REITs like O: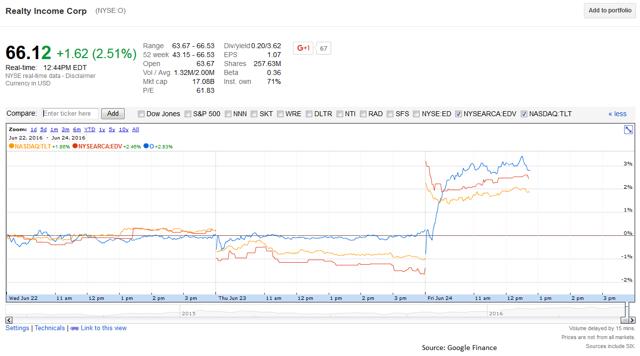 Strong Support
So long as the 10-year treasury yield stays at very low levels, there is very strong price support for the highest quality triple net lease REITs. That makes getting an attractive entry price much harder. I'm a little disappointed that I didn't set some orders before the market opened to take advantage of that, but I wanted to keep a little cash on hand and I have quite a bit tied up in preferred shares at the moment. Given the large bid-ask spreads on the illiquid securities I like in that space, getting cash out quickly is not an option.
Fundamental Business
There isn't any reason that O should really care about Brexit. Their revenues shouldn't see much impact and their costs shouldn't see much impact. The reason share prices move up is simply that the expected stream of dividends is now more valuable because the discount rates are lower.
However, there is another positive for O from the lower discount rates. With a higher share price, O is in a great position to issue new equity if they can find attractive deals on physical real estate that they want to finance. Trading at such a strong multiple makes it much easier for new deals to be accretive to existing shareholders. Because new deals can be accretive to shareholders regardless of whether they are financed with new equity or new bonds, the growth rate in AFFO should get a nice boost if new equity or debt issuances are announced.
Alternatives
Investors interested in mortgage REITs should see the decline in short-term rates as very favorable. The odds of an increase in the fed funds rate have decreased dramatically. That is an option for investors looking for strong yields, because strong dividend yields and O are unlikely to go together any time soon. Obviously, dividends should be stable, but shares are unlikely to dip under $60 so the yield will be poor.
I see preferred shares as a great way for investors to see a quality yield, but O's preferred shares are the F series. It can be called next year and I would expect it to be called very quickly since new shares could be issued at a much lower coupon rate. The savings on preferred dividends after the F series is replaced will be another positive factor for growth in AFFO per common share.
My allocations to National Retail Properties and STORE Capital demonstrate the alternatives I selected when allocating money to the sector. I also found an opportunity in shares of EPR-E.
Conclusion
Realty Income Corporation's business is not directly impacted by Brexit, but their WACC (weighted average cost of capital) is indirectly impacted. Lower treasury rates lead investors to look for alternative sources of yields and that allows O to achieve a lower WACC. If O is able to find attractive deals on physical real estate, the current pricing environment would be favorable for issuing new shares to fund the acquisitions. I believe management will be actively searching for opportunities.
I can't slap a solid buy rating on O after they achieved about a 3% rally today, but my opinion was demonstrated last night with predictions for a rapid rise if O opened weak. The other 3 triple net lease REITs that were mentioned in the comment also opened weak and then quickly took off.
With shares looking unlikely to spend much time under $60 in the foreseeable future, I'm kicking myself for deciding that $51 was too expensive.
Disclosure: I am/we are long NNN, STOR, EPR-E.
I wrote this article myself, and it expresses my own opinions. I am not receiving compensation for it (other than from Seeking Alpha). I have no business relationship with any company whose stock is mentioned in this article.
Additional disclosure: Information in this article represents the opinion of the analyst. All statements are represented as opinions, rather than facts, and should not be construed as advice to buy or sell a security. This article is prepared solely for publication on Seeking Alpha and any reproduction of it on other sites is unauthorized. Ratings of "outperform" and "underperform" reflect the analyst's estimation of a divergence between the market value for a security and the price that would be appropriate given the potential for risks and returns relative to other securities. The analyst does not know your particular objectives for returns or constraints upon investing. All investors are encouraged to do their own research before making any investment decision. Information is regularly obtained from Yahoo Finance, Google Finance, and SEC Database. If Yahoo, Google, or the SEC database contained faulty or old information it could be incorporated into my analysis.