Current estimates for storage injection next week will shatter five-year minimums. The market has likely priced most of it in, as natural gas prices currently sit around $2.69/MMBtu.

RBN Energy reports that part of the reason why the market rallied yesterday was due to a processing plant outage in the Northeast. This curtailed the gas supplied to the plant and impacted supply.
Recent physical flow data also points to a slight rebound in U.S. gas production, coupled with Baker Hughes's (BHI) report of +7 gas-related rigs for this week. Current prices are bringing back some producers, and we were particularly shocked by the jump in Barnett. Nonetheless, current physical flow points to a rebound in U.S. gas production as drillers begin to drill additional wells and complete DUCs.
This could be bearish for natural gas prices in the short term, as a majority of the low-injection estimates have been somewhat baked into the price. The range we currently see for next week is between 38 Bcf and 52 Bcf. The five-year minimum is 58 Bcf. Even the highest estimate we've seen will be below the five-year minimum.
On the weather front, the 8- to 14-day outlook is a mixed bag: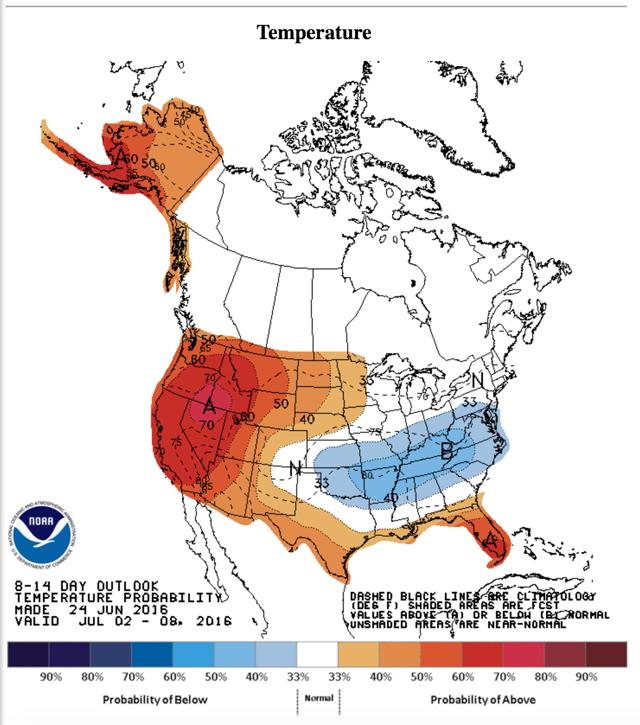 We reported before that the La Nina trend reversed in the middle of June, and NOAA was late in modeling the potential impact of the reverse. Bespoke Weather recently wrote about how the La Nina trend is expected to resume and could potentially result in the hot July everyone expects.
The recent rally has largely priced in the lower injection figures. The potential for near-term downside is significant, and we caution market participants to pay particular close attention to the long-range weather forecasts.
As always, if you enjoy our natural gas (NYSEARCA:UNG) daily, please click on the "Follow" button above and read our other energy write-ups. We also have a premium service tailored to investors looking to how we are thinking about positioning and real-time trade alerts. You can view our delayed one-month portfolio update here. We hope to see you join the HFI community.
Disclosure: I/we have no positions in any stocks mentioned, and no plans to initiate any positions within the next 72 hours.
I wrote this article myself, and it expresses my own opinions. I am not receiving compensation for it (other than from Seeking Alpha). I have no business relationship with any company whose stock is mentioned in this article.