(Friday Afternoon Update) It's a Brexit bust in the stock market.
U.S. stocks fell to one-month lows by midday Friday in the wake of Britain's historic and unprecedented Brexit vote, and tested key support levels as economic worries mounted.
During the session, the S&P 500 Index (SPX) fell below long-term support at 2050, but it's 2030 that's an even more important technical level. Holding above that mark would be something of a victory for bulls.
In the aftermath of Brexit, there remain many questions. Will investors keep chasing safety plays like bonds, as they did Friday, or will the bargain hunters come in for cheaper stocks? There was some evidence of bargain hunting during Friday's session, especially after the first initial steep dive in prices. The market then fell again toward session lows as the day advanced, but that seemed to reflect buyers stepping back rather than aggressive selling.
And what will the Fed do? Probably not raise rates, at least according to the futures market, which now predicts practically a zero percent chance of a rate hike in the near future as well as the possibility of a rate cut at some time this year. Ten-year Treasury yields fell down to the 1.4% level early Friday before bouncing back a bit. The 1.4% level is likely to remain firm support below the market for some time. The market may eventually go back and re-visit that level, but it may take some time. The key is to watch Fed speakers next week to get their take on Brexit.
All the early trends Friday, including dollar strength against the euro and pound, continued into the afternoon, with the dollar hitting three-month highs vs. the euro. Gold, another safety play, soared above the $1,300 mark to its highest level of the year. But crude oil futures fell nearly 5% as investors worried that Brexit could hurt demand in Europe. In a somewhat unexpected move, U.S. oil rig count fell by 7 this week, according to Baker Hughes (BHI), the first drop in four weeks. Usually, falling oil rig counts are viewed as bullish, but Brexit fears apparently outweighed that on Friday.
Friday's session faced possible further volatility toward the close, as Friday marked the once-a-year day when the widely-followed Russell indices get rebalanced. That typically means lots of stocks get bought or sold at the end of the session to keep holdings of mutual funds in place, leading to possible volatility at the close. The VIX index, which is the most widely-followed index of investor fear, had risen sharply to nearly 24 by midday Friday, up from below 21 earlier in the day.
Another event to watch is Sunday's Spanish election. It's a close race, and the Brexit vote has raised questions about Spain's financial strength and commitment to the rest of Europe.
So what can investors take away from all of this to chew on over the weekend? First, it's not necessarily a time to panic. The long-term ramifications of Brexit are still unknown, and the process of Britain actually leaving the European Union might take a couple of years. For those tempted to panic, it's best to keep the powder dry.
On the other hand, now wouldn't seem to be the right time to go "all in" on stocks, either. Some buyers stepped in fairly aggressively early Friday at the initial session lows, but the market fell back later in the day. That's not to say longer-term rallies aren't possible, only that caution is a good philosophy.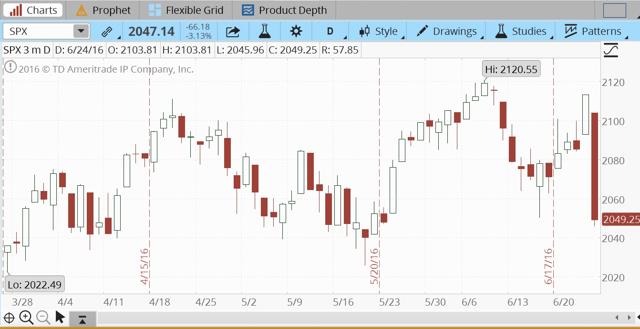 FIGURE 1: BREXIT FALLOUT CONTINUES
The S&P 500 (SPX), plotted through midday Friday on the TD Ameritrade thinkorswim platform, fell sharply but held support as the session close drew near. Data source: Standard & Poor's. For illustrative purposes only. Past performance does not guarantee future results.
Inclusion of specific security names in this commentary does not constitute a recommendation from TD Ameritrade to buy, sell, or hold. TD Ameritrade® commentary for educational purposes only. Member SIPC.