A seemingly large decline in the domestic oil rig count although consisting mostly of vertical rigs. Whereas last week's increase in the oil rig count (nine rigs) was concentrated in the Permian and in shale producing regions, this week's decrease is concentrated in lower quality basins. The Permian basin, the quintessential oil producing basin in the country, actually increased four oil rigs, same as last week.
Crude oil prices (NYSEARCA: USO) declined by about 5% during the day following the Brexit vote.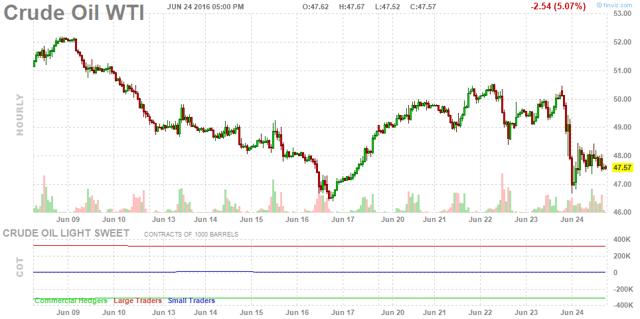 Source: Finviz.com
Data: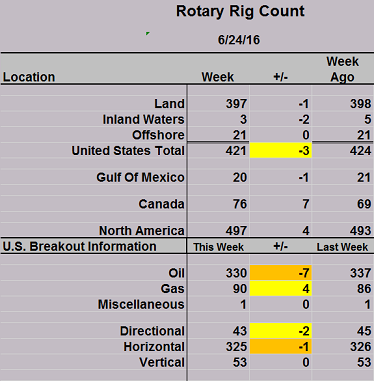 Source: Baker Hughes
* Total U.S. oil rig count decreased by seven almost eliminating the nine rig increase of the previous week. However, these are mostly vertical rigs and in less productive basins. Despite the large decrease in rig counts, the Permian still posted a relatively large increase in the count.
* Horizontal rigs declined by one following a twelve rig increase during the last three weeks. Directional rigs declined by two.
* Natural gas rigs increased by four taking advantage of the current rally (compared to the sub $2/mcf lows) in natural gas prices.

Source: Baker Hughes, Orangutan Capital
* Four new rigs in the Permian; the most established oil-producing basin in the country. The rig count in the Permian is now back to March levels (which are still very low by historical standards). This week's four rig increase follows a similar four rig increase during the previous week.
* Two new rigs in the Williston basin. This is a shale play and follows last week's six rig increase in the Barnett and Haynesville basins.
* Four rig decrease in Eagle Ford and Cana Woodford.
* A very large nine rig decrease in the 'Others' region. This change accounted for most of the decline during the week and consists of rigs in Louisiana (onshore) and Oklahoma.
Conclusion:
A large decrease in the domestic oil rig count, although consisting mostly of vertical rigs and concentrated in Louisiana onshore and Oklahoma. The Permian basin, which is the most important basin in the country, posted a reasonably large increase. We think that rig increase in the Permian outweighs the decline in LA and OK as an indicator of future changes in the rig count.
Disclosure: I/we have no positions in any stocks mentioned, and no plans to initiate any positions within the next 72 hours.
I wrote this article myself, and it expresses my own opinions. I am not receiving compensation for it (other than from Seeking Alpha). I have no business relationship with any company whose stock is mentioned in this article.