Brexit is upon us. Unless you have been sleeping for the past 36 hours, you have probably read a minimum half dozen articles about the implications of the U.K.'s departure from the European Union. Better yet, like me, you have probably read countless articles about "how to play Brexit" right.
What strikes me as disturbing - and sometimes annoying - is that most investment recommendations that I have read so far, offered by both independent bloggers and by the talking heads on mainstream media, rely on one key assumption materializing: the markets will continue to be fearful of the Brexit consequences and will keep trading as they did this past Friday. "Sell the British pound, buy U.S. dollars". No kidding. It's like saying that to win the lottery next week you should pick the winning numbers from last week.
I even came across the following foolish yet refreshingly honest recommendation: "buy bitcoin… yesterday".
What's not to love about investment experts?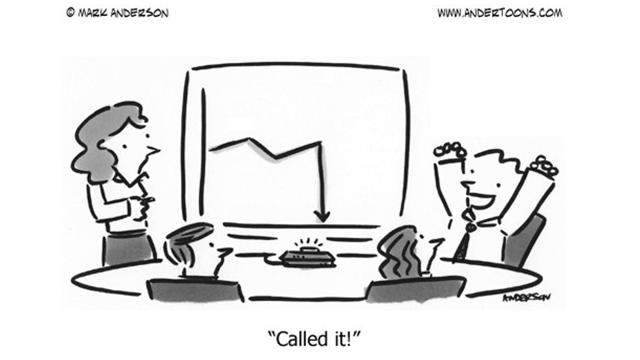 Credit: andertoons.com, cashmoneylife.com
Here's what most "investment gurus" are reluctant to say: they don't know, and in fact no one quite knows, what the real consequences of Brexit will be, nor the magnitude of these consequences. Analysts, journalists, economists, CEOs and government officials alike are trying to understand how Brexit will play out, over what period of time, what decisions producers and consumers will make as a result, and how the global economies and markets will behave.
So how do you play Brexit?
First, I encourage you to accept that most - if not all - of us do not have enough information now to make sound, alpha-generating investment decisions in the wake of Brexit.
Being a value investor, I am inclined to sift through the markets looking for stocks that have become unjustly cheaper after Friday's broad sellout. Vodafone (NASDAQ:VOD), for example, is looking very attractive at $30/share.
This is a fine strategy, considering that I am comfortable embracing the risk that stocks may continue to take a beating in the next week at least, if not the next few months. Some may have less of an appetite for risk than I do.
But accept that, at best, we do not really know which way the market is heading now. Many of us don't even know what we don't know.
My solution to this conundrum is the All-Seasons portfolio
If you are unfamiliar with the All-Seasons concept, I encourage you to check out my early April article on hedge fund guru Ray Dalio's risk parity investment strategy, which Bridgewater Associates branded "All-Weather" in 1996. Tony Robbins' 2014 work, "Money, Master the Game", dives much deeper into the subject. I recommend this book for anyone interested in money (I guess I did not leave anyone out). Ignore the cheesy cover; the book is actually worth a read.
In short, All-Seasons is a simplified version of Ray's All-Weather portfolio that any of us, mortal investors, can build using a handful of low-cost ETFs. As I mentioned in my previous article:
"At the core of the risk parity approach lies a few key ideas about asset allocation. First, few are (or maybe no one is) able to accurately and consistently predict in which direction the economy is heading, and attempting to make bets on such predictions exposes investments to too much risk. A good allocation strategy, therefore, is one that produces relatively high returns without the extreme ups-and-downs brought about by the different economic environments. Second, a balanced portfolio is one that properly distributes risk, and not investment dollars, across different asset classes. For instance, a portfolio traditionally allocated 60/40 between stocks and bonds may look balanced on the surface, since the dollar amount invested looks well distributed. However, stocks are much riskier than bonds (nearly 3 times as much), so the 60/40 portfolio is in fact much more exposed to the volatility of equities than it looks. If stocks go down hard, the overall value of the portfolio likely will as well."
The allocation of the All-Seasons portfolio is very simple: 30% equities, 40% long-term treasuries, 15% intermediate-term treasuries, 7.5% gold and 7.5% diversified commodities.
Let me define the All-Seasons in more detail. A regular investor can construct the portfolio with no more than five, low-cost ETFs that charge less than 0.5% each in annual management fees - the weighted average fee for the portfolio, in fact, is only 0.14%. In this case, I am using the Vanguard S&P 500 ETF (NYSEARCA:VOO) for diversified equities (understanding that international and small-cap funds can be added for further diversification); the Vanguard Long-Term Government Bond Index ETF (NASDAQ:VGLT) for long-term treasuries; the Vanguard Intermediate-Term Government Bond Index ETF (NASDAQ:VGIT) for medium-term treasuries; the SPDR Gold Trust ETF (NYSEARCA:GLD) for gold; and finally the iShares Commodities Select Strategy ETF (NASDAQ:COMT) for diversified commodities.
How did All-Seasons perform on Friday?
If you have most of your money invested in equities, you probably had a rough day this past Friday.
A $1,000,000 retirement fund invested 60/40 in U.S. equities and intermediate-term treasuries would have put you about $18,000 in the hole in one day. If you were instead fully invested in large-cap U.S. equities, then the hole would have been twice as deep: loss of $36,000 - all in one single day. This is over two-thirds the average annual household income in the United States, lost between 9:30 a.m. and 4 p.m. on a warm Friday.
And how would have the $1,000,000 All-Seasons retirement portfolio performed on that same day? Up $1,000, or 0.1%. Amidst the chaos, you would have enjoyed a peaceful and quiet Friday.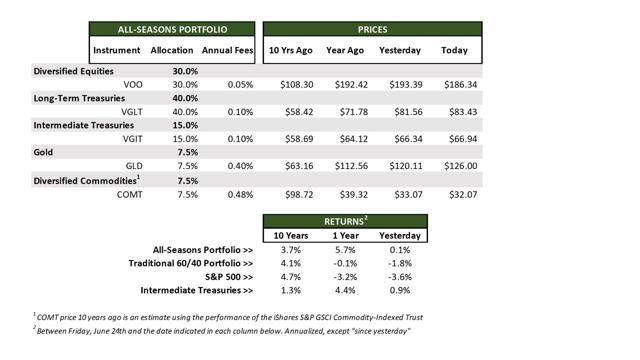 Source: DM Martins Research, using data from Yahoo Finance
Easy to say now, after the fact, that holding a more conservative and better-balanced portfolio would have been a good idea ahead of the stock market's mini-crash, right? Well, you might be surprised to know that this same All-Seasons portfolio would have returned +5.7% over the past year, when the S&P 500 (NYSEARCA:SPY) was down -3.2% and the traditional 60/40 portfolio was down -0.1%. And even over the past 10 years, through two bull markets and one global recession of epic proportions, All-Seasons would have returned +3.7% vs. the SPY's +4.7%, but more than likely with significantly less volatility. Add just a bit of leverage or put some extra weight on equities and All-Seasons would have probably matched the performance of the SPY over the past 10 years without the same level of risk.
In conclusion
The All-Seasons investment strategy that I discussed in April have made winners this past week. I understand that over the very long-haul and without the use of leverage, a 100% equities strategy is likely to outperform All-Seasons. But none of us appreciate the feeling of losing several thousands of our hard-earned dollars on a single day, like most of us did on Friday.
As we continue to ride the longest-lasting bull market of this century, this may be a good time to pause and think about whether our portfolios are properly risk balanced. Rather than trying to time the market, I suggest readers think about the investment strategy lesson that Brexit has taught us, and consider adopting a variation of All-Seasons into their own portfolio. This is how I believe most investors should "play Brexit". If anything, the strategy will help provide anxious investors with some peace of mind during the period of uncertainty that lies ahead of us.
Disclosure: I am/we are long SPY.
I wrote this article myself, and it expresses my own opinions. I am not receiving compensation for it (other than from Seeking Alpha). I have no business relationship with any company whose stock is mentioned in this article.