Believing in the accuracy of polls once again, bulls were slaughtered as the BREXIT vote reversed late polling results calling for an exit vs remain.
The shock hit stock markets globally quite hard.
It must be said in the U.S. at least the declines only wiped out, and then some, all of the previous silly rallies. In other words, bulls were caught wrong-footed which created some panic selling.
And, while the declines were sharp and much more to come, as former Fed Chairman Greenspan noted, "…it's just the tip of the iceberg".
And another word regarding the ineffectiveness of poll results, especially lately: you might remember California's recent poll showing Clinton vs Sanders was quite off. When there are telephone polls, how likely are these to be accurate when many likely voters don't even have landlines anymore? Just a thought.
One common theme between the UK result and U.S. sentiment currently is with anti-immigration.
The Dow fell over 600 pts, S&P 76 pts, and Nasdaq over 200 pts. Losses were widespread as only gold and bonds were able to rise. Currency markets were roiled by vote outcome. Pundits with product to sell you were universal in their "stay-the-course" mantra, this was not a 2008 replay and so forth.
Major losses were felt in the financial sector where banks are presumed to bear losses in loan exposure within the eurozone. Losses were heavy with Lloyds Bank leading the charge lower by nearly 25%. Frankly, I thought losses in most markets were relatively minor compared what many expected after the results were tabulated. Clearly, central banks have plans to inject liquidity to markets to stem sharp losses.
Below is the heat map from Finviz reflecting those ETF market sectors moving higher (green) and falling (red). Dependent on the day (green) may mean leveraged inverse or leveraged short (red).
Volume gigantic while breadth per the WSJ was negative.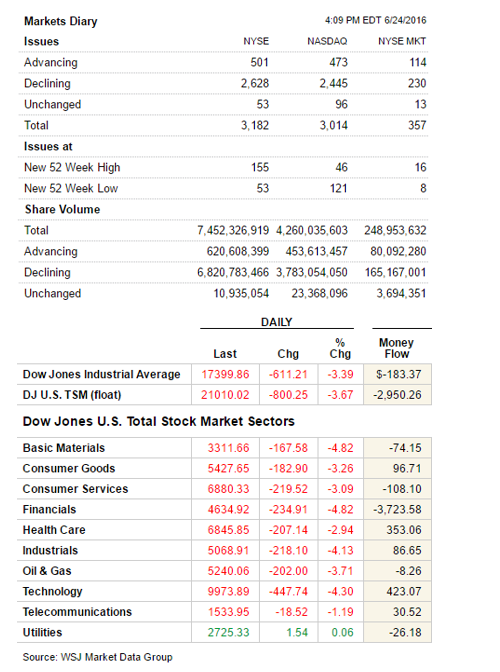 Sign up to become a premium member of the ETF Digest and receive more of our detailed charts with actionable alerts.
You can follow our pithy comments on twitter and like us on facebook.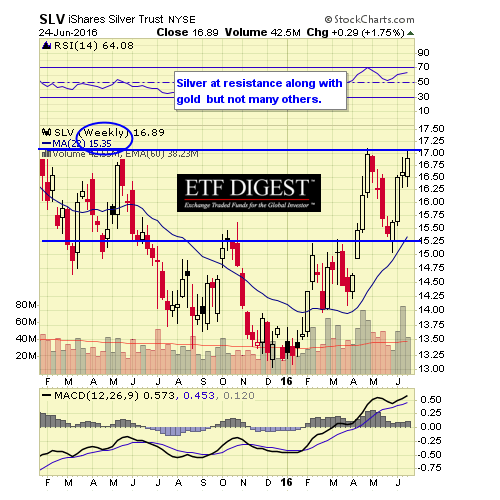 NYMO DAILY

The NYMO is a market breadth indicator that is based on the difference between the number of advancing and declining issues on the NYSE. When readings are +60/-60 markets are extended short-term.

NYSI DAILY

The McClellan Summation Index is a long-term version of the McClellan Oscillator. It is a market breadth indicator, and interpretation is similar to that of the McClellan Oscillator, except that it is more suited to major trends. I believe readings of +1000/-1000 reveal markets as much extended.

VIX WEEKLY

The VIX is a widely used measure of market risk and is often referred to as the "investor fear gauge". Our own interpretation has changed due to a variety of new factors including HFTs, new VIX linked ETPs and a multitude of new products to leverage trading and change or obscure prior VIX relevance.

SPY 5 MINUTE

SPX DAILY

SPX WEEKLY

INDU DAILY

INDU WEEKLY

RUT WEEKLY

NDX WEEKLY

XLB WEEKLY

XLE WEEKLY

XLF WEEKLY

XLI WEEKLY

XLU WEEKLY

XLV WEEKLY

XLY WEEKLY

XRT WEEKLY

IYR WEEKLY

IYT WEEKLY

ITB WEEKLY

TLT WEEKLY

UUP WEEKLY

FXE WEEKLY

FXB WEEKLY

FXY WEEKLY

GLD WEEKLY

GDX WEEKLY

DBA WEEKLY

USO DAILY

DBC WEEKLY

EFA WEEKLY

EEM WEEKLY

IEV WEEKLY
Closing Comments
It's apparent Bulls jumped the gun on BREXIT results seduced by bad poll data.
This led to significant losses as they had to close those positions. Volume this day told the story on those positions which were quickly stopped out.
What's next is anyone's guess. I liked Greenspan's comments which would lead one to believe tough times are ahead over the intermediate term. To my thinking this could be over the next 1 to 3 years. Remember to exit is to negotiate terms and that's a political issue.
Let's see what happens.
...
Dave Fry is founder and publisher of ETF Digest and has been covering U.S. and global ETFs since 2001.
Named as one of the Top 22 ETF Experts You Need To Follow on Twitter for continuing to deliver high quality analysis and commentary through the ETFDigest Twitter feed.
ETF Digest was named in the Top 50 Investing Blogs.
Ranked #16 in the Top 25 Best ETF Newsletters in 2015.
ETF Digest was awarded one of the most informative ETF websites in the 10th Annual Global ETF Awards.
Disclosure: I am/we are long SLV, FXY.
I wrote this article myself, and it expresses my own opinions. I am not receiving compensation for it. I have no business relationship with any company whose stock is mentioned in this article.