Markets roiled and doomsayers predicted The End after the news about the Brexit vote emerged. While many journalists and their friends were apparently busy wrapping up their worldly affairs, two stocks - Altria (NYSE:MO) and Reynolds American (NYSE:RAI) - posted large gains as wise investors moved their money to safe havens.
The tobacco business was already riding a crest after gaining two favorable court rulings earlier this week. On June 20, the Supreme Court sided with R. J. Reynolds Tobacco Company in a suit filed by European countries accusing it of complicity in an international money laundering scheme. The case, RJR Nabisco Inc. v. The European Community, No. 15-138, was brought by the European Union and 26 of its member states 15 years ago.
In another decision, the Supreme Court declined plaintiffs' petition to review Price v. Philip Morris Incorporated, case number 15-947, effectively ending a class action that was originated in 2000 on behalf of 1.4 million Illinois smokers. The case accused the Altria Group Inc. unit of deceiving smokers into believing its "light" or "low-tar" cigarettes were less harmful than regular cigarettes.
Following the acquisition of Lorillard by Reynolds last year, MO and RAI now control 88% of the tobacco business in the United States. Each company takes a different approach, but both companies have provided gains to investors that easily beat the S&P 500 and most other companies.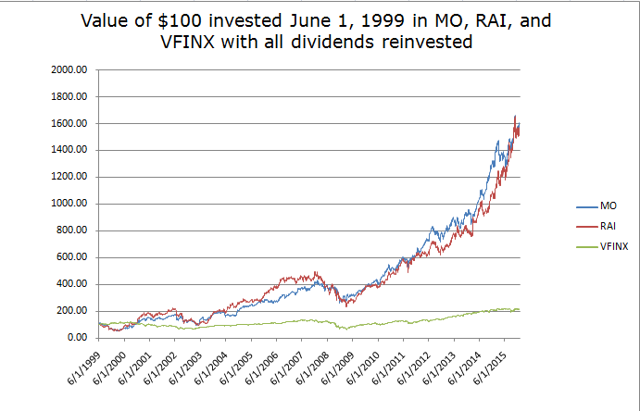 These two companies are like bulletproof juggernauts. Many people thought that the Tobacco Master Settlement Agreement of November 1998 with its financial penalties and restrictions meant the beginning of the end for the tobacco business in the United States, but the companies' stock performance has actually accelerated since then.
Altria owns the Marlboro brand, which is the largest selling cigarette brand in the United States with 41% of U.S. cigarette sales. Altria subsidiaries include Philip Morris USA, John Middleton, Inc., U.S. Smokeless Tobacco Company, Inc., NuMark, Philip Morris Capital Corporation, and Chateau Ste. Michelle Wine Estates. Altria also owns 28.7% of UK-based SABMiller plc (OTCPK:SBMRY) which is being acquired by Anheuser-Busch InBev (NYSE:BUD), which will give Altria a significant piece of the combined beer behemoth.
Reynolds bought Lorillard Tobacco Company in 2015. Reynolds now controls Newport, Camel, and Pall Mall, the #2, #3 and #4 top selling U.S. cigarette brands, and VUSE, the top selling domestic electronic cigarette brand. On January 5, 2015, Reynolds announced the formation of a new subsidiary, RAI Innovations Company, to focus on the of next generation vapor and nicotine products.
Earlier this year, the FDA rolled out its long anticipated proposed regulations for e-cigarettes and vaping products. While the proposed restrictions are a threat to small startups selling vaping products because of the costly application process required to gain FDA approval of their products, the move plays to the benefit of Altria and Reynolds which have the resources to get their products approved, which virtually assures they will continue to enjoy market dominance for this important emerging product.
The Brexit vote is another blow to an already shaky European Union. The dollar will gain and the euro will fall. The economic ripples virtually assure that another Fed rate hike is off the table this year. Investors looking for safety today enthusiastically bought MO and RAI, boosting them 1.07% and 0.89%, while the Dow fell 3.39%. In Europe, the London FTSE 100 was down 3.15%, while the German DAX fell 6.8%, and in Paris, the CAC 40 fell 8.04%.
RAI yields 3.29%. The market cap is $73 billion and the trailing P/E ratio is 10.8. The PEG ratio is 1.78. EPS is $4.83 easily covering the annualized dividend per share of $1.68. RAI has paid rising dividends since 2004.
MO yields 3.41%. The market cap is $131 billion and the trailing P/E ratio is 24. The PEG ratio is 2.64. EPS is $2.78 compared to the annualized dividend of $2.26. MO has been raising its dividend for more than 40 consecutive years.
The business of selling consumer products with ingestible nicotine inspires customer loyalty like few other businesses. The management of Altria and Reynolds American have proven over and over that they can handle adversity and continue to provide astonishingly reliable financial performance to investors. An investor who tries to decide which one of these companies is best is asking the wrong question. The point is that the tobacco business is a remarkably reliable source of profit, and the companies operating in the United States market have the advantage as the world economy continues to sputter along. I have allocated a portion of my portfolio to the not-so-discretionary consumer products sector, and split my allocation between MO and RAI and I have not regretted it. I suggest you consider doing the same.
Disclosure: I am/we are long MO, RAI.
I wrote this article myself, and it expresses my own opinions. I am not receiving compensation for it (other than from Seeking Alpha). I have no business relationship with any company whose stock is mentioned in this article.