For those who are unaware, the COSCO Andronikos changed its name to the COSCO Panama once COSCO Container Lines found out that they had one the ticket to be the inaugural Neopanamax vessel transiting the new Panama Canal locks this Sunday. Currently, the COSCO Panama is anchored in the Limon Bay, just outside of the Atlantic-side new locks.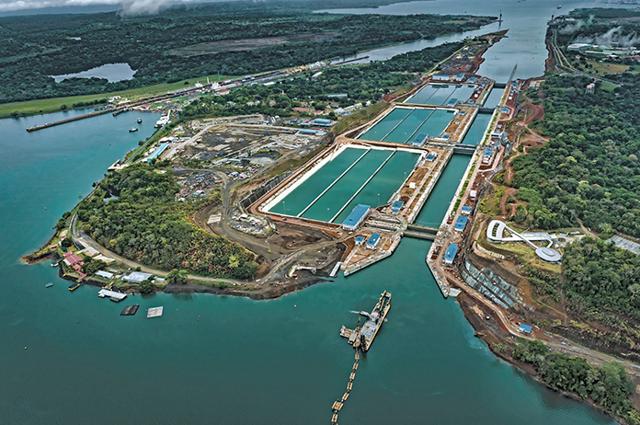 Source: Canal de Panama
Many analysts, economists, investors and others have expressed their opinions regarding the impacts that the new locks will have on trade lanes accessing major seaports in the U.S. Seaports on the East Coast have made major investments in anticipation of new cargo traffic. Some of these investments, such as the Bayonne Bridge in New Jersey will not be ready until 2017.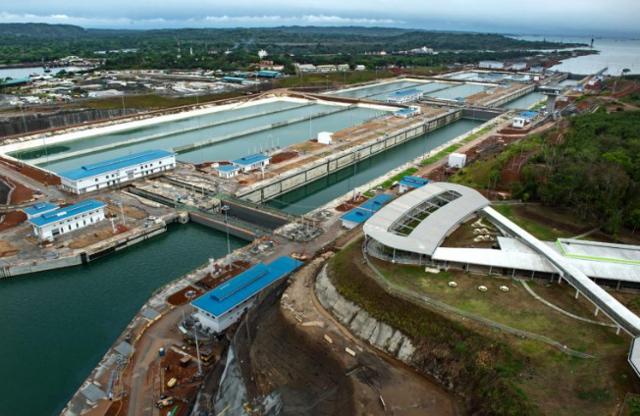 Source: Canal de Panama
Other investments including cranes in Miami as well as dredging needs in other East Coast seaports will have taken place in preparation for the Neopanamax vessels. But the Panama Canal Authority, PCA has taken a cautious stance regarding how quickly the new locks will be fully utilized. The expectation early on is for booking slots offered to Neopanamax vessels to remain around four or so daily.
The plan is for this amount to gradually increase once carriers and shippers feel confident about the operation of the new canal locks. The PCA stated in a recent interview, that the maximum capacity includes about 12 to 13 transits per day. Combined with the existing Panamax locks, the PCA expects to be able to handle around 35 to 38 vessels per day. Container capacity is expected to double based on the number of daily Neopanamax vessels.
2M Alliance partners Maersk Line and Mediterranean Shipping Company, MSC are also expected to shift one of their Asia to U.S. East Coast services currenlty using the Suez Canal to the new Panama Canal locks. Competition is not solely related to the Trans-Pacific trade lane.
When it comes to transports, and specifically public companies, the major competitive segment affected for investors relates to the Class I railroads. The primary options include Union Pacific (NYSE:UNP), Canadian National (NYSE:CNI) and Canadian Pacific (NYSE:CP) for the West Coast. Both Canadian rails also have access to the East Coast. While CSX (NYSE:CSX) and Norfolk Southern (NYSE:NSC) vie for diversion of traffic on the East Coast. Kansas City Southern (NYSE:KSU) has exclusive access to the Port of Lazaro Cardenas on the West Coast as well.
The West Coast has the quickest access to land surface transportation from Asia, as well as the quick turnaround transit times to Chicago. The East Coast has quicker access to roughly 66 percent of the U.S. population once a shipment arrives to a seaport, but much longer water transit times. Most agree that the West Coast's existing infrastructure is a major deterrent for substantial shifts in traffic to occur. But based upon the recent labor strike during late 2014/early 2015, many shippers are looking to diversify their supply chain infrastructure to avoid any future labor unrest.
While the West Coast is the most recent region to face significant labor unrest, there are no guarantees that the East Coast will always have a smoother situation. Talks regarding getting to an early agreement have been mentioned over the past six months or so, but no progress has materialized.
The value proposition of comparing the cost to use more water transit, pay for the Panama Canal fee, which is based on the number of containers whether loaded or not, and then get to the East or Gulf coast is not going to be clear immediately. The PCA has discussed having discounted pricing for preferred or frequent customers, but West Coast railroads could also adjust pricing in order to compete against potential traffic diversion. West Coast seaports could also incentivize shippers and carriers to remain. None of this is wildly controversial, but it just adds to the uncertainty for the next couple of years.
Regardless, investors should closely monitor seaport trends for the West, East and Gulf coasts in order to get a sense of container trends. For 2016, there will not likely be a substantial shift in container traffic, in addition to what has already occurred from recent labor strikes. The correlation between seaport container traffic and Class I railroad intermodal container traffic is worth keeping an eye on as reduced energy and industrial commodities have placed intermodal in an important position moving forward for the railroad industry.
The most recent North America container and Class I railroad container traffic report provides a good comparative overview of these correlated trends. As 2015 witnessed strong growth for many of the East and Gulf coast's largest seaports, many of them have witnessed declines year-to-date, YTD for 2016. Smaller seaports including Baltimore, Boston and Miami have been some of the leaders, with Altamira and Veracruz leading the Gulf.
For the West Coast, the ports of Los Angeles and Oakland have substantially outperformed all other major seaports. The Canadian seaports have been weaker and Mexico has witnessed inverse performance with Lazaro Cardenas up strong and Manzanillo down. The Port of Lazaro Cardenas' growth has been mostly driven by transshipments. For the ports of Oakland and the Northwest Seaport Alliance, export traffic growth has been especially robust.
For Class I railroads, BNSF (NYSE:BRK.B) and Norfolk Southern have been the strongest performers for container traffic. There have been varying relationships of performance for each railroad when comparing international versus domestic container performance. For the East Coast CSX has outperformed on the domestic front, while Norfolk Southern has won out for international containers. On the West Coast, BNSF has performed well for both, while Union Pacific has lagged with international container performance. The Canadian railroads have been marginally down overall and Kansas City Southern has struggled with its container performance.
Keeping up with these comparisons will benefit investors looking to consider Class I railroads, as well as other companies with exposure to the dynamics of container shipping lines and seaports. Demand is lower than supply currently; when the tables turn it will be valuable to be positioned to see where trends go in order to invest in new positions and/or manage existing ones.
Disclosure: I am/we are long CNI.
I wrote this article myself, and it expresses my own opinions. I am not receiving compensation for it (other than from Seeking Alpha). I have no business relationship with any company whose stock is mentioned in this article.