The e-cigarette industry has filed a lawsuit against the FDA, claiming that recently proposed regulations are anti-competitive and protect Big Tobacco at the expense of alternative smoking manufacturers. The regulation in contention requires manufactures of tobacco products, including e-cig and vaping device producers, to obtain a pre-market tobacco application before being approved for continued availability on the market. E-cig makers must prove that their products are safer than regular cigarettes, and that they help smokers quit. The new law would indeed benefit the major tobacco players, and it exemplifies what makes Altria (NYSE:MO) such a great company. The firm's ability to influence regulations in its favor is the secret to the firm's long-term success.
E-cigarettes have become a growing threat to Big Tobacco. With consumers fully aware about the dangers of smoking, US tobacco consumption has steadily declined over the past 30 years (Figure 1). At the same time, alternatives to cigarettes have risen in popularity (Figure 2) Consumers have gravitated to these new products, which deliver nicotine hits by heating liquid rather than burning tobacco, for their perceived health benefits. In response, major cigarette producers have developed their own e-vapor devices. Altria's MarkTen brand, introduced in 2014, has performed well. But why spend money developing a product you have little experience making (and for which consumer adoption is less certain) when you can ban the competition outright? This is what Altria is attempting to do, as these new regulations would put an abrupt halt on the progress e-cigs have made in recent years.
Figure 1: US cigarette consumption decline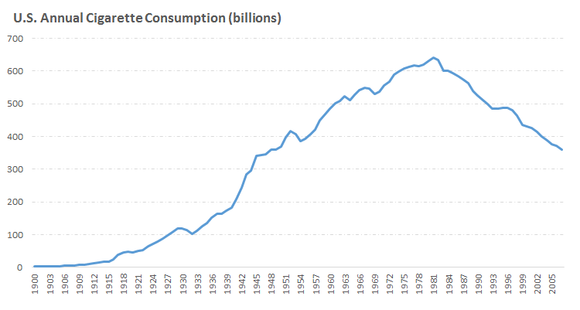 Source: fool.com
Figure 2: e-cig market growth
Source: worldfinance.com
The application process will be costly and time consuming. It could take up to three years to achieve clearance, and according to Morningstar, the costs associated with the process will cause many e-cig businesses to shut down. Investopedia estimates the cost of compliance at $20 million per product. Any design change or health claim would require new applications, allowing the big tobacco firms such as Altria, who posses the financial resources and experience navigating complex regulatory proceedings to gain market share.
Despite the downward trend in cigarette consumption, tobacco stocks, and Altria in particularly, have been some of the best performing stocks over the past thirty years (Figure 3). Altria's strong returns are a product of multiple factors. The firm has strong pricing power thanks to its portfolio of iconic brands and the addictive nature of cigarettes, while massive scale provides efficiencies on the cost side. However, the driving force behind Altria's strong performance is the firm's ability to influence regulators and shape laws in its favor. Through regulatory capture, Altria and others have been able to keep entry barriers high. Thanks to limited competition, MO has consistently generated returns on invested capital in the upper twenties and low thirties.
Figure 3: MO Stock Price 1990 - Present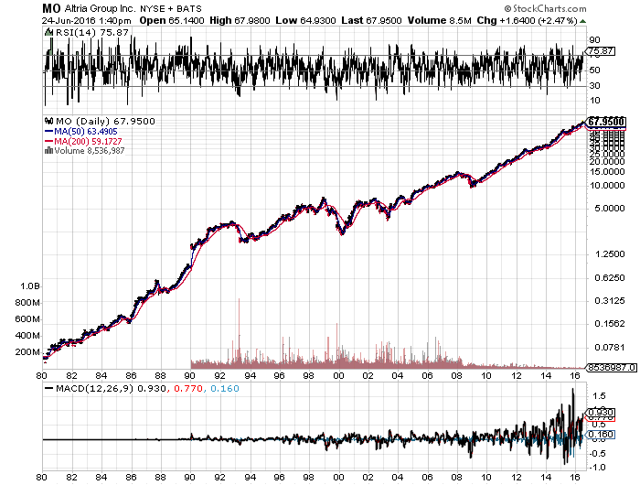 Source: stockcharts.com
The secret to Altria's success is its ability to shape laws in its favor. E-cigs represent the biggest threat to big tobacco, but the proposed regulations would help quell it. Ironically, the FDA could be doing more harm than good for consumers by making it more difficult to get supposedly safer products to market.
Disclosure: I/we have no positions in any stocks mentioned, and no plans to initiate any positions within the next 72 hours.
I wrote this article myself, and it expresses my own opinions. I am not receiving compensation for it (other than from Seeking Alpha). I have no business relationship with any company whose stock is mentioned in this article.