The biotechnology sector saw a nice run late last month but as I had said in my previous note, the iShares NASDAQ Biotechnology Index (ETF) (NASDAQ:IBB) would face resistance at around $290. As anticipated, IBB saw a sharp pullback. The usual pattern has been for IBB to rebound after a 10% correction but that pattern is likely to be broken now. I have said before that based on fundamentals, IBB continues to look weak. Now the BREXIT vote has added to sector woes.
Recent Pattern
Since recovering from its February lows, the IBB has followed a pattern as the chart below shows.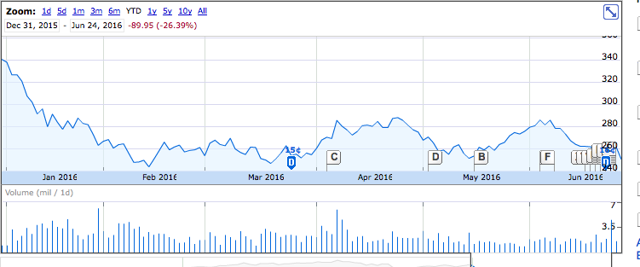 Google Finance
We saw the IBB breakout in March only to see a pullback from around $290. IBB dropped to around $250 and then rebounded once again only to see a pullback again at around $290. The IBB is once again hovering around $250 (down more than 4% on BREXIT). However, I expect the pattern will be broken this time. The near-term sentiment has been affected by the BREXIT vote. Meanwhile, the weak fundamentals continue to affect the long-term outlook for the sector.
Further Downside Anticipated
The biotech sector got a boost this week after a government report on Medicare spending showed the insurer's growth rate has not exceeded a target that would have led to cost cuts. The news came as a relief for the sector and would have led to an extended rally. But the near-term sentiment has been affected by BREXIT. With markets in risk off mode, IBB will take a hit. BREXIT does not directly impact the U.S. biotech sector. But currency fluctuations will have a negative impact on the bottomline of major biotech companies, especially the ones with sizable operations outside the U.S.
The bigger worry for the biotech sector though is access to capital markets. In fact this issue was affecting the sector even before BREXIT. BREXIT will make it only worse.
This week again we saw a biotech company announcing a secondary offering at a significant discount. Paratek Pharmaceuticals (NASDAQ:PRTK) shares rallied on June 16th after the company announced that its lead product candidate was successful in late stage study. A few days later PRTK priced a secondary offering at a significant discount. PRTK is not an isolated example. Relypsa (NASDAQ:RLYP), which analysts say has a blockbuster product, entered into a debt funding agreement recently at terms that can be described as not so favorable. There is trouble in the IPO market as well. In the month of April, we saw three biotech IPOs being withdrawn. Another biotech IPO was withdrawn in May. Those that are going ahead with their IPOs have had to slash their IPO price range.
I continue to believe that the fundamentals of the biotech sector remain weak as the capital market suggests. The sector had been trading in a pattern in recent months. But that pattern will be broken because of BREXIT. Of course, bargain hunters will move in at some point, which will provide some support to valuations. Another sell-off in the biotech sector could also trigger M&A activity, which should again provide some support. But the days of lofty valuations are certainly over.
Disclosure: I/we have no positions in any stocks mentioned, and no plans to initiate any positions within the next 72 hours.
I wrote this article myself, and it expresses my own opinions. I am not receiving compensation for it (other than from Seeking Alpha). I have no business relationship with any company whose stock is mentioned in this article.