When we woke up on Friday morning, not only did we see that the United Kingdom voted to leave the European Union, but we also witnessed a precipitous decline in global financial markets.
Going into the Brexit vote, our stock market was complacent. From June 16 to June 23, the S&P 500 rallied 3% from 2050 to 2113. It felt as though everyone was certain that the UK would vote to "Bremain," with many on Wall Street supporting their claims with sage advice that the betting markets -- which claimed that there was very little chance of a Brexit -- never get it wrong.
Thursday's closing action cemented the market's complacent attitude as a slew of shorts covered their positions before the vote, causing a gain of approximately .50% in the last 30 minutes of trade alone.
The result of the market's complacency was Friday's dismal price action. Traders got caught on the wrong side of the trade as the market puked to lows not seen since May.
Let me repeat that: lows not seen since May. My point? Amid the post Brexit pother, the S&P only shaved off a month's worth of gains. It is not the end of the world.
UK Prime Minister David Cameron vowed that should the UK vote to leave the European Union, he would trigger Article 50 of the Lisbon Treaty. This article outlines how a country in the EU may voluntarily leave the union. According to Article 50, "Any member state may decide to withdraw from the union in accordance with its own constitutional requirements." It also specifies that the leaving country must negotiate with the European Council a deal of its withdrawal and establish legal parameters for its future relationship with the European Union.
In addition, Article 50 gives the exiting country and the European Union two years from the date on which the article is notified to come to terms. Not only has Prime Minister Cameron not triggered Article 50, but he announced in his resignation statement, "It is right the new prime minister takes the decision about when to trigger Article 50 and start the formal and legal process of leaving the EU."
In his resignation statement, Prime Minister Cameron did not announce the formal date of his resignation; instead, he explained that he will "go before the autumn." This means that the Article 50 clock will not begin ticking for at least the next few months.
But I do not mean to shortchange the Brexit vote. In fact, I applaud the citizens of the UK and believe that this event was a classic example of the power of democracy. However, it is important to note that although global markets had a knee-jerk reaction to the results, it will take time before the UK's exit comes to fruition.
In my opinion, the bigger implication of the UK's decision to leave the EU is that other countries will begin to hold referenda. I know not if they will result in more countries voting to leave the EU, but I do believe that the UK's historic vote fuels anti-EU campaigns and could compel other countries to go to the voting booths.
A Technical Look
From a technical perspective, Friday's near 4% drop did not do too much damage. As I wrote previously, the decline brought the S&P back to where it was trading four weeks ago. The index is still caught in the same trading range in which it was trading more than three months ago.
Furthermore, the S&P remains above its 200 day moving average and the 50 day moving average is still well above the 200 day. This signals that the market's uptrend is still intact.
The Stochastics Oscillator and Relative Strength Index (RSI) are nearing oversold territory but have not crossed below 20 and 30, respectively. These readings imply that the market could see further downside before being viewed as oversold.
With that said, there is nearby support from the 200 day moving average (2020) and the bottom of the trading range (2025). This area of support is about .50-1% lower from where the S&P closed on Friday.
I would begin to be concerned if the market continues to tick lower through support and the Stochastics Oscillator and RSI remain oversold for an extended period of time. This is a sign of a broken market and a time during which many find themselves catching falling knives.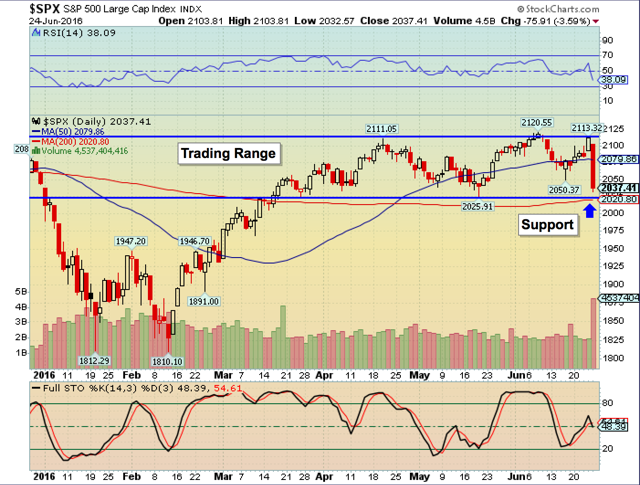 It is uncommon for very large/volatile candlesticks to resolve themselves in just a few days. In other words, it takes the market time to digest large moves.
I do not believe that the market will pivot higher and resume its uptrend on Monday; it could be weeks until the market develops a sustained uptrend. However, I believe that the post-Brexit decline represents a fantastic buying opportunity.
Why? Take a look at the table below. It shows returns after the following parameters have been met. (Data in this study was analyzed from 1993 to 2016).
The Volatility Index (VIX) spiked and closed higher by more than 50% from the close of a swing low.
The S&P 500 is above its 200 day moving average.
| | | | | |
| --- | --- | --- | --- | --- |
| Stat | 5 Days | 1 Month | 3 Months | 6 Months |
| Mean | 0.88% | 2.70% | 4.84% | 7.45% |
| Median | 0.93% | 3.33% | 5.79% | 7.03% |
| # Pos | 21 | 24 | 24 | 26 |
| # Neg | 10 | 6 | 6 | 4 |
Below was the Volatility Index's price action on Friday. It was, well, volatile.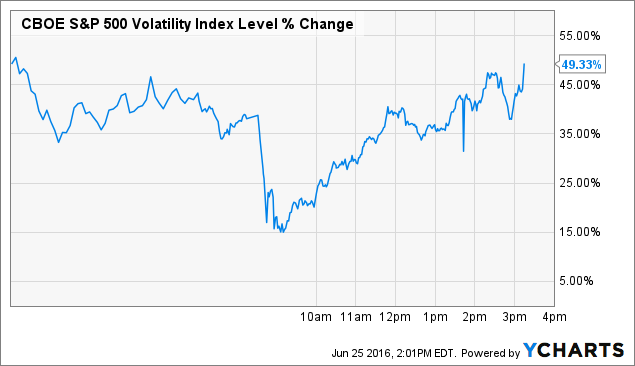 In a sentence, the study suggests that, as Warren Buffett has said, investors should, "[Be] greedy when others are fearful."
Again, I am not advising that one should buy Monday's open with the expectation of capturing a huge bounce. Rather, I suggest that over the coming weeks, as the market digests its large move downward, investors take the time to research high quality companies that suit their investing style. Odds are that the companies have considerably come off their highs.
To put my money where my mouth is, I will be putting together a Motif basket of stocks to purchase in the coming weeks. In doing so, I will be taking advantage of others' fear. The reason why I am using Motif is that I can begin to build my long-term focused portfolio. (I have quite a ways to go until retirement!)
Using Motif, a $10 commission allows you to purchase a custom basket of up to 30 stocks. I have found that commissions can be a silent killer of portfolios, so I find this feature very attractive.
If you sign up for a Motif account using this link and fund your account with $1,000 within 10 days, we each get $100. So if the Motif basket style of investing interests you, I urge you to use that link so we can each benefit.
Disclosure: I/we have no positions in any stocks mentioned, and no plans to initiate any positions within the next 72 hours.
I wrote this article myself, and it expresses my own opinions. I am not receiving compensation for it (other than from Seeking Alpha). I have no business relationship with any company whose stock is mentioned in this article.