As painful as it is to watch a 3% drop in the markets in one day, the fallout from Brexit was not as bad as it could have been. Remember that as soon as polls began to predict the Remain camp as slightly ahead, and bookies were pricing in only a 15% chance of a Brexit, markets soared. As significant as a 500-600 point drop in the Dow is, remember that the day before it closed out with an over 200 point gain after 3 days of modest gains. The S&P will most likely finish relatively flat for the week (or around 1%, if the afternoon decline in the markets on Friday hold). Keep in mind, that puts the S&P still slightly up YTD, and only down 3% in the past year. Brexit contagion was bad, but "Remain" confidence before the vote may have actually contained much of the short-term damage.
Moving into the 2nd half of the year you can expect some pretty seismic changes in market sentiment. First, expect the Fed to not just take the Summer off but take the rest of the year off. This Fed has shown no vigor to move rates upward, no matter the conditions, and continues to be very cautious. The only role the Fed may play is continuing to offer dovish language if high volatility continues. This however, is a tailwind, not headwind for the equities market. In this way, the same equation holds true for the rest of the year.
Fed Dovish -> USD down -> SPX up
Fed Hawkish -> USD up -> SPX down
I just expect much more dovish language, not just to calm US investors, but to reassure international markets that the Fed is taking an active eye and watching the continuing international economic recovery unfold, especially in light of a volatile Europe.
Second, expect markets to begin orienting themselves towards the US Presidential election. As we have seen, polls can drive a market (they drove the DAX up 9.6% in a week, when "Remain" had the apparent edge). Expect polls, policy positions, and possible strife at Democratic and Republican party conventions to drive the market. Although it is unclear how equities, bonds, and the USD will respond to each Presidential candidate, one thing is for sure, it is possible that both candidates are a drag on market performance into the end of the year.
Mid-year Sector Update and Highlights
Looking at YTD returns for each SPDR sector reveals a lot about 1st half of the year sentiment and where the market may be headed.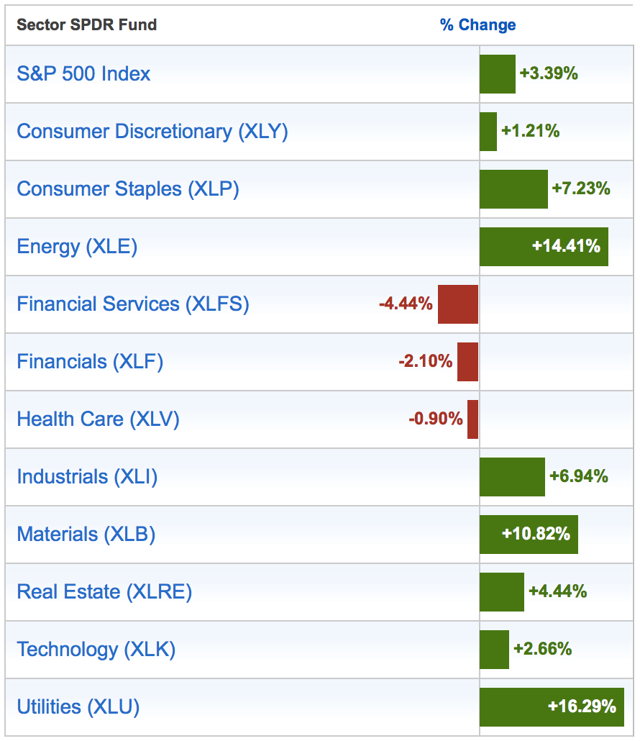 Energy (NYSEARCA:XLE) continues to outperform the market YTD up over 14%. Expect there to be more but limited upside in energy as these companies become more accustomed to oil prices in the $40-$60 range. Limited upside is key, energy companies slid last year, however in the next 6 months do not expect them to fully recover to their mid year 2015 levels as the sector faces structural industry reforms and the potential of an end of the year supply glut on behalf of foreign producers.
Financials (NYSEARCA:XLF) were doing quite well up until the end of April when they got caught in the same narrow trading window as the broad market. Do not expect stellar performance out of financials for the rest of the year. The industry faces far too many headwinds than tailwinds including major outflows in equities, lower trading volume, huge international economic uncertainly, and what looks to be a continued long run of extremely low rates in the US. Although banks are not in positions of relative weakness, they are also not in positions of relative strength, best case they are market performers through the rest of the year.
I briefly want to touch on real estate (NYSEARCA:XLRE) and what could be another headwind for financials. Later this year real estate will be spun off into its own asset class, separate from financials. This could reveal a divide in asset class performance, one which I think may reveal that financials are a real drag on real estate returns. If this is the case, expect real estate to outperform into 2017, from there things become much more uncertain as commercial real estate appears to be bubbling towards a decline.
Technology (NYSEARCA:XLK) as a whole sector is up 2.6% YTD, putting it about at market perform for the year. There are excellent growth opportunities in technology if you know where to look. Companies like Amazon (NASDAQ:AMZN) appear to be dedicated to continued investment and their cloud business continues to outperform. Within Technology look for companies with positive cash flow and good balance sheets. Those companies who have the cash to invest and weather economic irregularities will out perform into the rest of the year.
Health Care (NYSEARCA:XLV) could be driven by two main factors into the rest of the year, 1. The Presidential elections and 2. M&A activity. These both unfortunately are make or break for the industry and you have to have conviction in your belief on how these factors play out. For the first factor you have to look at policy positions on pharmaceuticals and Obamacare. Both candidates continue to be very anti-pharma which could be an overall headwind however you spin it, however continued positive Clinton poll numbers could send insurance companies and hospitals lower as Obamacare continues to be a major headwind, forcing insurances companies to find ways to maximize falling profits and forcing the industry as a whole to rethink profit generation. The second factor has much to do with politics as well, but this focus falls much more on the outgoing Obama administration, which is poised to make big regulatory decisions on major health care M&A activity, including insurance companies Anthem and Cigna. If said health insurances companies talk up the negative effects of Obamacare on profits, without mergers, look for the possibility of regulatory hurdles to be laxer. This would be a tailwind for the health care sector as a whole.
Look for your safety spots in Utilities (NYSEARCA:XLU) and Consumer Staples (NYSEARCA:XLP) to continue to outperform the market. This is not to say they will end the year much higher than they are (16.29% and 7.23%, respectively) but they will probably hold higher than the broad market as fear is the word on the Street.
To summarize:
Energy may offer limited upside into the rest of the year.
Financials could easily be avoided or dialed down in your portfolio, too much uncertainty is driving this sector.
Real estate has the potential to outperform the rest of the year, many of these investments also offer attractive yields.
Those technology companies with strong balance sheets and the willingness to invest are strong buys for the rest of the year, you must own companies that you have a conviction in and have done the research on.
Health Care is a make or break for the rest of the year, but if the conditions are right they are poised to outperform.
Utilities and Consumer Staples continue to be your safe choices, especially if you are still looking for returns while sitting in the "recession is eminent" camp.
Finally, I wanted to throw in a bonus industry specific tid-bit. The Defense industry is poised for continued growth on the back on growing foreign defense spending. The Brexit could actually prove to be a tailwind for this increased spending as Russia will surly use a weaker Europe to beef up military exercises, encroachment, and overall fear in Eastern Europe. Additionally, expect US defense spending to rise as it is often cyclical and appears to be ramping up. Follow me for a more in-depth analysis in the works on this market outperformer.
Disclosure: I/we have no positions in any stocks mentioned, and no plans to initiate any positions within the next 72 hours.
I wrote this article myself, and it expresses my own opinions. I am not receiving compensation for it (other than from Seeking Alpha). I have no business relationship with any company whose stock is mentioned in this article.