HEADLINE: Before Friday's opening bell and following the UK's referendum to remain or leave the EU, Mexico's Ministry of Finance, central bank (Banxico), and the Ministry of Economy released a joint statement in an effort to address uncertainty regarding Brexit's impact for Mexico. Mexico will continue to favor fiscal and monetary discipline to cope with international volatility: another spending cut was announced for P$31.7 billion to this year's budget. All cuts will come exclusively from the federal government. Of those, 91.7% correspond to current spending. Furthermore, the Minister of Finance reiterated the goal to achieve a primary surplus in 2017 and highlighted that 100% of the Federal Government's funding needs for this year has already been met. Afterwards, the central bank announced that it left the monetary rate unchanged at 3.75%. Banxico will only consider direct FX interventions if the exchange rate shows a disorderly or uneven performance inherent to the Mexican peso. During Friday's bloody session, two Mexican ADRs were badly hit: Cemex (NYSE:CX) -13.53% and Ica (NYSE:ICA) -11.27%.
BREXIT: Mexican ADRs most exposed to Europe trade and FX:
Cemex - 12.7% of EBITDA comes from Europe (half directly from UK); America Movil (NYSE:AMX) - 9% of EBITDA comes from Europe
BREXIT: Chilean ADRs most exposed to Europe trade and FX:
CONCHA (NYSE:VCO), Winery, 35.5% of sales in Europe; LATAM AIRLINES (LFL) 8% of sales in Europe; SQM (NYSE:SQM), Potash/ Lithium, 25% of sales in Europe
REGIONAL ETF (NYSEARCA:ILF) PERFORMANCE: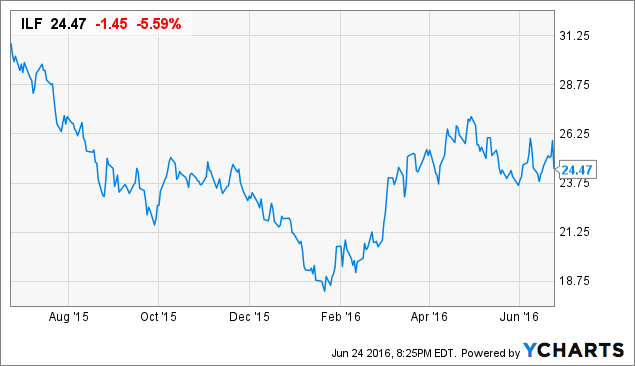 FOREIGN EXCHANGES: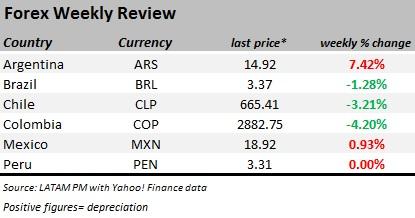 MACROECONOMIC NEWS
ARGENTINA. Reached an agreement over the inspection of Monsanto (NYSE:MON) soy. The nation's agriculture minister said that Argentina's government will oversee the testing of soybean crops under a deal aimed at satisfying demands by U.S. seed company Monsanto that its genetically altered technology be protected.
ARGENTINA. Central Bank (OTC:BCRA) cut its 35-day key interest rate by 75 bps to 31.5%. The CB issued ARS$69.5 billion worth of short- and medium-term "Lebac" bonds, of which ARS$38.9 billion were allotted in 35-day bonds with a 31.5% yield. The BCRA said that latest data on inflation expectations shows that the market is expecting that consumer prices ease through the rest of the year to levels close to 1.5% MoM in 4Q16-in line with the BCRA's target by yearend. It is noteworthy that the BCRA has slashed its key rate by a total of 650 bps in debt auctions over the last seven weeks.
BRAZIL. Annual inflation scored its lowest level in 12 months, climbing 0.4% MoM and 8.98% YoY in mid-June. On a monthly basis, June's IPCA was the lowest since October 2015, when it reached 0.66% MoM. Delving into specifics, housing & utilities prices were up 1.13% MoM-boosted by oil & energy prices (+0.95% MoM), followed by healthcare costs (+1.03% MOM) and personal spending prices (+0.89% MoM). Education (+0.06% MoM) and communications (+0.01% MoM) were the categories that expanded the least, whereas transport (‐0.69%). All in all, this reinforces market expectations that the start of an easing cycle will be delayed and that the Brazilian Central Bank, under Goldfajn's administration, will decide to keep the Selic rate unchanged at 14.25% in the next meeting.
BRAZIL. A steep decline in portfolio investment led foreign investment (direct plus portfolio) to score in May its first negative performance since the 2008-09 (-$0.61 billion). Still, the current account was able to post a surplus for the second consecutive month- a trend not seen in eight and a half years. For the 9th time in the last twelve months, portfolio investment posted a negative performance of $6.7 billion.
BRAZIL. Supreme Court agreed will add more criminal charges to those already pending against suspended House Speaker Eduardo Cunha in connection with a corruption investigation centered on Pebrobras (NYSE:PBR). The court ruled there is sufficient evidence against Mr. Cunha, who allegedly took more than R$5 million ($1.5 million) in bribes from a lobbyist and hid it in Swiss bank accounts.
BRAZIL. Interim President Michel Temer said that the government may start talks with states to renegotiate their debts with Brazilian development bank BNDES. Temer may invite governors to discuss their debts with BNDES soon. Priority would be given to those that borrowed to build infrastructure for the 2014 soccer World Cup. Temer's comments follow the government's recent R$50 billion ($15 billion) offer to cash-strapped states in emergency debt relief over three years. The move seeks to shore up public services.
BRAZIL. Lower house approved a bill allowing for up to 100% of foreign ownership in airlines. The bill is pending approval from the Senate. GOL (NYSE:GOL) and Avianca (NYSE:AVH) rallied during Wednesday's trading session (9.0% and 5.2%, respectively) following the news.
BRAZIL. State-controlled Banco do Brasil is planning to book additional loan-loss provisions of $192 million due to a decision by phone carrier Oi SA (NYSE:OIBR) to seek bankruptcy protection this week. Should a bankruptcy court approve the petition, Banco do Brasil would have to raise provisions on outstanding loans to Oi to R$1.2 billion.
CHILE. Central Bank's survey showed that economists lowered their exchange rate forecast to CLP$693 by yearend (vs. the previous CLP$695.5). They left inflation expectations practically unchanged at 3.1% for the next twelve months. Analysts expect policymakers to keep the MPR stable during the next six months at 3.5%.They also think that the central bank will hike rates by 25 bps to 3.75% in the next 12 months.
CHILE. Congress approved the government's proposal to gradually increase the monthly minimum wage by 26,000 pesos (around $39) to 276,000 pesos ($412) within 18 months. The minimum wage hike proposal is now ready to be signed into law.
COLOMBIA. The central bank raised its benchmark interest rate by 25bps to 7.5% on June 22nd 2016 as expected by consensus. It was the 10th consecutive hike, bringing borrowing cost to a fresh seven-year high, aiming to curb rising inflation. Inflation has constantly as a severe drought drove up food prices and a weak COP lifted import costs. At 8.2%, inflation is now running at more twice the upper level of the bank's 2-4% target range.
MEXICO. In April, the monthly economic indicator, IGAE, contracted 1.2% MoM (+0.7% YoY)-weakest annual print in 29 months. Manufacturing and construction slowed down sharply versus 1Q16, driving industrial output to retreat 0.9% YoY in April-a low since September 2013. Meanwhile, services lost steam at the beginning of the second quarter, growing at a 16-month low of 2.0% YoY-down from the 3.9% annual hike averaged in 1Q16. Lastly, the primary sector expanded for the third time in the year, advancing 1.9% YoY in April (vs. +2.4% YOY in 1Q16).
MEXICO. Despite falling 1.4% MoM, retail sales maintained a strong pace at the beginning of 2Q16, growing at a seasonally adjusted rate of 7.2% YoY in April. In the Jan-April period, retail sales rose 6.8% YoY (vs. 5.0% YoY in 2015). Home appliances (+14.6% YOY), textiles (+13.5% YOY), stationary (+11.7% YOY), apparel (+14.4% YOY), and food and beverages (+8.6% YoY) were the categories that increased the most on an annual basis.
MEXICO. Bi-weekly consumer prices kept marking record lows at the end of 2Q16, with the CPI (inflation proxy) climbing 0.02% MoM to an annual figure of 2.55% in mid-June-the lowest figure for a similar period ever. Among the items that implied a lower cost of living last month were mainly lemons (‐36.9% MOM), eggs (‐5.35% MoM), tomatoes (‐17.4% MOM), and onions (‐6.4% MOM). With this inflation levels, any increase in the benchmark interest rate will be driven by a further depreciation of the exchange rate and/or greater hikes by the Fed.
Disclosure: I/we have no positions in any stocks mentioned, and no plans to initiate any positions within the next 72 hours.
I wrote this article myself, and it expresses my own opinions. I am not receiving compensation for it (other than from Seeking Alpha). I have no business relationship with any company whose stock is mentioned in this article.
Editor's Note: This article covers one or more stocks trading at less than $1 per share and/or with less than a $100 million market cap. Please be aware of the risks associated with these stocks.