Economic data really did not matter this past week, with the UK referendum vote making even Janet Yellen's speeches during the week of low importance. With the Brexit vote now in, a lot of questions have now surfaced about the long term survivorship of the European Union and Eurozone. Whilst, there are many views out there on how everything plays out, we think the uncertainty will continue to weigh on risk assets, the EUR and GBP for the coming sessions.
Of importance this week will be the U.S. Q1 GDP numbers, Corporate profits and PMI readings, which will all give us an idea of the health of the U.S. economy. The Non Farm payroll release for June will also be closely watched by the Fed, with the current downtrend in job additions certainly weighing on Fed sentiment. The one likely winner though, given that the Fed is now likely to hold back hiking in July, coupled with the Brexit uncertainty is gold.
In terms of our longer term technical targets, the GBP/USD is certainly on it's way to meet our 1.2500 target we mentioned in January, whilst the USD/JPY has met the 100.77 target we laid out earlier.
LONG TERM TECHNICAL TARGETS:
GBP/USD (FXB)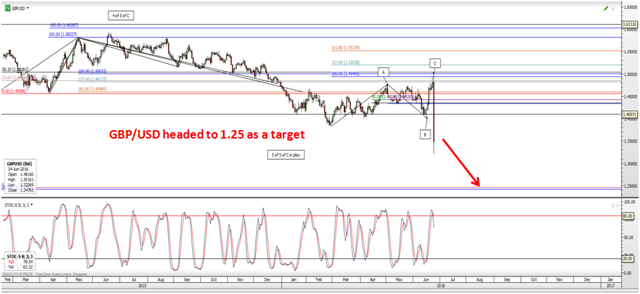 From a pure technical perspective, the GBP/USD should head toward the 1.2500 level once some short term oversold conditions are worked off in the pair. Two potential catalysts that could trigger the further sell-off in the sterling are a downgrade of UK credit ratings by credit agencies and a rate cut by the BOE. We first mentioned this long term technical target back in January.
USD/JPY (FXY)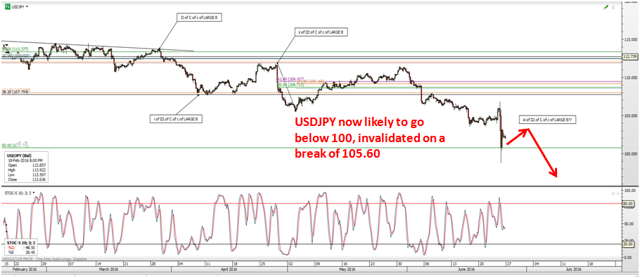 Without the BOJ intervening in the market, JPY cross liquidations will continue to weigh on the pair for the time being with levels below 100 likely seen again in the coming sessions. The 100.77 long term target that has been hit was first mentioned by us back in April. We personally do not like trading the pair at this time due to intervention uncertainties, especially given that the technical bias is for a lower USD/JPY at this time.
Trading and Technical Strategy for the week ahead:
Instrument
Fundamentals
Intraday bias Hourly oscillators
Short term bias (1-3 days) 4 hourly timeframe
Medium term trend (1wk-3mths) Daily timeframe
Long term trend (>3mths) Weekly Timeframe
EUR/USD
Bearish
Bearish
Bearish
Bullish Bias being challenged
Bearish
NZD/USD
Bearish but improving
Bearish
Bullish
Bearish
Bullish Bias being challenged
GBP/USD
Bearish
Bearish
Bearish Bias being challenged
Bearish
Bearish
USD/CAD
Bullish
Bullish
Bearish
Bearish Bias being challenged
Bearish
GOLD
Bullish
Bearish
Bearish
Bearish Bias being challenged
Bullish
WTI OIL
Bearish but improving
Bearish
Bearish
Bearish
EUR/USD (FXE)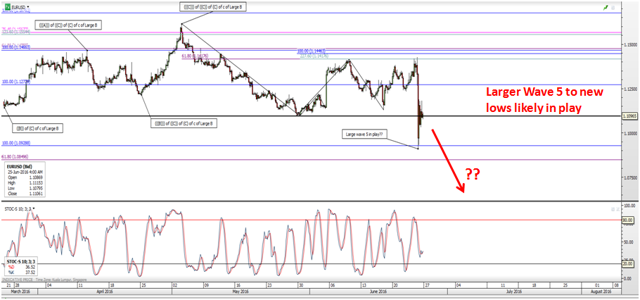 | | |
| --- | --- |
| Key Levels | |
| Support: | 1.1095/ 1.1040/ 1.0970/ 1.0930/ 1.0810 |
| Resistance: | 1.1110/ 1.1160/ 1.1240/ 1.1280/ 1.1320/ 1.1360/ 1.1420/ 1.1470 |
| | *Level to consider buying at for support & selling at for resistance for intra-day trades |
The EUR/USD in our view offers a tremendous short opportunity as a catch up play to the GBP to the downside. With a no confidence vote now official by the UK, there is a high chance of extremism in other EU nations coming to the forefront with voices in France and Italy gaining traction to leave the EU as well following the Brexit outcome. Billionaire investor George Soros has already warned that Brexit could very well be the start of the disintegration of the European Union.
Trading strategy:
Our short strategy from the previous week, would not have worked out well, even though the direction was correct due to the whipsaws in the currency markets during the Brexit vote. However, we would be looking for 1.1160 and levels above 1.1200 now to short the EUR/USD with a view that as the Brexit issue unravels, things will grow more negative for the EUR.
NZD/USD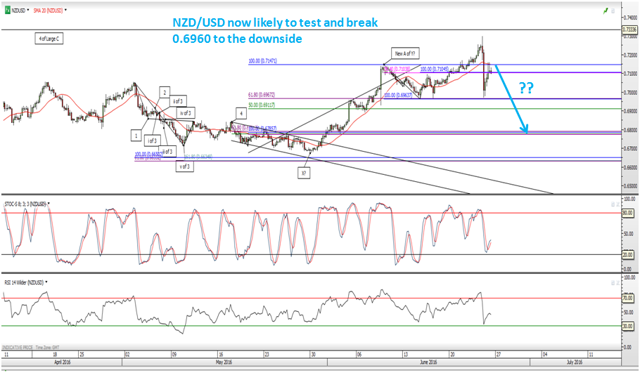 | | |
| --- | --- |
| Key Levels | |
| Support: | 0.7100/ 0.7050/ 0.6975/ 0.6875/ 0.6840/ 0.6810/ 0.6780/ 0.6745 |
| Resistance: | 0.7180/ 0.7230/ 0.7280 |
| | *Level to consider buying at for support & selling at for resistance for intra-day trades |
The NZD/USD continues to be a currency we favor shorting at this time, given that risks have now dramatically increased and the Fed being less likely to raise rates even in September. With this backdrop, we think that the RBNZ will do what it can to weaken the currency by cutting rates at the August meeting. With trade balance numbers from May due Monday, the strong NZD is likely to weigh on the trade balance, which should be negative for the NZD.
Trading strategy:
Our short term trading strategies did not play out as expected last week for the NZD/USD, but we think that the time is now right to go short the currency from current levels up to 0.7150. We would hold these shorts for the longer term with a view that the RBNZ will cut rates in the August meeting, with a final target of 0.6300 or lower for the pair over the next few months.
GOLD (NYSEARCA:GLD)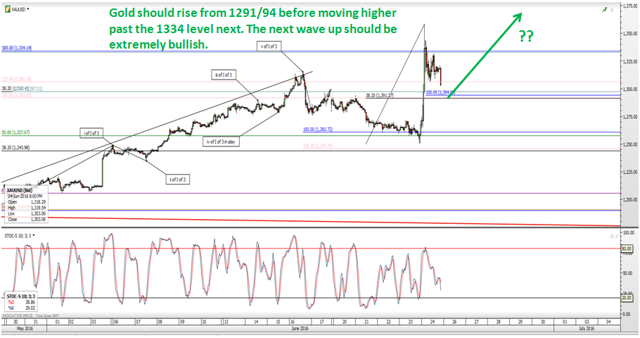 | | |
| --- | --- |
| Key Levels | |
| Support: | 1305/ 1285/ 1246/ 1241.50/ 1212/ 1200/ 1150/1110 |
| Resistance: | 1330/ 1400/ 1440/ 1500/ 1560 |
| | *Level to consider buying at for support & selling at for resistance for intra-day trades |
GOLD played out according to script this past week, with the current environment almost a perfect environment for the metal. With the potential disintegration of the EU now a very real possibility, the uncertainty will likely keep gold supported for some time.
Trading strategy:
Gold pulled back to our $1260 target ahead of the UK referendum and went past our $1334 target following the Brexit result. We are looking to buy at $1291/94 to play the next leg up with a stop loss at $1250.
WTI OIL (USO)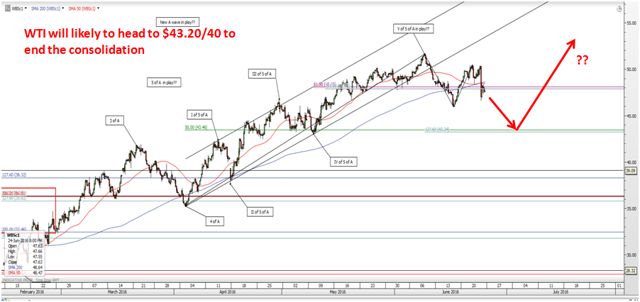 | | |
| --- | --- |
| Key Levels | |
| Support: | 46 /45.60/44.60/43.10/ 42.80/ 41.90/ 40.00 |
| Resistance: | 47.15/ 48.30/ 49/ 49.80/ 50.20/ 51/ 52/ 52.50 |
| | *Level to consider buying at for support & selling at for resistance for intra-day trades |
*Note on our price chart: Before we dive into the WTI technical analysis, we have decided to use the WTI continuous futures price as a chart instead of the original spot price posted in our article. This price will match the nearest dated WTI Crude futures contract which will switch automatically once the contract settles, moving on to track the next nearest dated futures contract. We will also be only analyzing the technical aspect of the WTI price, given the fundamental aspect of WTI oil is well covered by many subject matter experts in the energy commodities section. At this time, the nearest dated futures contract being tracked by the above price chart is the August 2016 contract.
Shorting WTI oil this past week as per our expectations last week would have undoubtedly been a good move, with WTI now likely to move toward $43.20/40 to complete this correction which we have been calling for some time now. From there, we think that WTI oil will bottom out and the longer term uptrend in WTI oil will resume.
Trading strategy:
We would prefer to short WTI oil this week from current levels ($47.63) to play our downside target of $43.20/40. Any move above $48.90 puts our downside trade at risk, and we would likely cut our position there. Once the $43.20/40 level has been met, we will only be looking for long positions in WTI oil.
For updates during the week, please visit our site and sign up to our free mailing list.
Risk Disclosure
High Risk Warning: Foreign exchange, futures and ETF trading carries a high level of risk that may not be suitable for all investors. Leverage creates additional risk and loss exposure. Before you decide to trade any instrument, carefully consider your investment objectives, experience level, and risk tolerance. You could lose some or all of your initial investment; do not invest money that you cannot afford to lose. Educate yourself on the risks associated with trading, and seek advice from an independent financial or tax advisor if you have any questions.
Advisory Warning: THEMARKETJOURNAL provides references and links to selected blogs and other sources of economic and market information as an educational or informational service to its clients and prospects and does not endorse the opinions or recommendations of the blogs or other sources of information. Clients and prospects are advised to carefully consider the opinions and analysis offered in the blogs or other information sources in the context of the client or prospect's individual analysis and decision making. None of the blogs or other sources of information is to be considered as constituting a track record. Past performance is no guarantee of future results and THEMARKETJOURNAL specifically advises clients and prospects to carefully review all claims and representations made by advisors, bloggers, money managers and system vendors before investing any funds or opening an account with any brokerages or dealers. Any news, opinions, research, data, or other information contained within this article and our website is provided as general market commentary and does not constitute investment or trading advice.
Disclosure: I/we have no positions in any stocks mentioned, and no plans to initiate any positions within the next 72 hours.
I wrote this article myself, and it expresses my own opinions. I am not receiving compensation for it (other than from Seeking Alpha). I have no business relationship with any company whose stock is mentioned in this article.