Impax Laboratories(IPXL) is a specialty pharmaceutical company focused on developing, manufacturing, marketing, and distributing generic and branded pharmaceutical products. Recently the stock fell 12% on news the company was acquiring a portfolio of generic drugs from Teva Pharmaceuticals. Since then the stock has recouped some of its losses but we feel this is still an attractive investment opportunity with the company having a strong portfolio of drugs with difficult delivery mechanisms and unique formulations. From a valuation perspective, the business also appears attractive at $30 per share, when we believe shares could move upwards of $40 per share.
A majority of this businesses revenue are from generic drugs, which at first does not seem like a great investment area. However, the company has focused in on two areas of the generic market which have larger moats around their production and distribution. Firstly they focus on drugs with controlled releases which have technically challenging drug delivery mechanisms. Secondly, they focus on specialty generic products which either have materials which are more difficult to source or special handling requirements. The company has gotten very good at this strategy with 12-14 generic product launches anticipated for this year. A list of some of the company's public generic filings are shown below.

Source: Company SEC Filings
We see the acquisition as a major positive for the company with the company set to pay $586 million in cash for 15 marketed products. The acquisition also provides Impax laboratories with numerous other potentially valuable drugs(see below), including a potential new ADHD product via Concerta. This M&A was a good use of the balance sheet and the company still has the capacity to pursue additional acquisitions when appropriate. We view continued acquisitions as a catalyst for this business, as they begin to realize scale from larger and more diversified production.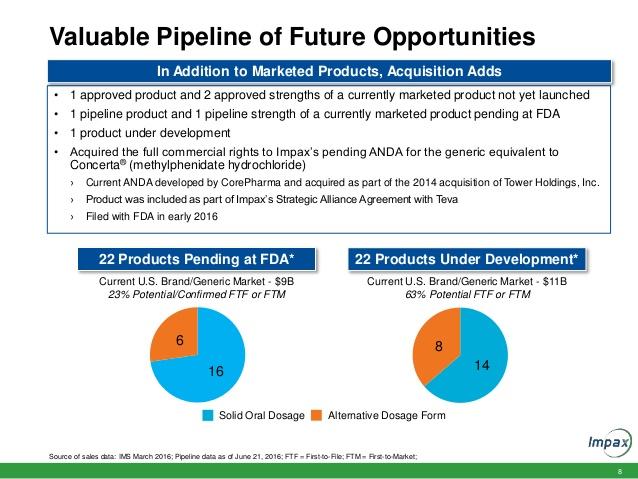 Source: Impax Acquisition Presentation
As can be seen below, shares trade at a substantial discount to other generic and specialty drug companies, which trade around five times revenue versus IPXL at a little more than two times revenue. While we acknowledge many of these companies are substantially larger with greater drug development experience, we believe the enormous discount is unwarranted. We believe shares can move up to around three times trailing revenue, still discounted to peers, and this leads to a 18 month price target of $42 per share. Catalysts for the stock to move higher and have its multiple expand include higher than projected sales of Rytary(company's internally developed capsule for Parksinson's disease), greater than expected uptake of ENVERM(antihelminthic franchise) and additional positive business developments for the company including attractive portfolio acquisitions.
We acknowledge there are some major risks to owning this stock. Generics face risks around their approval and even once approved, there can be pricing pressure issues. However we feel given the company's strong portfolio and highly discounted valuation, this is an attractive investment to play the growth of generic drugs, with the generic drug market forecast to be $221 billion by the end of 2016.

Source: Author Analysis/CapitalIQ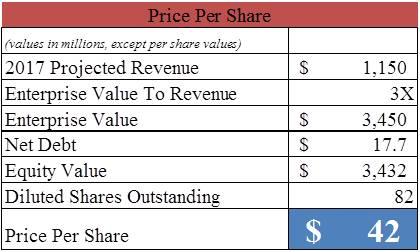 Source: Author Analysis/Analyst Projections
Given the volatility around these shares the best way for investors to begin building a position is through limit orders. Additionally, with the Brexit news investors may see the shares fall along with the market, offering investors an even more attractive entry point. Overall we feel Impax laboratories is a strong addition to a healthcare portfolio and a good way to invest in the growing importance of generics within the healthcare system. We feel Impax has the potential to be the next major generic drug maker, realizing further economies of scale and a more conservative healthcare investment compared to picking binary biotechnology stocks.
Disclosure: I/we have no positions in any stocks mentioned, and no plans to initiate any positions within the next 72 hours.
I wrote this article myself, and it expresses my own opinions. I am not receiving compensation for it (other than from Seeking Alpha). I have no business relationship with any company whose stock is mentioned in this article.