Shares of American Airlines (NASDAQ:AAL) fell almost 11% as news of Brexit rocked the markets. Despite record profitability, the stock is now down approximately 40% since mid March (Figure 1), and sits at a 52-week low. Weak pricing, wage pressures, and terrorism have weighed on sentiment, and now we have Brexit. But while the risks it poses are real, the long-term growth story for AAL is still in tact. American Airlines trades at a forward multiple of 4.6, and investors should consider buying in as worldwide travel spending will drive demand for years to come.
Figure 1: YTD Price Chart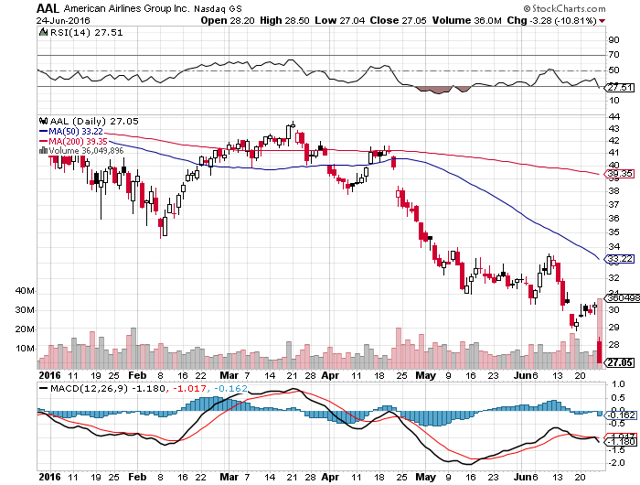 Source: stockcharts.com
The news of Brexit hurt all airline stocks, but none more than American Airlines. AAL is more exposed to Britain than its peers. Analysts estimate that between 6-7% of AAL's capacity is directly affected. Brexit poses two significant challenges to American Airlines' business. The most obvious one is lower demand for outbound flights to the US that stems from a weaker pound. AAL will most likely reduce capacity as it was forced to do in Brazil after the real depreciated against the dollar. But the more pressing issue is how Brexit will impact AAL's partnership with British Airways. AAL's joint venture with British Airways allows the two carriers to share revenues and coordinate routes and schedules for flights across the Atlantic. As fellow Seeking Alpha Contributor West Cost Growth Picks explains, this "gives AAL customers access to destinations in Europe, Middle East, Africa, and India that AAL cannot serve economically". The UK may need to renegotiate agreements that allow its carriers to fly to foreign markets, disrupting American Airlines' Atlantic-based routes. Over the past twelve months, the Atlantic region accounted for roughly 20% of AAL's revenue.
Despite the added uncertainties posed by Brexit, we think now is an opportune time to consider buying AAL. But investors will have to be patient, as the stock will take time to rebound. The market is still too focused on the top line, and AAL will probably have to report sales growth for the stock to rise materially higher. In the latest quarter passenger revenues declined 4.2% year-over-year thanks to a 7.1% fall in yields, and management expects fares to be low for the rest of the year. Industry wide capacity additions, increased competition from regional budget carriers, and a strong dollar have all weighed on pricing, but low fuel prices are the main reason for the fall in revenues. This is an important distinction. While fuel costs and ticket prices tend to move in tandem, AAL is more profitable when fuel costs are low. This is because AAL cannot pass all of its costs on to consumers. What investors should be concerned about is profitability, and profits reached a record first quarter high in Q1 2016. Operating margin increased 200 basis points year over year.
Figure 2: Global Air Passenger Volumes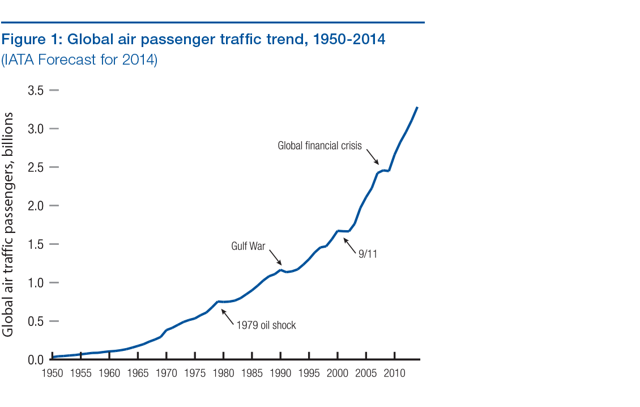 Source: IATA
We expect fuel prices to remain low for the next few years and support a profitable industry environment. Continued share repurchases should prevent the stock from falling much farther amid the new wave of uncertainty caused by Brexit. But it is the secular tailwinds that make American Airlines an appealing buy. According to rockcheetah.com, global travel spending is projected to double between 2010 and 2020, with travel spending in the US growing at a 7% CAGR over the next five years. Global passenger volumes have been on steady uptrend since 1950 (Figure 2), overcoming a variety of setbacks caused by war, terrorism, economic shocks, and recession. The market has overreacted, and if investors can stomach cyclicality and temporary scares, they will be rewarded in the long run.
Disclosure: I/we have no positions in any stocks mentioned, but may initiate a long position in AAL over the next 72 hours.
I wrote this article myself, and it expresses my own opinions. I am not receiving compensation for it (other than from Seeking Alpha). I have no business relationship with any company whose stock is mentioned in this article.