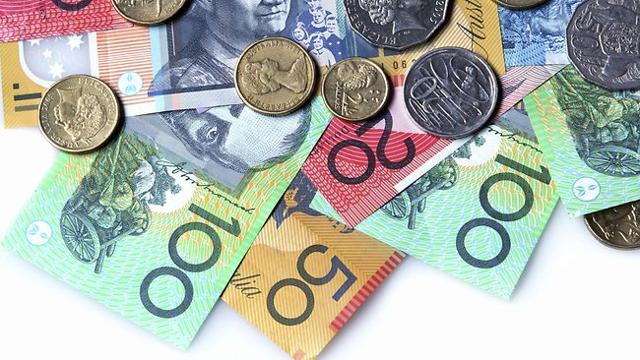 Well it happened, Britain left the European Union. Although it looked too close to call towards the end, we remained faithful to our Brexit positions thankfully. As well as being long gold and short the British pound, another position involved shorting the Australian dollar (NYSEARCA:FXA) against the U.S. dollar (NYSEARCA:UUP). We had predicted that a successful exit vote in Britain would take the Australian dollar down to 72 U.S. cents. It didn't quite make it that far in the end, but dropped over 5 percent to 73 U.S. cents. It didn't stay down for long though, and has bounced back up just as quickly. But will it go back down from here?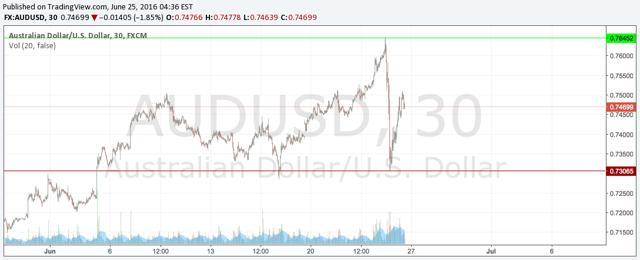 Sourced from DailyFX
More and more uncertainty.
It has been said thousands of times over the last day or two, but the Brexit has created an obscene level of uncertainty in financial markets. There was already a lot of uncertainty brought about from ZIRP and NIRP, but this has now just topped it all off in our opinion. So much so there have been reports that a rate cut, rather than a rate rise, is the most likely next move from the Federal Reserve following the Brexit. Although at this point there is only a slim chance, with the market pricing in a 10 percent chance of a cut between now and September, the key here is that rate rises appear to be off the table completely this year. In fact, some predictions that there will be no increases in 2017 are looking reasonably credible now.
Personally, we don't believe that we will see rates cut in the United States this year. The U.S financial services sector (NYSEARCA:XLF) got pummeled in the aftermath of the Brexit vote, with many believing an economic slowdown is coming in Europe and the United Kingdom. Cutting rates would negatively impact the banks and really kick them whilst they are down. They may have just passed recent stress tests, but we would still have concerns over their future in the event of further rate cuts or a European recession.
The U.S. dollar strengthening comes to a halt.
So with rate hikes being ruled out, the U.S. dollar's strengthening may come to a halt once the markets settle. Ceteris paribus, this could lead to the Australian dollar consolidating its position or even strengthening from here. After all, it is one of the few countries out there which has a positive interest rate of 1.75 percent, making it an attractive destination for parking cash.
On Friday the ASX 30 Day Interbank Cash Rate Futures July 2016 contract traded at 98.33, which indicates a 38 percent expectation of an interest rate decrease to 1.50 percent at the next Reserve Bank of Australia Board meeting on July 5. As you'll see below, 38 percent is the highest it has been this month and we would expect this to increase as we get nearer to the meeting.

Sourced from ASX.com.au
It is worth noting that the Australian federal election takes place on the Saturday before the meeting. Although in the past the Reserve Bank of Australia has not let events like this stop them, we do personally think it is more likely to be the month after. Unless the Australian dollar appreciates considerably between now and then of course. With the markets looking likely to remain relatively volatile during the next few weeks as the world adjusts to recent events, we expect there to be swings in most major currencies. We feel the Reserve Bank would want to see where the Australian dollar sits once the volatility dies down before making its move.
But ultimately a weaker currency is still needed if it has any hopes of reaching its 2 to 3 percent inflation rate target. Currently consumer inflation is running at just 1.3 percent, with little hope of it improving in the months ahead. Very much overshadowed this week were the minutes from the Reserve Bank's June meeting. The minutes revealed that, as things stand, the Reserve Bank sees both short-term and long-term inflation remaining below average. This for us is a clear sign that it is ready and willing to act.
What we are doing.
Until the Reserve Bank of Australia cuts interest rates we expect the Australian dollar to float in the range of 74 to 77 U.S. cents. We continue to short it with our long-term target of 65 U.S. cents still intact. But unfortunately we don't expect it to reach this level until mid-2017 now, unless of course the Federal Reserve surprises everybody and cuts rates this year. We have no doubt that this will be a very successful long-term trade, but it is one that will that will require a lot of patience.
Thanks for reading and best of luck with your trades!
Disclosure: I am/we are short FXA.
I wrote this article myself, and it expresses my own opinions. I am not receiving compensation for it (other than from Seeking Alpha). I have no business relationship with any company whose stock is mentioned in this article.