Offshore drilling services provider Noble Corp (NYSE:NE) has struggled on the market this year, losing over 14% of its value so far. This is not surprising as like other offshore drilling contractors, Noble has struggled on account of a decline in offshore drilling that has led to contract terminations and a declining backlog.
But, in my opinion, Noble will be able to overcome the challenges that it is facing on account of its strong liquidity, higher utilization rates, and a possible improvement in the offshore drilling market. So, in this article, we will take a closer look at each of these points and see why Noble Corp. is capable of doing well in the long run.
Positives in the offshore drilling industry
Though the offshore drilling industry has been under pressure in an oversupplied oil environment, there are certain positives that investors should not ignore. For instance, offshore oil drilling off the African coast and Latin America will continue to remain strong going forward. Along with the Gulf of Mexico in North America, it is anticipated that offshore spending in these three areas will come in at $173 billion in the next five years, with the highest quantum of spending taking place off Africa.
This is not surprising since offshore drilling in Africa has gained pace in recent months. In fact, as shown in the chart given below, post 2010, African offshore drilling has increased at a tremendous pace: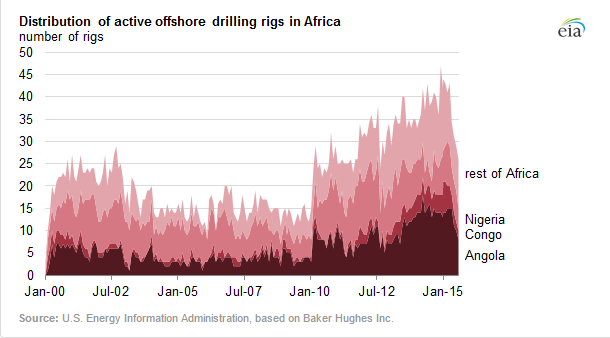 Source: EIA/Baker Hughes
Looking ahead, the pace of offshore drilling in Africa should continue to remain strong on the back of new projects in Angola and Nigeria. For instance, in Angola itself, over 10 offshore oil projects will be developed over the five years. Meanwhile, Nigeria's focus on ultra-deepwater and deepwater projects will see the country develop three deepwater projects at least in the next five years. Thus, going forward, Noble Corp. should see an improvement in its backlog as more projects come online in these areas.
Focus on efficiency measures will help Noble remain resilient
Noble Corp has aimed to keep its utilization rates high by fighting aggressively to keep its day rates intact and land contracts at acceptable levels so that it can keep its margins in good shape. For instance, last quarter, Noble's average daily revenue increased slightly on a sequential basis to $425,900 from $424,900 in the preceding quarter.
This increase in the average daily revenue was possible due to the fact that all eight of Noble's drillships were under contract, which also allowed the company to save on idling costs. Additionally, since Noble has been able to reduce its costs related to contract drilling services by 16% on a sequential basis, apart from lower downtime, the company's margin has improved. This is shown below: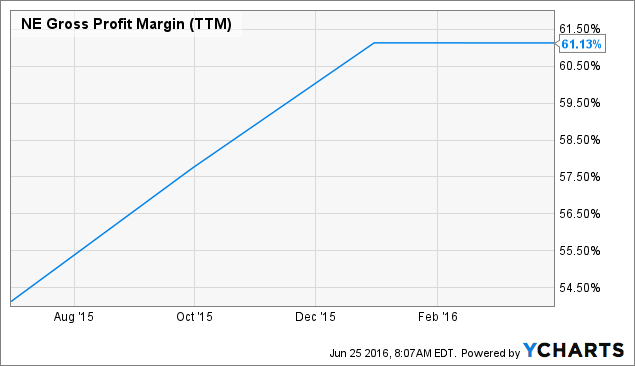 Thus, resilience in the day rate and lower costs have helped Noble improve its gross margin in the past year despite the end-market weakness. More importantly, going forward, Noble has received strong commitments for its jack-up rigs for the coming years. For instance, this year, 87% of Noble's rig days for jack-ups are already committed, while for next year, the rate stands at 66%. Therefore, due to a higher number of committed days, Noble will continue to see stronger utilization rates going forward and keep its margins in strong shape.
In addition, Noble will also benefit from its contract termination with Freeport-McMoRan (NYSE:FCX), which might sound a bit surprising at first. As per this contract agreement, Noble's drillships, the Noble Sam Croft and the Noble Tom Madden, have been terminated with immediate effect. Earlier, they would have been terminated on July and November 2017, respectively.
The termination of the contracts will result in a payment of $540 million from Freeport, which Noble has already received. In fact, Noble is expected to receive $25 million to $50 million of additional contingency payments from Freeport as well. The good part about this contract termination is that Noble will be able to save approximately $100 million in direct costs as a result of crew reductions and stacking.
Hence, this contract termination from Freeport will allow Noble to both improve its liquidity position and also enhance its margin profile due to substantial cost savings. More importantly, the contract termination has considerable enhanced Noble's liquidity to $3.3 billion, including $2.44 billion of revolver capacity and the rest as cash in hand.
As a result of this strong liquidity position, Noble is now well-placed to meet its upcoming debt obligations going forward. As shown in the chart below, Noble has to satisfy $300 million worth of debt maturities next year, $250 million in 2018, and $200 million in 2019, all of which are covered by the company's current liquidity. Also, another positive fact to note is that Noble has been reducing its debt-equity ratio, as shown below, and since the company is poised to reduce more debt with cash on hand, its leverage should continue declining.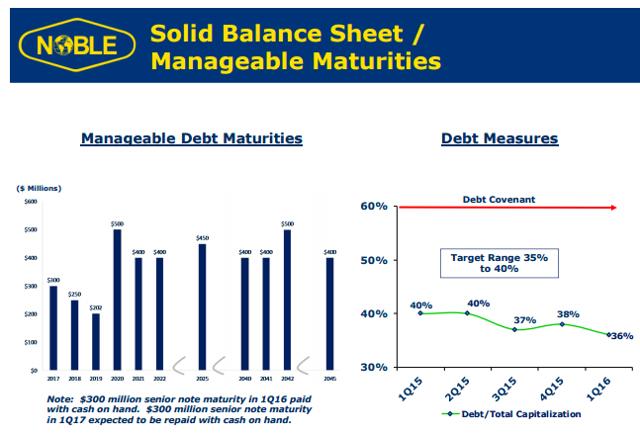 Source: Noble Corp
Conclusion
Noble Corp's strong liquidity, cost-reduction efforts, and growth hotspots in certain end-markets will help the company eventually improve in the long run. This is because it is well-prepared to overcome the current weakness in the end-market and will do well in the long run due to a leaner cost base as the prospects improve. So, in my opinion, investors should consider accumulating shares of Noble Corp for the long run.
Disclosure: I/we have no positions in any stocks mentioned, and no plans to initiate any positions within the next 72 hours.
I wrote this article myself, and it expresses my own opinions. I am not receiving compensation for it (other than from Seeking Alpha). I have no business relationship with any company whose stock is mentioned in this article.