Oil prices took a beating this past week news broke that the EIA (Energy Information Administration) reported a smaller decline in inventories than what the API (American Petroleum Institute) had estimated a day earlier and after the U.K. voted to leave the European Union. The purpose of this piece is not to cover the U.K. referendum. Rather, in what follows, I will dig into the data provided by the EIA and give my own thoughts on what this means for investors in companies like Memorial Production Partners (NASDAQ:MEMP), Approach Resources (NASDAQ:AREX), and Legacy Reserves (NASDAQ:LGCY), as well as for those in the United States Oil ETF (NYSEARCA:USO) and other oil-related ETFs.
Oil inventories were mixed
According to the EIA, oil inventories for the week came out to 530.6 million barrels. If this number is accurate, it represents a falloff of 0.9 million barrels compared to the 531.5 million reported in inventories a week earlier. Although seeing a decrease is positive for oil-oriented investors like myself, the drop was smaller than the 1.7 million barrels analysts had been forecasting and was well below the 5.2 million barrel decline estimated by the API a day earlier. In the graph below, you can see the trend that oil inventories have taken over the past 52 weeks.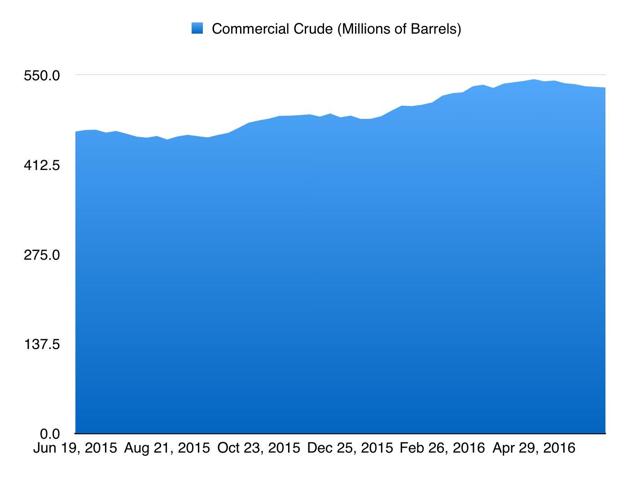 Some other categories of petroleum products also managed to see declines during the week. Based on the data provided, fuel ethanol stocks dropped by 0.1 million barrels per day from 21.2 million to 21.1 million. Meanwhile, residual fuel stocks fell by 0.5 million barrels from 40.8 million to 40.3 million and kerosene-type jet fuel stocks declined by 0.8 million barrels from 42.2 million barrels to 41.4 million.
Unfortunately, though, some categories posted increases, including motor gasoline, which saw stocks climb by 0.6 million barrels from 237 million to 237.6 million. Distillate fuel stocks ticked up a modest 0.1 million barrels from 152.2 million to 152.3 million, and propane/propylene stocks jumped 1.2 million barrels from 78.4 million to 79.6 million. As a result of these increases, plus the fact that the "other" category of petroleum products soared by 5.5 million barrels from 264.4 million barrels to 269.9 million, total crude plus petroleum stocks managed to grow by 5.2 million barrels, jumping from 1.3676 billion barrels to 1.3728 billion.
A look at production and demand
Based on this data, you might think that production was high and demand was soft. The fact of the matter, though, is that this is far from true. According to the EIA's estimates, production for the week came out to 8.677 million barrels per day. This represents a decrease of 39 thousand barrels per day (or 273 thousand barrels for the week) from the prior week's estimate of 8.716 million barrels per day. In the graph below, you can see what this trend has looked like over the past year.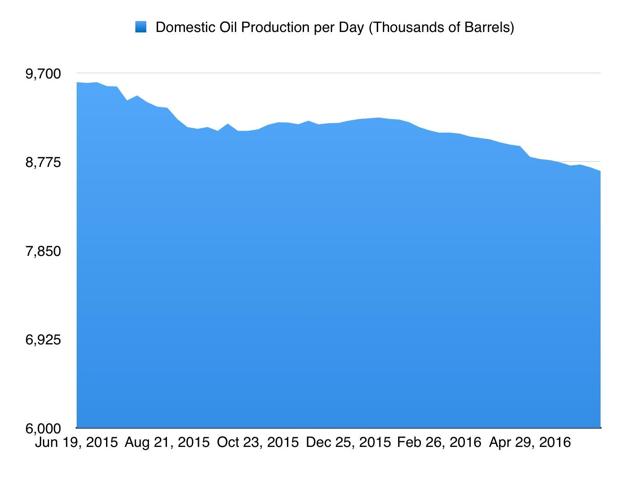 In addition to seeing demand fall at a nice clip, we also enjoyed the fact that demand was quite high, with motor gasoline consumption coming out to 9.815 million barrels per day, up a bit from last week's 9.762 million barrels per day and about 1.7% above last year's estimate of 9.655 million barrels per day. Looking at the more reliable four-week average, demand came out to 9.715 million barrels per day, a 3.9% increase over the prior year's 9.352 million barrels per day. Distillate fuel demand was also higher this week on a year-over-year basis but with the four-week average coming in 1.6% lower than it was a year ago, the picture could certainly look stronger there.
Interestingly, the main problem in my mind appears to be related to net imports. During the week, net imports into the U.S. averaged 7.950 million barrels per day, a whopping 11.5% greater than last year's 7.133 million barrels per day. Keeping everything else the same here, but excluding the change in net imports, crude stocks would have fallen by an extra 4.9 million barrels this week, representing a decline of 5.8 million compared to the prior week's period.
Rig counts resumed their fall!
In addition to reporting nice demand and production data, and in addition to seeing crude oil inventories fall, more positive news came from another source; Baker Hughes (BHI). In its weekly rig count, the company announced that the number of oil rigs in operation in the U.S. fell by 7 units to 330. This is the first time we've seen a decline in a while, after seeing three weeks of rising rig counts, and the total number of units in operation is about 47.5% lower than the 628 units seen a year earlier. Meanwhile, in Canada, the rig count did increase by 8 units to 36 but these numbers tend to be volatile anyways and the rig count is still, despite this increase, 52.6% lower than the 76 units that were operating this time last year.
Takeaway
As of this moment, Mr. Market is reacting negatively to news that is most certainly split but which happens to be more bullish that I believe investors are giving it credit for. With oil production in the U.S. falling and with demand staying quite high, the future for oil continues to look far brighter, in my opinion, than it did earlier this year. This is especially true when you factor in the long-term benefits of a rig count that has, once again, resumed its decline.
Disclosure: I am/we are long AREX, MEMP, LGCY.
I wrote this article myself, and it expresses my own opinions. I am not receiving compensation for it (other than from Seeking Alpha). I have no business relationship with any company whose stock is mentioned in this article.
Additional disclosure: My LGCY position is in the form of preferred units, not common ones.