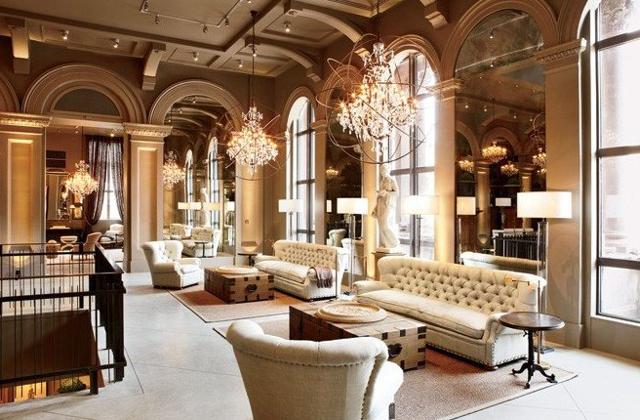 Restoration Hardware (NYSE:RH) was once a shining star on Wall Street and its valuation reflected that. But in the last several quarters, weakness in the company's results has caused a massive reset of the stock's valuation and for me, that has created an opportunity. I penned a piece a few weeks ago about RH's tough Q1 and its cheap valuation but since that time, it has gotten even cheaper. The problem for RH right now is margins and in this article, I'll take a look at the company's checkered history on the subject as well as any impact future movements will have on profitability; this is absolutely key to the bull thesis.
I'll be using some data borrowed from Morningstar to create charts throughout.
We'll start with gross margins as that is where profitability begins for any company. This shows RH's gross margin levels for each year over the past decade.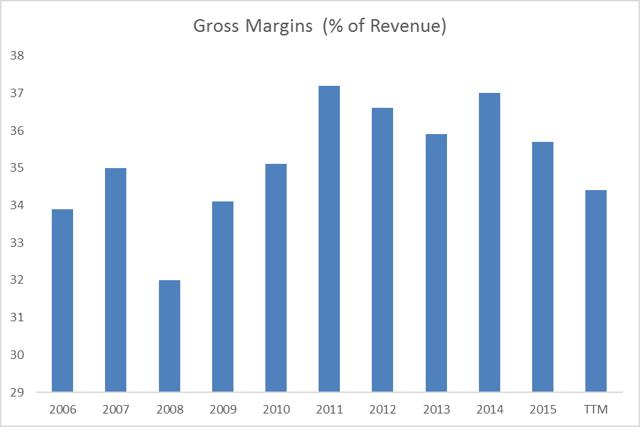 RH's margins have been all over the place during this time frame and we can see that the TTM number is about in the middle of its historical range. That's not great as it means RH's gross margins have come way off of their highs and that is exactly what we see. RH has ceded about 260bps of gross margin in the last two years alone and with recent results continuing to come in weak, it seems investors are scared about where the bottom might be. You can certainly count me in that camp but there is also reason for optimism.
The beating gross margins took in Q1 this year were due to the timing of membership revenues as well as general weakness in the luxury retail market and production delays. The thing is that all of these are transitory issues (although time frames for recovery may differ) and for me, it speaks to why gross margins are so bad right now but also that the likelihood of a fairly sharp rebound in the next few quarters is strong. That is what management said and if those were truly the reasons for the weakness in Q1, we will indeed see a rebound in gross margins.
In addition to that, we can see that 2008 - the worst of the worst for luxury retailing - saw gross margins of about 32%. That's the bottom for RH so with current margins around 34%, there isn't much further to go to the downside. RH is a much larger and more efficient company than it was back then so I doubt we'd even see that level of weakness but it is fair to say that we are much closer to the bottom of the range than the top and that is bullish as well.
Now let's turn our attention to the company's SG&A costs as that is the other piece of operating margins.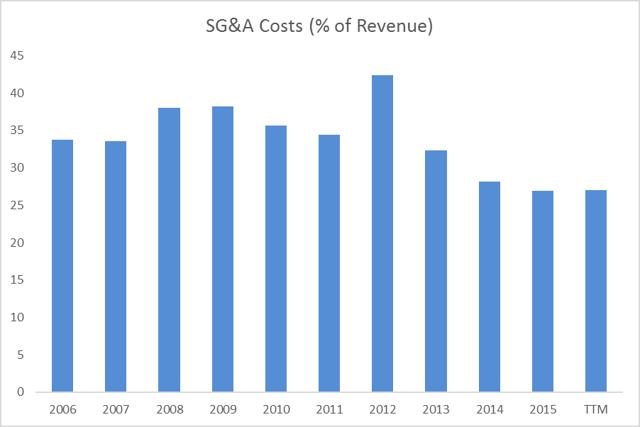 The trend here is much better as we see that over time, RH has become better and better about leveraging operating costs. The spike in 2012 is due to RH going public that year, a very expensive proposition that causes SG&A costs to spike for every company. So if we ignore that one as an outlier we can see that RH is unequivocally moving in the right direction. This is true even with recent weakness in both sales and margins and this is a huge piece of why I'm still bullish on RH. This company is operating with a fairly lean model that will become even more so as it continues to grow its footprint and if it sees comp sales increases in the coming years. Things like back office costs will slow down in terms of increases as the chain matures and we'll see SG&A costs continue to creep lower over time, providing upside leverage to operating margins regardless of what gross margins do.
And speaking of operating margins, the chart below shows the spread between gross margins and SG&A costs for the same time period as above.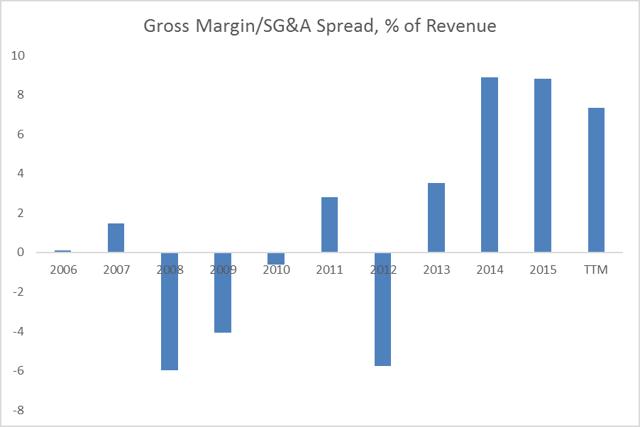 RH's operating margins have been all over the place over the past decade including a few years when they were flat or negative. That's not great but you can also see why RH was bid up so much after it came public; operating margin growth from 4% to almost 9% in one year is terrific and had bulls very excited, extrapolating tremendous results out for years. That hasn't materialized unfortunately and for bulls, it has been very costly. But what about the future?
RH has guided and reiterated for mid-teens operating margins over the long term, roughly double what it currently produces. Even after the weak Q1 management said it was on track due to the transitory nature of the declines in gross margins during the quarter. That's why I'm still bullish despite the evidence that I shouldn't be; transitory losses in margin are typically great buying opportunities but it only works if they do indeed prove to be transitory. In RH's case there is enough evidence that they should be - production delays and timing of membership revenues would suggest that - and with strong leverage on SG&A costs continuing, we should see operating margins grow over time. In short, I think the move lower in the last couple of quarters is a speed bump, not a wholesale change in the route margins are taking.
Mid-teens operating margins would certainly make RH a strong performer in the retail space but that level is certainly not unheard of; it isn't like RH is claiming it will grow into the stratosphere. That is why I think that at 16.5 times beaten down earnings estimates, RH is a buy. This company is not dead but it has been left as such by the market for reasons I think will work themselves out over the next few quarters. If I'm right, RH will move a lot higher but if I'm not, downside weakness is limited relatively speaking.
Disclosure: I am/we are long RH.
I wrote this article myself, and it expresses my own opinions. I am not receiving compensation for it (other than from Seeking Alpha). I have no business relationship with any company whose stock is mentioned in this article.