The Brexit vote was obviously a decisive turning point for global financial markets in all respects, but one particular consequence worth noting is the divergence between gold and other commodities.
In the post-Brexit world, the gold bull market is set to continue upward, but the recovery of industrial and other commodities since February is now in jeopardy. Expectations of a stagnant global economy or an outright recession have dramatically increased.
This divergence is especially good news for gold mining companies such as those in the Market Vectors Gold Miners ETF (NYSEARCA:GDX) and the Market Vectors Junior Gold Miners ETF (NYSEARCA:GDXJ): Their revenues will increase with rising gold prices, and their operating costs for energy, materials, equipment, and other inputs will not increase so much. Moreover, they will face less competition from other mining sectors for equipment, labor, services, and finance capital.
The gold bull markets of the 1970s and the 2000s went hand in hand with simultaneous bull markets for just about all commodities. This cut into the earnings of gold miners, as rising costs offset some of their rising revenues. If the new gold bull market coincides with commodity prices staying flat or down, it could very well be the best market in history for gold miners.
In fact, such a trend would actually just be the continuation of broader overall trends that have been well established and ongoing for decades. Even in the commodity bull market of the 1970s, gold still vastly outperformed other commodities. The CRB Commodity Index was 3 times the gold price until the 70s; by the 1980 peak the CRB Index was only half the gold price.
And the following charts clearly show how consistent the downtrends have been for a wide variety of commodity groups vs. gold over the past three decades:
Perhaps the most important comparison is that of industrial metals vs. gold, since industrial metals are much more directly relevant to the mining industry than other commodity groups such as grains or livestock. Take a look at the long-term chart of the ratio of the GYX Industrial Metals Index to gold from 1996 to today: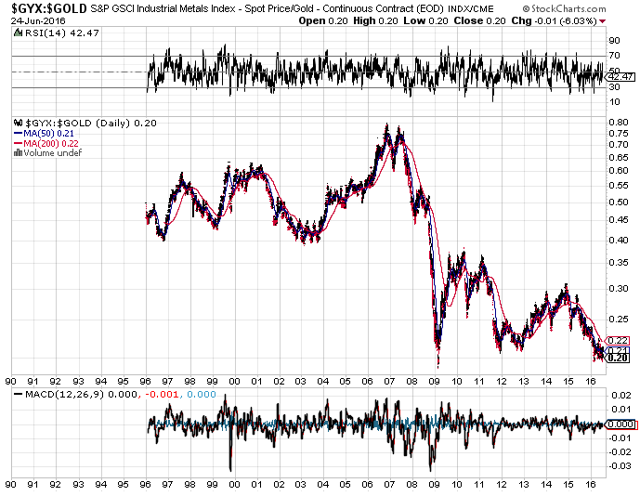 We see that relative to gold, industrial metals peaked in 2006-2007, and they have declined drastically ever since then. Now after Brexit, this trend is only likely to intensify. This is very good news for gold miners.
Also critical of course is the price of oil and other energy relative to gold. We all know the oil price crashed in 2014-2015, and that too was just one stage of a longer-term decline compared to gold. Take a look at the chart of the GJX Energy Index to gold ratio: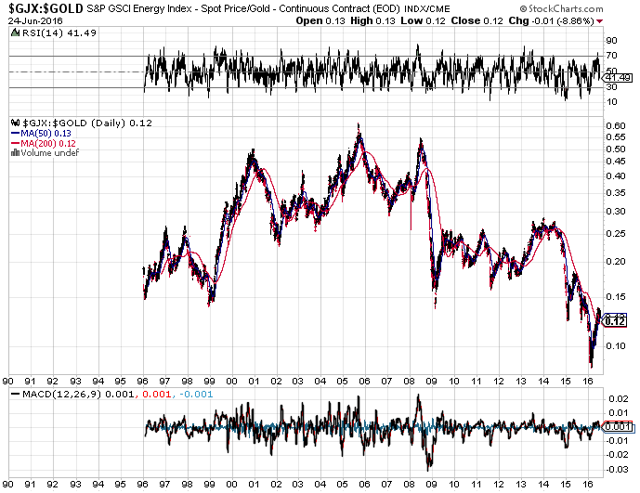 We see here that energy prices in general, relative to gold, peaked in 2005 and have made a series of lower highs and lower lows since then. Again, this long-term downtrend is only likely to intensify in the aftermath of Brexit. More good news for gold miners.
Of course most people look at the oil price in particular, so here are the long-term charts for the WTIC and Brent oil price to gold ratios: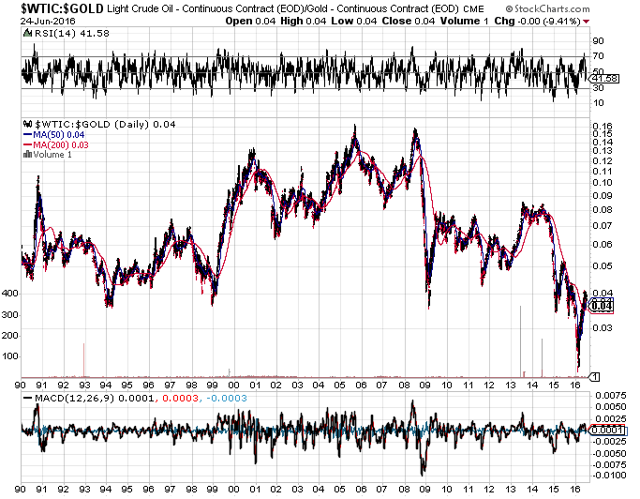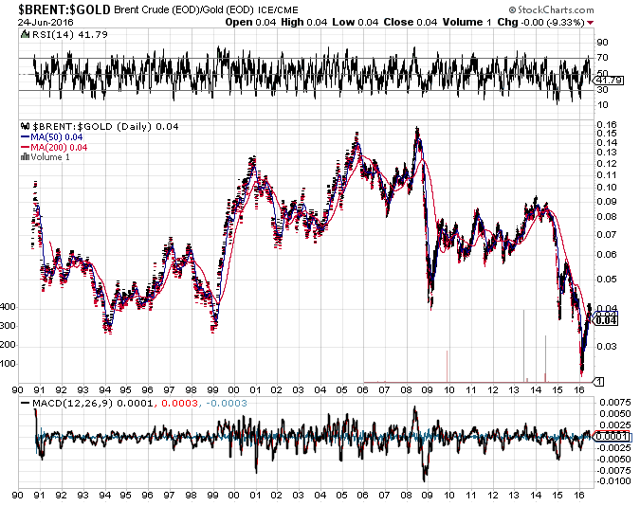 Many people think of the "gold to oil ratio" as fluctuating within a certain range, but in the context of all commodity groups as shown on the other charts, we see that oil had twin peaks in 2005 and 2008, and has been in a consistent downtrend since then. Even the rally in 2013 didn't bring oil, relative to gold, anywhere close to where it had been in 2008.
No matter which direction the oil price itself goes in the months ahead, after Brexit gold is very likely to continue to outperform oil by a significant margin.
All of these trends are further confirmed when we look at the long-term charts of various other commodity groups. First we should look at the entire CRB Commodity Index vs. gold since 1990: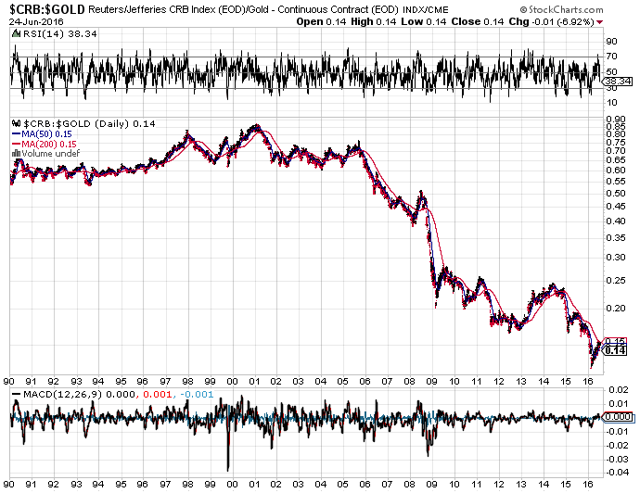 Look at how this ratio stayed virtually completely flat from 1990 through 2005, but then suddenly collapsed and has been trending downward ever since!
In this context, we even have to question somewhat the very idea of a "commodity super-cycle" from 2001 to 2011. Commodities were never able to outperform gold very much at all! Rather the super-cycle was really just a dramatic loss of value of paper currencies. That loss of currency values is reflected most clearly in the gold price. Commodity values only appeared to be doing well, because paper currency values were doing so extremely poorly. This tendency did not show up as very high inflation at the time, because the real values of goods were falling along with the real values of currencies. Just about everything in the world -- currencies, commodities, and goods -- underwent deflation with respect to gold. Gold and only gold held its value.
All of these tendencies will only be intensified in the aftermath of Brexit.
For completeness' sake, let's take a look at the long-term charts of the GKX Agricultural Index, the GVX Livestock Index, cotton, sugar, and coffee -- each compared to gold. We see that every single major commodity and commodity group is also in a long-term downtrend relative to gold: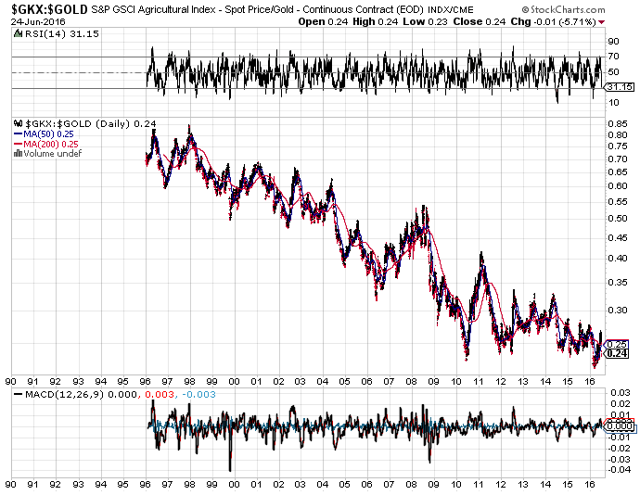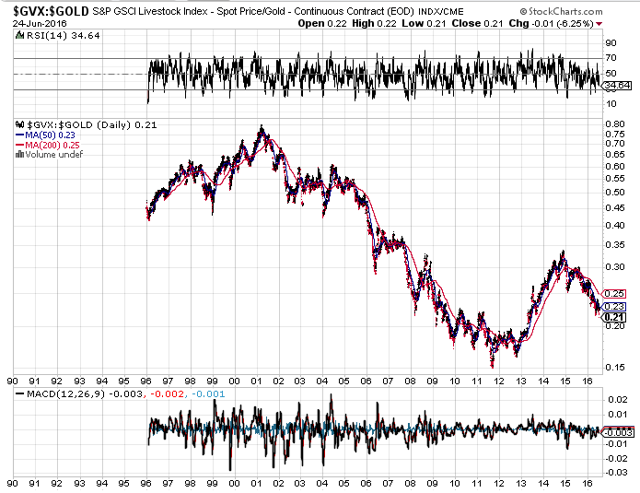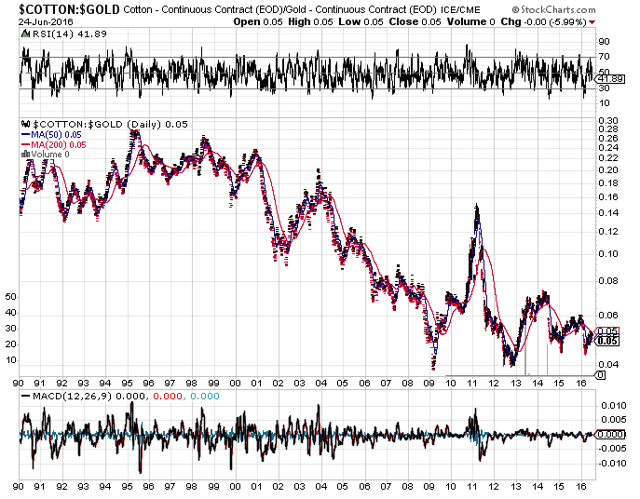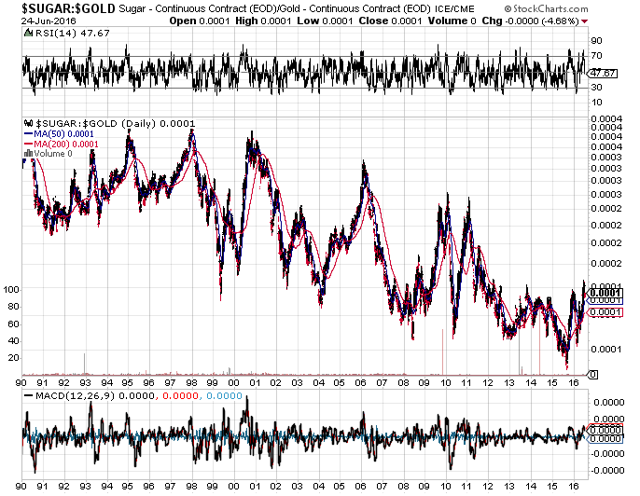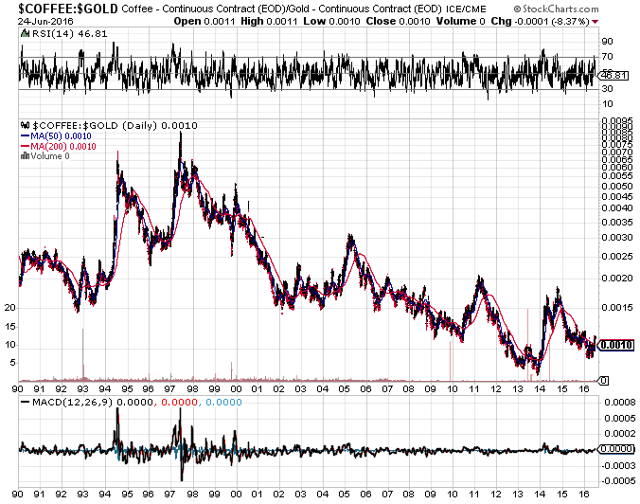 Bottom line: the market reaction to Brexit is really just confirming and strengthening the already existing long-term trend of gold outperforming all other commodities by a significant margin. Gold mining companies will be the greatest beneficiaries by far of this trend.
A brief note on silver: Its price will be volatile and hard to predict. In general as a precious metal it will rise with gold, but a decline in industrial metals will also hold silver back somewhat. Even the rare primary silver-producing mines often tend to be silver-lead-zinc mines, and that will hold back their earnings. At some point silver will eventually rebound and outperform gold, but not likely in the immediate next period after Brexit. Note that although the silver price rose on Friday, it not only failed to keep pace with gold, it even failed to keep pace with the yen -- meaning that Japanese investors even saw the silver price decline in their currency after Brexit! This is one cautionary example of why you have to be careful about betting on silver instead of gold.
In a world of rising gold prices and flat or falling commodity prices, gold miners will be the big winners in the post-Brexit world. Prepare accordingly.
Disclosure: I/we have no positions in any stocks mentioned, and no plans to initiate any positions within the next 72 hours.
I wrote this article myself, and it expresses my own opinions. I am not receiving compensation for it (other than from Seeking Alpha). I have no business relationship with any company whose stock is mentioned in this article.
Additional disclosure: I am long a variety of individual gold mining companies.