3 Gold Exploration Companies That Are Takeover Targets
Earlier this year I wrote and article listing my top 10 junior gold mining takeover targets (here's part I and part II of that article). The companies I listed were mostly advanced-stage exploration companies (just a year or so away from initial production), such as Roxgold (NYSE:ROG) and Pretium Resources (NYSE:PVG) or currently producing gold miners, such as Kirkland Lake Gold (KGILF).
However, there's more than a few earlier-stage exploration gold stocks that are worth a look (and possibly an investment) for gold investors. While these stocks carry a bit more risk than producing miners and advanced-stage exploration companies, the upside is in these stocks is far greater. Any positive drilling results, new gold discoveries, or positive preliminary economic assessment reports or pre-feasibility studies can send shares soaring and increase takeover interest. These stocks should be able to outperform the benchmark global X gold explorers ETF (GLDX), which contains a basket of early-stage and advanced-stage gold exploration companies.
To repeat, these types of companies are advancing early-stage exploration projects that may have seen a limited amount of drilling, but most have a defined resource estimate or actual gold reserves. Each company mentioned here owns a gold project with excellent exploration upside.
However, there's more risk here as these projects are still several years away from production and may not ever turn into producing gold mines. The other downside is these companies are not producing cash flow, so they must rely on equity issuances (and royalty sales, if possible) to keep funding exploration activities. Its a more speculative investment than usual.
Despite the risks, I think this is an excellent time to build up positions in certain gold exploration stocks. The price of gold has risen to over $1,300 an ounce, which should increase interest in these types of companies from a gold miner perspective.
More mature gold miners have begun looking for new projects to increase resources and reserves and to add low-cost production - we can look at a few recent acquisitions as an example, as Teranga Gold (OTCQX:TGCDF) recently bought out gold junior Gryphon Minerals, Goldcorp bought out Kaminak Gold and took 19.9% equity stake in a company called Independence Gold Corp. These are just a few examples.
Here are three gold exploration companies I think could be a strong takeover target in 2016 and beyond.
NovaGold (NYSEMKT:NG)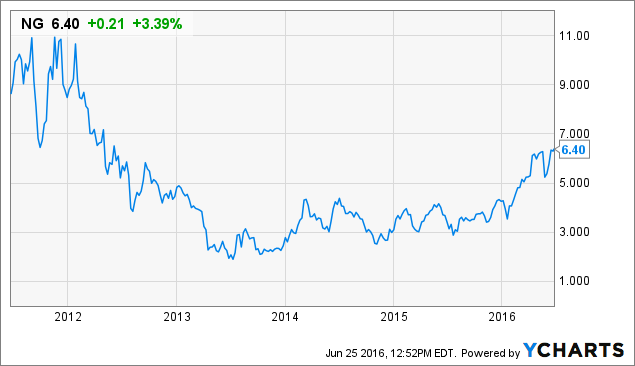 NovaGold has huge leverage to gold prices, plain and simple. The company owns 50% of the massive Donlin gold project in Alaska in a joint venture with Barrick Gold (NYSE:ABX). Again, this gold project is just massive, as it contains 34 million ounces of gold in reserves at 2.09 g/t (almost double the world average for gold mines) and an additional 6 million ounces in inferred resources (2.02 g/t).
Once in full production, the mine is expected to produce well over 1 million ounces of gold annually over a 27-year mine life - there's 5 other mines currently producing that much per year. All-in sustaining costs are expected to average just $532 over the first five years of production and $735 per ounce over the life of the mine.
The thing about NovaGold that's interesting is despite already discovering 34 million ounces of gold, the deposit still has some exploration upside. The company feels there is good potential to expand the current open-pit resources at Donlin outside of the Acma and Lewis pits. In addition, there are 6 million ounces of inferred resources which could be converted to reserves with further drilling. So the mine life of 27 years may actually be increased.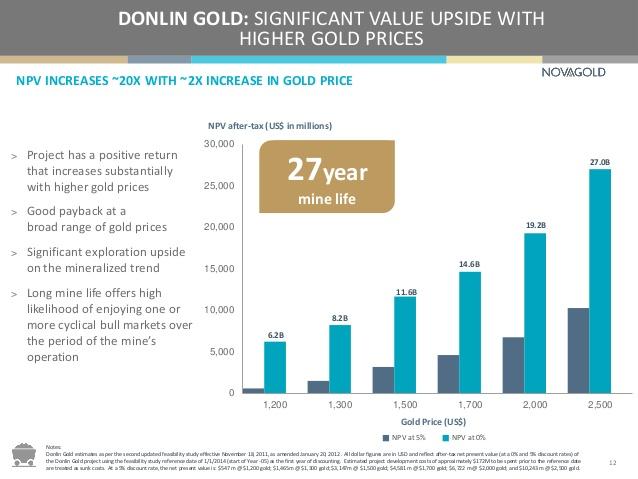 (Credit: NovaGold presentation)
Even if NovaGold doesn't discover more gold or covert its resources to reserves, it makes for a compelling investment and offers investors huge leverage to gold prices.
For example, Donlin's net present value at $1,200 gold is $6.2 billion and at $1,300 gold is $8.2 billion based on a feasibility study. However, using $1,700 gold, the net present value jumps to $14.6 billion, and in the most bullish scenario at $2,500 gold, its value is $27 billion. When compared to NovaGold's current market cap of $2.05 billion, you can see the upside potential.
The main risk is NovaGold has yet to receive all of its permits for Donlin, and there's also financing risk, as the project requires billions in initial capital (which NovaGold clearly doesn't have with $110 million cash on hand). However, the project is very economical at current gold prices and carries huge leverage to gold, so if gold prices keep rising, I think it's very possible NovaGold becomes a takeover target for a gold miner with deeper pockets and access to capital. It's possible Barrick will consolidate its 50% ownership in Donlin sometime over the next few years, or another major gold miner may come along and buyout part or all of NovaGold's 50% interest.
TomaGold (OTC:TOGOF)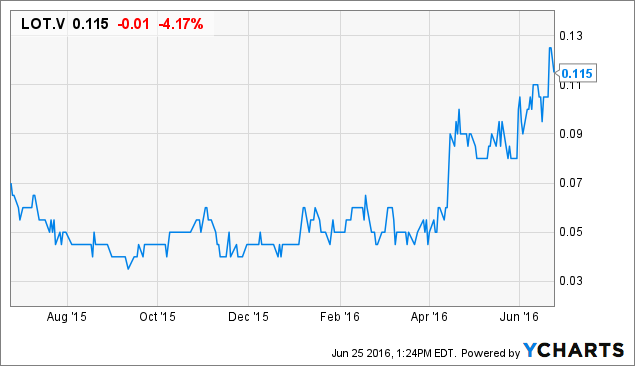 The next two companies are much smaller and less developed than NovaGold, however, arguably carry more upside from here. The first one is TomaGold, which trades on the Toronto Stock Exchange under the symbol LOT.V and the U.S. exchange as TOGOF.
The company owns numerous high-grade gold projects in Northern Quebec, include the 50%-owned Monster Lake project (in a joint-venture with IAMGOLD (NYSE:IAG), which is fully-funding exploration and can earn another 25% interest for $10 million), the Winchester and Lac-a-l'eau-jaune properties (also in a 50%-JV with IAMGOLD), the Monster Lake East properties (100% owned by TomaGold, the Hazeur property in which TomaGold can earn-in to 70%, and the newly acquired 39.5% interest in the Red Lake Sidace Lake project (in which Goldcorp (NYSE:GG) owns a 60.5% interest).
Here's a chart of TomaGold's ownership below (which doesn't include the Red Lake project: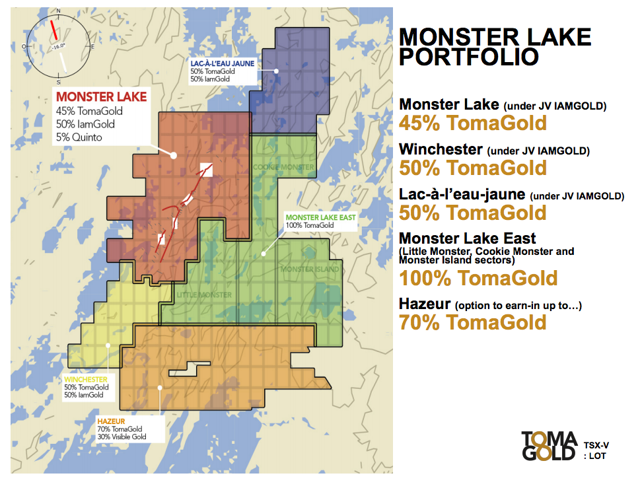 (Credit: TomaGold)
I really like TomaGold's strategy here by partnering with a major gold producer in IAMGOLD on its Monster Lake property. This project carries great exploration upside (past drill results return gold grades ranging from 10 to 237.6 g/t), but drilling costs money. So instead of diluting shareholders to raise cash for exploration work, the company gave up some ownership and passed along all of the costs to IAMGOLD. IAMGOLD spent $3.22 million in cash to acquire its 50% interest, became the project's operator, and must incur $10 million in exploration work over the next 7 years to earn an additional 25%. So TomaGold still gets upside in the project, but the partnership with IAMGOLD greatly reduces its financing risk.
Meanwhile, TomaGold can re-focus its efforts on its 100%-owned Monster Lake East property, and if the company strikes gold, it can consider partnering with another gold major to reduce its costs, or it can sell the property outright for cash and/or a royalty.
As mentioned earlier, TomaGold just announced it has acquired a 39.5% interest in the Red Lake Sidace Lake Project from a company called Planet Exploration. This is an interesting project, as it is 60.5% owned by Goldcorp and contains a small, but high-grade resource base of 141,300 gold ounces indicated (3.21 g/t) and 218,800 ounces inferred (3.24 g/t). Its located in the Red Lake mining camp, which hosts several gold mines, including Goldcorp's nearby Red Lake mine. The current resource remains open for exploration along strike and at depth, so TomaGold feels the resource could be expanded with further drilling.
At a cost of just 15 million TomaGold shares at $.10 per share ($1.5 million), I think this deal was an absolute steal for the company. Investors should keep their eyes out for further drill results on Monster Lake, the newly-acquired Obalski property, and the Monster Lake East property.
NuLegacy Gold (OTCQX:NULGF)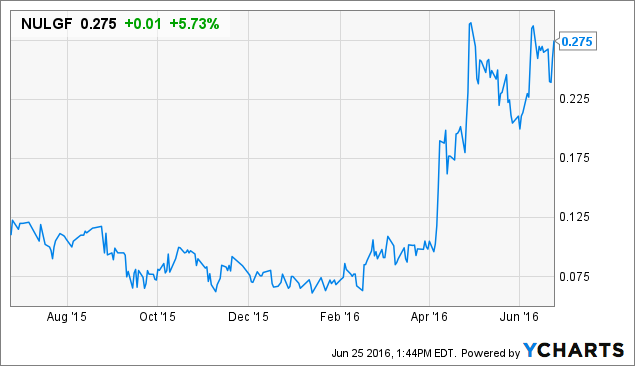 NuLegacy is the final stock on this list, but arguably has the greatest upside potential of the three mentioned.
The company previously owned a 70% interest in the Iceberg gold deposit (with Barrick Gold owning 30%), but later exchanged 32 million shares of its stock to consolidate into 100% ownership. It then appointed Barrick's VP of exploration to its board of directors, and received a strategic $6.7 million equity investment from OceanaGold Corp (OTCPK:OCANF), a $2+ billion miner. The stock is just starting to gain recognition for these achievements.
Despite the run-up in the share price this year, I think the stock could have much further upside from here if Iceberg becomes the next mult-million ounce deposit in Nevada. If this happens, the company could be worth several times its current market cap of $86 million.
Why is Iceberg an attractive gold deposit? First, its location in the Cortez trend of Nevada is simply excellent - it's located close to Barrick's Cortez mine (which is one of the most profitable gold mines in the world) and Barrick's multi-million ounce Goldrush deposit, and in a state that is the sixth largest producer of gold in the world. The company is targeting an initial resource estimate of 90 - 110 million tonnes of ore grading .90 to 1.1 g/t gold, and a 10,000 meter drill program is underway.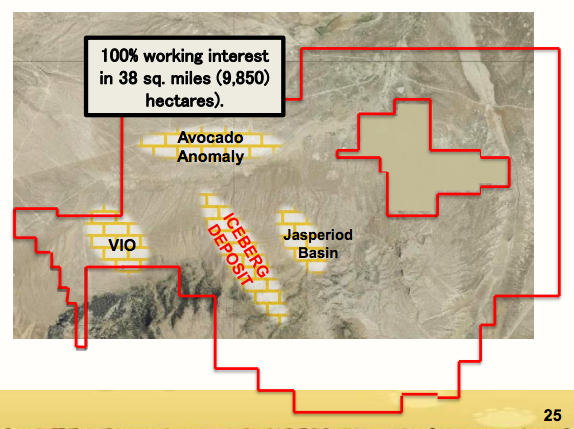 (Credit: NuLegacy Presentation)
Past drill results have been excellent and include high-grade results in the North Zone of 4.6 meters of 25.21 g/t gold and 13.7 meters of 5.11 g/t gold; the Central Zone has returned results of 56.3 meters of 1.02 g/t gold and 10.7 meters of 4.08 g/t gold; most of the 9,850 hectare deposit has yet to be explored, as you can see above.
And, while OceanaGold owns 19.1% and Barrick Gold own 12.8% of the company, insiders of NuLegacy also own 14% of the stock. This shows me that insiders are confident in the future of the company and have put their money where their mouth is. I obviously like that two major gold miners are invested in the company, as I see this as a major third-party validation of NuLegacy.
The potential for this stock is simply enormous. While NuLegacy likely has no plans to bring the asset to production, I can see the company advancing the deposit and then getting bought out by Barrick or OceanaGold in a few years, when more exploration work has been completed and a resource estimate has been defined.
The company currently has $8 million in cash to complete its 10,000 meter drilling program after exercising $1.36 million in warrants. I'm really looking forward to seeing the drill results (should be completed by September) and the initial resource estimate at Iceberg.
(What do you think of these three gold exploration stocks, and did I leave any companies out? Please comment below)
Disclosure: I am/we are long NULGF, TOGOF, KGILF, TGCDF.
I wrote this article myself, and it expresses my own opinions. I am not receiving compensation for it (other than from Seeking Alpha). I have no business relationship with any company whose stock is mentioned in this article.
Editor's Note: This article covers one or more stocks trading at less than $1 per share and/or with less than a $100 million market cap. Please be aware of the risks associated with these stocks.