After the Brexit event sent the probability of a rate hike dramatically lower, investors took about an hour to recognize that mortgage REITs like Annaly Capital Management (NYSE:NLY) were primed for outperformance. There are few factors that can help the market feel more comfortable with mortgage REITs than the idea of short term rates lasting longer. Whether or not it actually helps the results of the mREIT depends on the mix of assets and hedges in the portfolio prior to the change in the rates.
Annaly Capital Management and American Capital Agency Corp. (NASDAQ:AGNC) were able to sustain their early gains to finish the day materially higher. Even though the mREITs only ended up by 1.2% for NLY and 1.0% for AGNC, this was a mad race to get into the mortgage REITs. Remember that the domestic equity markets ended lower by 3.65%, so the difference in performance on the day was huge.
Running For the Wrong Mortgage REIT
I believe the market was wrong about which mortgage REITs needed to be snatched up. Some of the calls were right, but others were painfully wrong. By my rough estimates, Annaly Capital Management lost more book value on the day than some peers despite having a better performance on share price. The following chart demonstrates the source of the losses: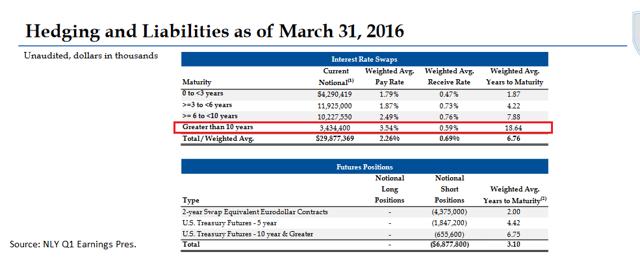 That red box highlights the swaps with duration greater than 10 years. The weighted average years to maturity are 18.64.This is an exceptionally long duration swap. Annaly Capital Management can use this kind of swap to get a large amount of "negative duration" into the portfolio and reduce their exposure to a sudden increase in rates across the yield curve. It also provides protection from the yield curve becoming steeper. That sounds pretty nice since a steeper yield curve is generally better for mortgage REITs and gaining book value while the yield curve became steeper would be excellent. Unfortunately, that hasn't been happening. Instead, we saw a substantial decline in interest rates overnight and the long duration exposures are just brutal to book value when that happens.
Ideal Exposures
In this scenario, where rates are falling, the ideal exposures would be to assets like agency CMBS. Those offer exceptionally high credit quality and don't have the same level of prepayment risk that is incorporated into agency RMBS.
Beyond the agency CMBS, the lower coupon agency RMBS looked very nice because they are less exposed to prepayment risk.
If an investor is looking across the entire portfolio for a mortgage REIT, it would be ideal to see limited credit risk and positive duration coming from either agency CMBS or low coupon fixed-rate agency RMBS. In theory it might seem ideal to find one that had absolutely no hedges so they would have hit a homerun last night, but realistically you wouldn't want to invest in a mortgage REIT where management thought it was a good idea to run with zero hedges. Volatility would be nuts and any partner to a repurchase agreement would be very concerned about their exposure to the mortgage REIT.
Residential Credit
Non-agency RMBS should be struggling a bit after a relatively decent quarter. Credit risk is simply seen in a less favorable light today. I still believe non-agency RMBS assets are a very reasonable asset class for a mortgage REIT to hold. Particularly I'm interested in the older non-agency MBS assets that are valued at a substantial discount to par value. Those assets have the potential for great performance in a prolonged period of low rates.
Low Rates Drive Housing Values
The reason low rates can be great for non-agency RMBS is the upward pressure on housing values. Those low interest rates help buyers afford a new home and make it easier for a property to sold at an attractive price. Remember that non-agency RMBS can even benefit from loans being refinanced because the loans were purchased and held at a significant discount to par value. If you buy a loan for $70 and it gets paid off at $100 a month later, can you complain?
Discount to Book Value
The big challenge in the valuation of NLY right now is that their discount to book value is getting fairly small while there are some competitors trading with materially more attractive discounts. Some of those competitors deserve to trade at large discounts, but not all of them.
During the day I ran the numbers as quickly as I could and prepared very rough estimates of current book values and the resulting discounts for a handful of mortgage REITs. The article is currently restricted to subscribers.
Singles or Doubles
The way rates moved with the Brexit event should have slightly weakened NLY's book value, but the expectation of lower rates for longer is very attractive. If I were grading NLY's fluctuations in book value given the challenging circumstances, I would consider it the equivalent of hitting a single. I see lower book value but that was a fairly natural consequence for most mREITs by my estimates.
I'm looking for mREITs that were able to hit a double and were already trading at a larger discount.
Why NLY Beat the Market By Nearly 5%
I believe investors searching for an option in the mREIT market regularly decided to grab NLY because it is a quality mortgage REIT and still trading at a discount to book value. It was the best deal out there, but investors could be fairly certain that it wasn't the worst deal either. In a day of panic, I would expect NLY to win on share prices.
Somebody Tell Hatteras Financial
Annaly Capital Management is supposed to buy Hatteras Financial (NYSE:HTS). Shareholders of HTS have the option to receive shares of NLY at a specified conversion ratio. HTS was only up .9% while NLY was up 1.2%. True, the difference is only .3%, but that is a fairly significant difference given the size of these companies.
Outlook on Annaly Capital Management
In the intermediate term (say 1 to 6 months), I believe ARMOUR Residential REIT (NYSE:ARR) will outperform NLY on total return to shareholders. That isn't because I believe ARR is managed better (I don't), or because ARR's portfolio is massively stronger (I like it better, but not by that much). ARR simply trades at a material larger discount. Because of the difference in discounts, I opted to buy some shares of ARR in June. If I had to use a 10 year time frame, I would've predicted NLY to outperform ARR despite NLY having a smaller discount to book value.
Conclusion
Annaly Capital Management thoroughly beat the market, but I estimate their portfolio had only moderate performance (a slight loss in book value). I believe the gains are primarily related to investors seeing NLY as a quality mortgage REIT and remembering that a lack of rate hikes is a positive thing for mortgage REITs.
My overall outlook should be treated as neutral. In all fairness, I have a slight bearish tint but not enough to carry a sell rating on NLY after the odds of a hike decreased substantially. The slight bearish tint comes from believing that there may be a better opportunity available in the future and that there are other decent mortgage REITs available at larger discounts. While the flatness of the yield curve leaves me concerned about the sector, the diminished chance for a rate hike has a strong chance to bring more money flooding into the sector.
Pitch for Subscribers
Since the Mortgage REIT Forum is a new exclusive research platform, the first 100 subscribers will be able to lock in their subscription rates at only $240/year. My investment ideas emphasize finding undervalued mortgage REITs, triple net lease REITs, and preferred shares. With the market at relatively high levels, there is also significant work on finding which securities are overvalued to protect investors from losing a chunk of their portfolio.
Disclosure: I am/we are long ARR, MTGE.
I wrote this article myself, and it expresses my own opinions. I am not receiving compensation for it (other than from Seeking Alpha). I have no business relationship with any company whose stock is mentioned in this article.
Additional disclosure: Information in this article represents the opinion of the analyst. All statements are represented as opinions, rather than facts, and should not be construed as advice to buy or sell a security. This article is prepared solely for publication on Seeking Alpha and any reproduction of it on other sites is unauthorized. Ratings of "outperform" and "underperform" reflect the analyst's estimation of a divergence between the market value for a security and the price that would be appropriate given the potential for risks and returns relative to other securities. The analyst does not know your particular objectives for returns or constraints upon investing. All investors are encouraged to do their own research before making any investment decision. Information is regularly obtained from Yahoo Finance, Google Finance, and SEC Database. If Yahoo, Google, or the SEC database contained faulty or old information it could be incorporated into my analysis.