LKQ Corporation (NASDAQ:LKQ) really has been an excellent story stock over the past several years, although recently the company's stock value seems to have hit a stumbling block. The company's primary business, the wholesale aftermarket parts market, is incredibly fragmented worldwide, and the company has thus far done an excellent job of driving consolidation within that industry. As a result, revenue has more than doubled since 2011, fed both by acquisitions and organic growth.
In fact, the company is now more diversified than it was in the past, as it now has operations in aftermarket parts, used/refurbished parts, and niche specialty businesses like performance parts and glass repair. Despite significant strides in growing the business and diversifying into complementary end markets, all while maintaining a solid balance sheet from a leverage perspective, the market has done little to credit LKQ's equity. In short, despite improved earnings quality, the company trades more cheaply today on forward earnings estimates than it did back in 2012, when the outlook was much less favorable in my opinion.
Pros And Cons Of The Business Model
Before hitting the financials, it is worth tackling the controversy on the business model in collision repair, a key facet of the aftermarket parts markets. Just as a little framework, it shouldn't be a surprise for readers to learn that the average cost of an accident has risen with time. The reason for this is simple: cars on the road today aren't your grandmother's 1980's Lincoln. The advent of crumple zones (areas designed to deform to absorb impact force), high tech gadgetry, and steady labor cost inflation have all pushed claim costs to all-time highs. Average parts used per claim have been on a steady rise as well: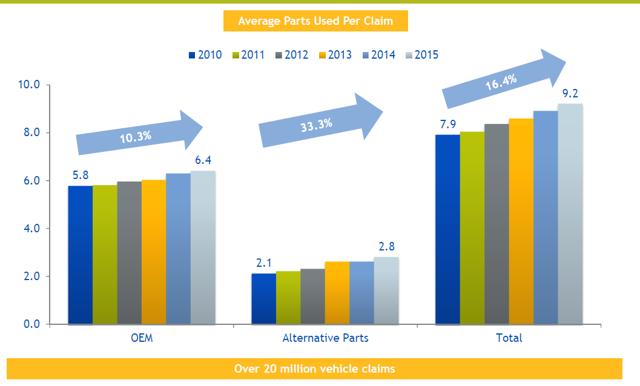 Meanwhile, the amount of auto insurance claims that are being made is reversing what had been a steady downtrend. The counterpoint to this surrounds concerns regarding collision avoidance systems (lane monitors, automatic braking) and automated vehicles in general have plagued discussion surrounding LKQ Corporation equity, but these systems remain expensive and not in force on many vehicles today. Given that the average age of vehicles on the road in the United States exceeds ten years, it will be some time before these systems are present on a meaningful number of cars that will impact claims. Meanwhile, technology is proving to be a negative in other aspects. The rise of distracted driving (texting, watching YouTube in rush hour traffic) can be pointed to as a primary contributor for the reversal in overall claims filings in my opinion.
This all feeds a debate that persists among many regarding the use of aftermarket parts versus OEM in car repair. Aftermarket parts companies put out their studies showing the cost savings of using non-OEM parts versus expensive OEM alternatives, and domestic automakers put out their spin, trying to find fault in aftermarket parts that have slowly begun to erode what was a consistent revenue stream for automakers, even after a model has been retired.
In the end, many consumers are being pushed towards aftermarket, with insurance agencies asking for claimants to make up the difference in cost if requesting the use of OEM over aftermarket. With insurance claim costs through the roof, that often means significant dollars coming out of their pocket. To me, the last thing consumers need is a push back towards OEM parts usage, which will simply mean higher insurance costs for consumers and more junked cars, neither of which are desirable end goals. Can a case be made for more regulation on the aftermarket to make sure "like, kind, and quality" aftermarket parts are in fact equal to the OEM parts they are intended to replace? Sure, but that likely impacts the smaller, more shady aftermarket parts operations more than LKQ, and it might even be a net benefit to the company as smaller players in this fragmented industry will struggle to deal with compliance. Overall, I like LKQ Corporation's position here, and I do think aftermarket parts use in repairs will continue to gain share (currently used on roughly 33% of repairs versus 67% OEM).
All Eyes On Europe

LKQ took a tumble on recent Brexit news, and the logic there is somewhat sound, but a little misguided. The company's growth strategy (see above 2014 versus 2015 results) has continued to rely on growth in Europe. In many ways, the European industry is where America was twenty years ago - highly fragmented, more focus on OEM parts (aftermarket is just 7%). Going further, the average European automobile is actually newer than American counterparts, a fact I was surprised by given the relative cheapness of used vehicles compared to American alternatives. Given the relatively weak GDP and wage growth projections within the European Union, I can't imagine the average age of a European car improving as consumers buckle down a bit and cut where they can. As for how this benefits LKQ, the older the car, the more likely aftermarket parts are going to be used (OEMs don't stock for that long).
Currently, the company currently only has a limited aftermarket parts offering in the UK and a recycled parts business in Sweden. As a consequence, most European revenue comes from aftermarket mechanical small parts offerings like filters, hoses, and brake pads. There is a huge runway to growth if the company can acquire and expand into its traditional core business in providing aftermarket parts to bring down costs of collision repair.
Unlike other companies that have undergone significant expansion, margins have been pretty steady, despite issues related to Europe (foreign currency translation, etc.):

Given margin stability, the company's stock rarely moves aggressively up or down in the markets - a good thing for those seeking safety. Top line growth is expected to continue in 2016, with the acquisition of Pittsburgh Glass Works for $635M (expected to contribute more than $1B to the top line), along with organic growth (Q1 2016 was up 8% in revenue over Q1 2015, despite very little acquisition activity). Given company guidance, analyst expectations of $1.80/share are likely on the money, putting the shares at 17.6x consensus estimates. GAAP margins are expected to contract (this was a low margin business that was acquired), but LKQ Corporation should be able to wring out some costs as it folds the business into its existing automotive glass businesses.
The company does throw off solid free cash flow (by my estimates, in the $430M range for fiscal 2016), which will aid deleveraging efforts. Management continues to see higher returns on capital in acquisitions over shareholder returns, so investors looking for buybacks and dividends should look elsewhere. Even assuming EBITDA improvement in 2016, net debt/EBITDA sits near 3x, on the high side of where most companies want to be. Until the company is satisfied with its market position (given management commentary, it is still far off from that goal), expect to see continued emphasis on acquisitions and eventual debt paydown, not shareholder returns.
Takeaway
While the exaggerated reaction to the Brexit news (down 7% at the time of this writing) is tempting, we're still far off fifty two week lows, and nowhere near the opportunity investors had to pick up shares early in 2016 for $24-26/share. Back at those pricing levels, shares become much more attractive from a buying perspective, and I think we will eventually see at least the high 20's/share again, so there is no need to jump in early. While I would not advocate selling LKQ Corporation today, there are better opportunities in the market out there for discerning investors, but it nonetheless represents a solid company to keep an eye on for the risk-averse.
For more research like this on small/mid cap companies perpetually under-followed by Wall Street and under-owned by retail investors, consider following me (by clicking the "Follow" button at the top of this article next to my name) to receive notification when I publish research. Feel free to ask any questions in the Comments section below.
Disclosure: I/we have no positions in any stocks mentioned, and no plans to initiate any positions within the next 72 hours.
I wrote this article myself, and it expresses my own opinions. I am not receiving compensation for it (other than from Seeking Alpha). I have no business relationship with any company whose stock is mentioned in this article.