Company Overview
H.B. Fuller Co. (NYSE:FUL) is an industrial adhesives company that supplies engineering adhesives to a variety of industries such as automotive, construction, transportation, consumer goods, and energy. It is a global company, having subsidiaries in China, Europe, India, and Africa. The company does about $2 billion a year in revenues, with a market cap of $2.15 billion and a share price of $43.46, down from $46.73 on Thursday, presumably due to the events surrounding the Brexit. It has had a heavy growth and acquisition focus over the past two years; however, revenues have remained constant and growth appears to be minimal.
2015, a Rocky Year
In its 2015 10-K presentation, H.B. Fuller described 2015 with an aggressive acquisition strategy in an attempt to boost lackluster revenues and growth, purchasing Tonsan Adhesive, Inc. for $215.9 million, a large adhesives provider based in China and a Kenyan based manufacturer, Continental Products Limited, for $1.6 million. This was supposed to give the company some added momentum going through 2015 and into 2016. However, revenues in 2015 remained almost exactly the same as they did in 2014, actually dropping by about 1%, which is especially bad since both of these companies were purchased in February of 2015, giving the company an entire year to integrate them. This shows that these purchases may have went poorly either in terms of integration or expansion into these new markets.
Finally, remember that 2015 was a year with rock bottom oil prices, which would presumably lower the costs of many of the key components used to produce adhesives (resins, polymers, and rubbers). However, despite the company even stating that it is pursuing a strategy centered around reducing material costs, the cost of goods sold hardly budged when oil was hitting rock bottom. This overall indicates that there are some fundamental issues with the company's supplier flexibility and ability to adapt to changing markets.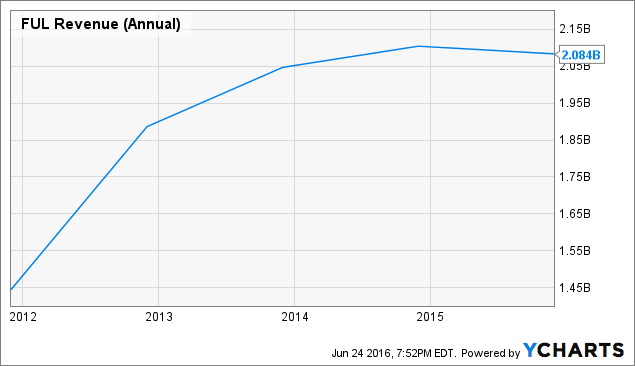 FUL Revenue (Annual) data by YCharts
2016 Q2 Earnings
From a financial perspective, the company still suffers from the same lackluster growth as it did in 2015. While its margins have improved slightly, the company still has barely budged in terms of topline growth despite its mergers and attempts to improve revenue. This is a very valid point of worry since revenues have not moved despite paying $215.9 million for a Chinese based adhesives manufacturer. From a topline point of view, almost nothing has changed between Q2 of 2015 and this quarter, and in the 6 month YTD income statement the comparison is even worse, with decreases in revenue compared to Qs 1 and 2 last year.
This is all rather strange coming from a company that preaches good volume and margins growth within its management presentation. While it is true that Gross and NI margins have improved over the past year: 1.7% and .5% improvements respectively, one must ask whether or not this is a result of their own management or the rock bottom oil prices that were present at the end of last year and early into this year.
Conclusion
H.B. Fuller is by no means in dire straits; its financials are solid and it does provide a dividend. That being said, the company does seem to have stalled out in growth and has two unsuccessful acquisitions under its belt. With a third acquisition incoming, additional strain will be put on the company and it will have to step up and see some actual benefits from all of the money it is throwing at its subsidiary companies. With the oil costs once again on the rise, Fuller will also have more challenges continuing with these margin reductions. Overall, while H.B. Fuller may keep delivering a reasonable return, any future growth is likely to be marginal at best.
Disclosure: I/we have no positions in any stocks mentioned, and no plans to initiate any positions within the next 72 hours.
I wrote this article myself, and it expresses my own opinions. I am not receiving compensation for it (other than from Seeking Alpha). I have no business relationship with any company whose stock is mentioned in this article.