I don't like saying "I told you so." And it's not because I don't enjoy reminding people that I was right. I'm just fine with that.
Rather, the problem with saying "I told you so," is that it puts you in a position where you kind of have to acknowledge when you were wrong. No one wants to hear you boast when you're right if you can't also admit when you're wrong. And no one likes admitting they were wrong.
But oh well, I'm going to say it: "I told you so."
Last month I warned that an increasingly polarized political landscape threatened to destabilize markets that have tended to follow a similar trend towards homogenization.
Drawing inspiration from Citi's Matt King, I noted that the rise of populism in Europe (as manifested in the US by Donald Trump) would ultimately sow turmoil across economies and capital markets. I also suggested that perhaps the electorate wasn't making rational decisions. Here's an excerpt:
Is this polarization across the politics, the economy, and markets necessarily a bad thing?

Not necessarily. But probably. At the very least, it sets the stage for what Citi calls "tipping points," or what we might call "points of inflection" -- that could apply to politics, the economy, and of course to markets.

Extreme political outcomes brought about by firebrand, charismatic candidates that have succeeded in galvanizing an angry electorate around a narrow set of incendiary issues usually spell trouble. Not always, but usually.
Well, "do you see what happens?!" Cue the obligatory classic American cinema reference: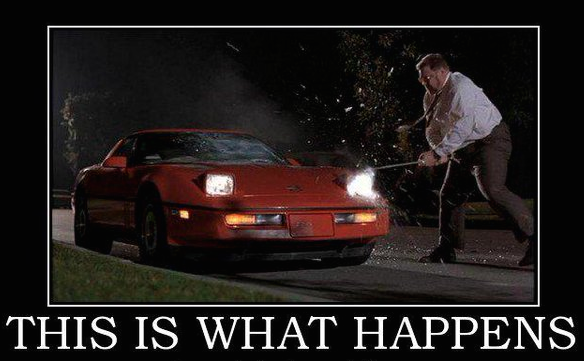 (Film credit: The Big Lebowski)
Britain voted to leave the EU and everything crashed (these are intraday chart snapshots from early Friday morning New York time).


And it wasn't even clear that many voters knew what they were opining on: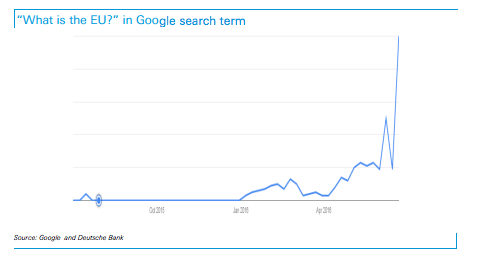 (Chart: Google, Deutsche Bank)
Now make no mistake, I'm not pontificating on whether Britain should "remain" or "leave." I'm not British. And I don't live in Britain. That's a decision for voters to make.
In the same vein, this isn't a comment on whether Americans should or shouldn't vote for Donald Trump. Again, it's up to the American electorate.
What I am saying is that the groundswell of support for populism that's sweeping the globe has real consequences and voters need to evaluate those consequences and incorporate them into their decision making process. As an investor, you do not want uncertainty, and a tectonic political shift towards populism, nationalism, and isolationism will breed a level of uncertainty not seen at least since the financial crisis.
Is a change in the political status quo desirable? Maybe. Maybe not. I can't make that call. Everyone is free to make their own judgments about the extent to which the world needs "real" change and whether the populist uprising is the type of change that's ultimately needed.
But what I can tell you is that if the world does indeed continue to move in the direction it's moving now, it will be bad news for markets (NYSEARCA:SPY).
Here's a look at volatility (NYSEARCA:VIXY) plotted with US economic policy uncertainty: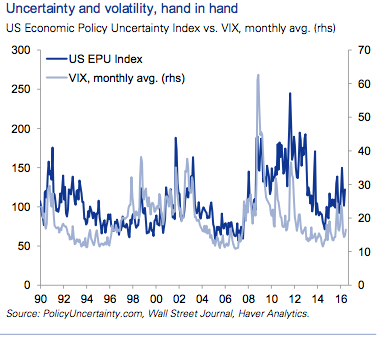 (Chart: Goldman)
While the implications for capex and M&A are clear: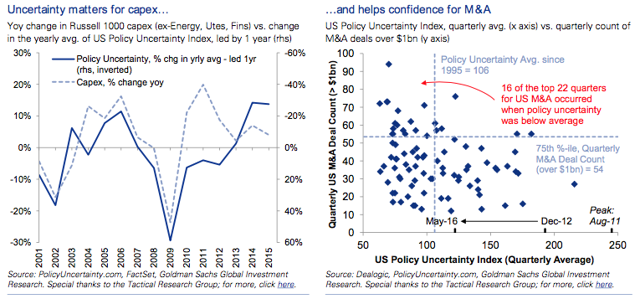 (Charts: Goldman)
In the wake of the UK referendum, sympathetic parties across the bloc are looking to cash in. Here's The Telegraph:
Populist and Euroskeptic parties across Europe moved to capitalise on the UK's decision to vote for Brexit by congratulating Britain on its vote for "freedom" and calling for referendums on EU membership to be held in their own countries.
And here's a snapshot of the growing disaffection: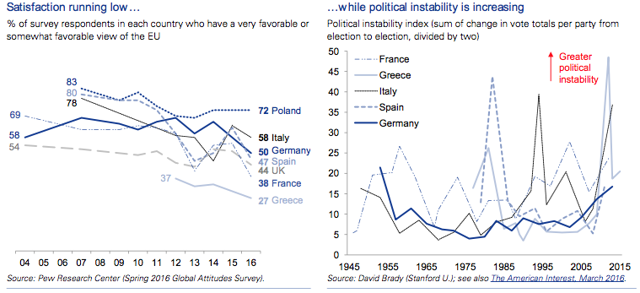 (Charts: Goldman)
Does this mean the deciding factor in elections should be the likely impact on financial markets and/or the economy? No. In fact, those concerns should almost always be secondary to ideological affinity.
That is, voters should cast their ballot everywhere and always for the candidate who they feel best represents their take on the state of society. But there's a caveat. That take needs to be educated and nuanced. If it isn't, the electorate can be manipulated and taken advantage of. That's when things go wrong. That's when uncertainty rises. That's when markets collapse. That's when 17-sigma events like this one happen: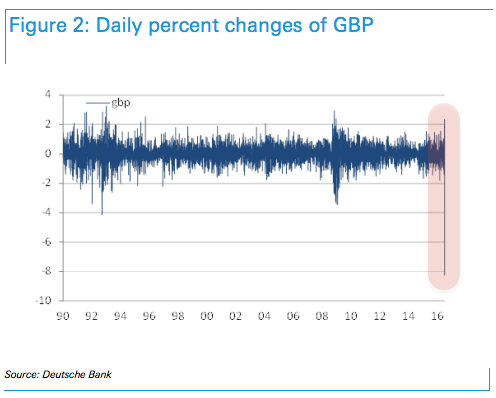 (Chart: Deutsche Bank)
On that note, I'll close with the following excerpt from Deutsche Bank's Aleksandar Kocic (emphasis mine):
Events disrupt the existing order of things. They can have transformational effect both on reality itself as well as on our perception of reality. Brexit has been a little bit of both. The reality has not changed yet, but it is likely to in the mid-term. However, the aftertaste of Brexit has illustrated how even unimaginable can become real, and as such, it has changed our perceptions. In terms of its essentially populist backbone, it can be seen as a dress rehearsal for the US elections with potentially disrupting overtones.

If going into the elections winning odds remain even without a clear winner emerging ahead of time, we are likely to see vol beginning to rise. We have seen referendums and voting processes before. And we have learned that the outcomes, if seen as counterproductive and damaging, can be maneuvered around. Two examples are TARP voting in congress and Greek elections. That could have been a part of collective subconscious before Brexit as well. Last week, however, showed that public discontent has reached the point when rage capital can be effectively deployed and that populism does have a chance, even if it might end up going against long-term economic interests of the voters. Brexit demonstrated that populism no longer serves just to recenter the center, but can be a winning ticket. This is perhaps the biggest takeaway of the British referendum, a thought that will not go away in the remainder of the year.
Disclosure: I/we have no positions in any stocks mentioned, and no plans to initiate any positions within the next 72 hours.
I wrote this article myself, and it expresses my own opinions. I am not receiving compensation for it (other than from Seeking Alpha). I have no business relationship with any company whose stock is mentioned in this article.