One of the features of the aluminum market is that the biggest share of aluminum imports belongs to the United States: it amounted to 10.8% of total imports in 2015. The reason is that aluminum is mainly used in the construction and automotive industries, and their activities are spread all over the world. The biggest aluminum consumer is the automotive industry, with the share of 27% in 2014: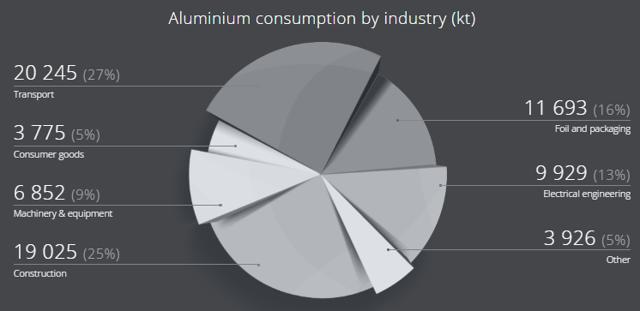 (Source: aluminiumleader)
The automotive industry is growing rapidly: since 2012 to present, the worldwide car sales have increased by 40%. However, it is interesting that the largest growth was observed in China, which confirms the validity of major automobile manufacturers' focus on emerging markets. Even though sales in Brazil and Russia fell because of the effects of the decrease in oil prices and political issues, India and China have been able to show a significant increase in demand even in a difficult macro environment.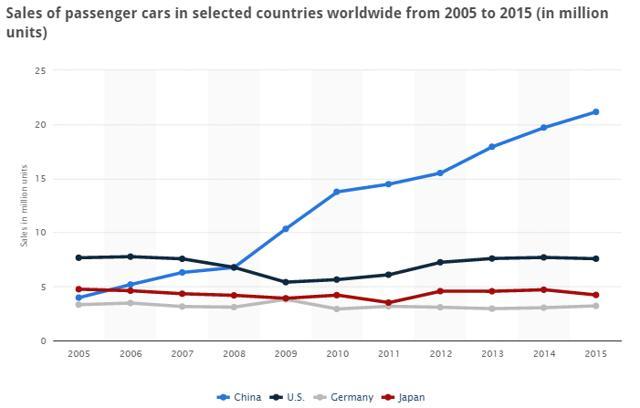 (Source: statista)

(Source: strategyand.pwc)
Moreover, the Chinese government has approved the plan for 2016, which implies a loosening of monetary policy and fiscal pressure on manufacturers in order to support production and to avoid a deficit during a period of rapidly growing local consumption. Confirming that demand for cars in China has not been satisfied, Volkswagen will invest over 4B euros ($4.5 billion) in its expansion on the Chinese market because of the lack of growth in auto sales in the developed economies.
The Indian authorities, in turn, are also actively stimulating economic activity through significant easing of monetary policy.
We think that major car manufacturers will increase production in developing countries in the coming years because of the huge unfulfilled demand on the market. Toyota's plans to build another plant in Malaysia can be considered an example.
In emerging markets, the growth in aluminum consumption will be fueled mainly by car sales, which will increase its production rate. However, aluminum consumption by the US automotive industry, as well as in other developed countries, will grow due to increasing standards for fuel economy. This will require manufacturers to reduce the average car weight by incorporating more aluminum into car parts. For the US, this level will be increased from 27.5 MPG (miles per gallon) to 37.8 mpg in 2016 by the Corporate Average Fuel Economy standard.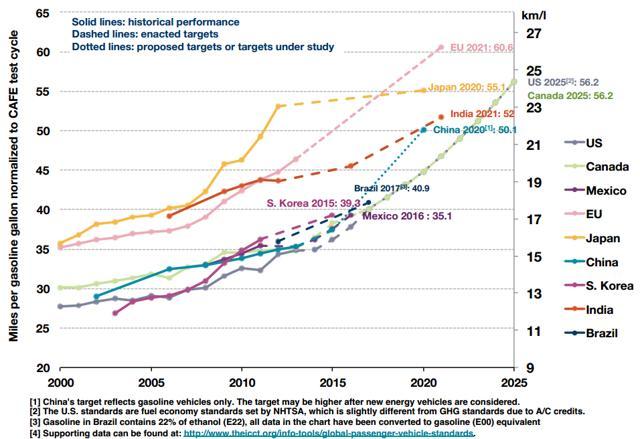 (Source: c2es)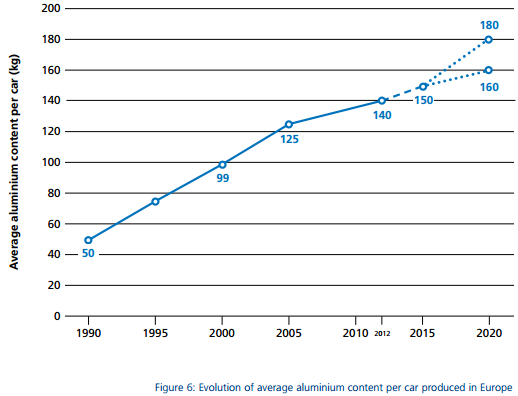 (Source: agora.mfa)
The correlation between aluminum content per car and gradually raising standards of car fuel economy can be seen in pictures above.
Many car manufacturers are developing various technologies to reduce fuel consumption. For example, Honda is developing continuously variable transmissions (CVTs). Despite this, a widely used, and the easiest way to reduce the vehicle weight and, thus the fuel consumption, is to increase the proportion of aluminum in the composition of automotive parts, making them lighter in the process.
The efficiency of this method is stunning. It also explains why major car producers are increasing aluminum content in their flagship models.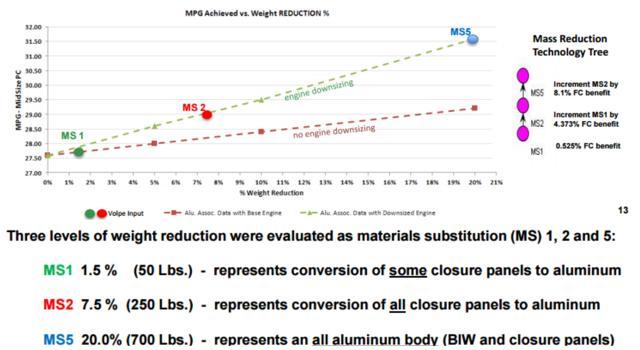 (Source: drivealuminum)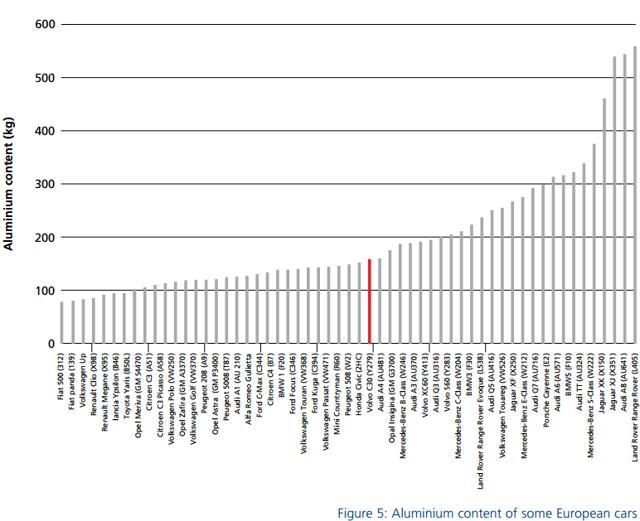 (Source: agora.mfa)
This is also a much more rational way to achieve MPG targets (set already by nine governments across the world: Japan, the European Union, United States, Canada, China, South Korea, Mexico, Brazil, and India) instead of implementing untested fuel economy technologies. By incorporating more aluminum into cars, car manufacturers will be allowed to delay the introduction of said technologies, at the same time lowering production costs and showing better financial results.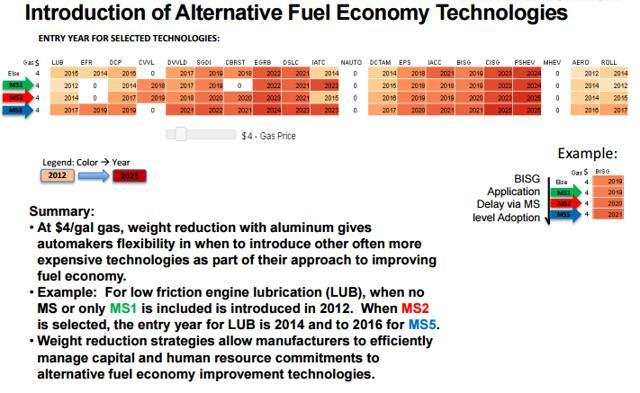 (Source: drivealuminum)
We think that the growth in demand for aluminum in the automotive industry in the next few years will be provided by the growth of sales and production of cars in developing economies, as well as due to the need for a growing incorporation of aluminum into crucial car parts to meet increased fuel economy requirements.
Furthermore, one must pay attention to the fact that the world's aluminum production began to decline in August 2015 because of a reduced consumption by the United States and China. In our view, aluminum consumption in China went down due to the slowdown of the country's economic growth, which caused a decline in business activity in the manufacturing sector.
In the US, in our opinion, it happened because of the anticipated rate hikes throughout 2016. The Fed's decision had a negative impact on business activity in the manufacturing sector. An additional factor in this was the fall in oil prices, which caused financial turbulence for US companies in the industrial sector. These facts point out that there is a high likelihood of prolonged preservation of aluminum production volume on the level of March and April of 2015.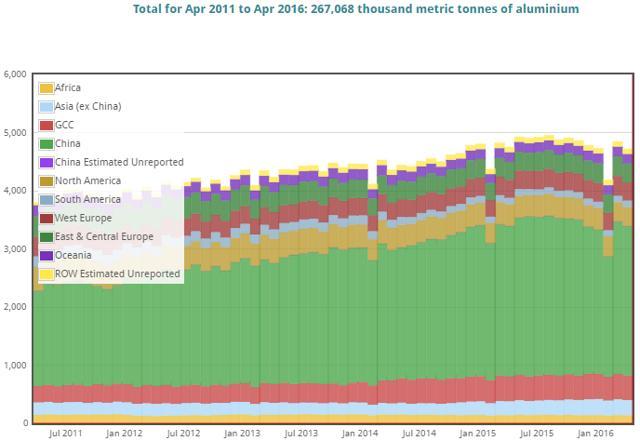 (Source: world-aluminium)
Aluminum warehouse levels have continued to fall since the beginning of 2014 until now and, in conjunction with a decline in production, they provide for the deficit in the aluminum market.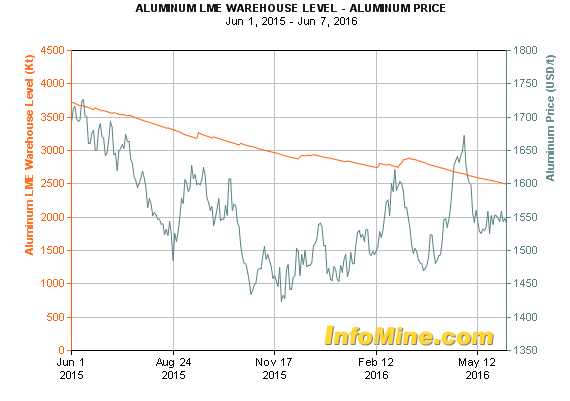 (Source: infomine)
Conclusion
In general, we think the growth of worldwide automotive industry in the next five years will positively affect the growth of aluminum prices. In addition, a restoration of the aluminum production to the level of August 2015 will not happen before the end of Q3 2016 due to absence of signs of increased growth of the global economy.
As a result, we think now is the right time to buy ETFs like iPath Bloomberg Aluminum Subindex Total Return SM IndexETN (NYSEARCA:JJU) and iPath Pure Beta Aluminum ETN (NYSEARCA:FOIL).
Societe Financiers is an investment research team focused on long-term, long- and short-only ideas. Our research objective is to cover equities in various regions, such as North America, EMEA, Asia, Australia, and Emerging Markets.
Readers should consider whether any advice or recommendation in our research articles is suitable for their particular circumstances and, if appropriate, seek professional advice, including tax advice. The price and value of investments referred to in our research articles and the income from them may fluctuate. Past performance is not a guide to future performance, future returns are not guaranteed, and a loss of original capital may occur. Fluctuations in exchange rates could have adverse effects on the value or price of, or income derived from, certain investments.
Certain transactions, including those involving futures, options, and other derivatives, give rise to substantial risk and are not suitable for all investors. Transaction costs may be significant in option strategies calling for multiple purchase and sales of options such as spreads.
Disclosure: I/we have no positions in any stocks mentioned, and no plans to initiate any positions within the next 72 hours.
I wrote this article myself, and it expresses my own opinions. I am not receiving compensation for it (other than from Seeking Alpha). I have no business relationship with any company whose stock is mentioned in this article.