By Parke Shall
What we look for in a situation where the entire market sells off is core stocks that we believe will be around for the long term, can generate yield, and will be risk adverse. We see Ford (NYSE:F) and General Motors (NYSE:GM) both fitting into that group. Generally, our strategy is going to be to position ourselves short in individual equities and through currencies, but as equity prices fall (and we believe they will continue doing so), we will begin to build positions in core longs that we want to hold over the course of many years.
We have been writing about Ford for a long time and we have continued to state that our investing timeline for Ford's shares is a multiple year approach that we have a long-term horizon on. Because of this, we believe that a global selloff in equities like we saw on Friday can create fantastic buying opportunities for companies like Ford.
Ford is already a cheap stock. When looking at the valuation, we have to take into account that a large auto financing bubble is being priced in. With that said, Ford's shares now trade at 5.8X next year's expected earnings and 0.35x sales. The company's EV/sales is 1.0x.
These numbers are astonishingly low and are pricing in a catastrophic financial bubble collapse. While we do believe that there is some credit that is going to wind up being defaulted on and we do believe the automobile financial market is in a bubble, we believe that Ford can withstand this bubble and that these prices are taking into account far more risk than there actually is. Ford is the one company that survived the 2008 crash without assistance, and we think a small burst in the automobile financial market would not phase the company for long. Ford is larger and more diversified globally and economically now as it has ever been.
As an investor, we have talked about a pair trade that can protect your capital for these purposes as well, all while taking advantage of Ford's enormous yield.
It trades this way because people are nervous about there being a bubble in the automobile financing markets. We have written a few articles suggesting to hedge a long position in any of the auto manufacturers with a short position in Credit Acceptance Corp. (NASDAQ:CACC), which is a company that primarily originates financial loans for automotive companies. We think this is a risk adverse way to be in a position that will allow current investors to benefit from Ford's 4.79% yield moving forward from here.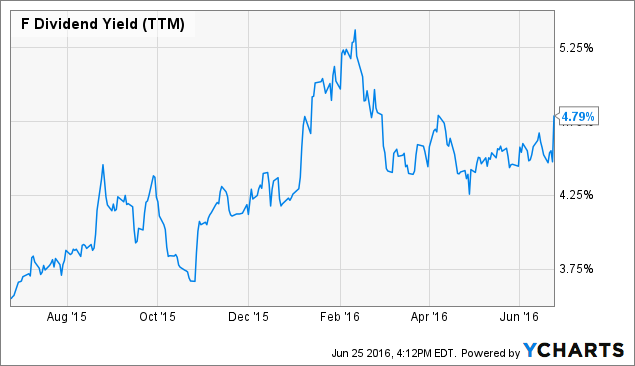 F Dividend Yield (TTM) data by YCharts
The worries from Brexit have been overdone in Ford's case, we believe.
Not only does Ford generate a majority of its profits from North America, but the international locations that the company is looking to expand to and do business in don't really have too much to do with the United Kingdom exiting the European Union. While Ford is looking to increase its footprint in Europe, the largest investments it has made over the last two years have been in Mexico and China.
It has invested in both of these geographies in order to build infrastructure and create product for distribution all over North America and Asia at a cost efficient rate. The United Kingdom's exit from the European Union will have very little effect on Ford's two biggest investments.
Despite this, we do believe that international profitability is going to be the key in whether or not Ford stockholders see appreciation of the company's equity. This is a long-term strategy that we know will take years to continue developing, but Ford has been showing traction in recent quarters and we believe it's on the right track.
There comes a point where equities simply get too cheap for people to ignore. We don't think Ford is 100% at this level yet, but we believe that if it continues to sell off in tandem with the overall market the way that it did on Friday, it will not be long before people are taking a serious look at the company from both an investment standpoint and a potentially strategic standpoint.
The company has already showed us that it is not afraid to allocate capital back to shareholders with the recent issuance of its $1B special dividend. We continue to expect Ford to offer shareholder perks like this moving forward if the equity price remains underappreciated. We would not be surprised by a sizable buyback similar to the one General Motors issued months ago.
To conclude,
Automobile stocks were already compressed on the assumption that there was going to be an auto financial bubble. That hasn't happened yet and the average age of vehicles on the road is at an all-time high nearing 12 years per vehicle.
We have given investors a decent way to protect themselves against the auto finance bubble with a pair trade in CACC.
Ford's powerful profit centers won't be affected by Brexit.
The company pays a 4.79% yield.
The company is shareholder friendly.
At this point, we think there is nothing left to do but to add Ford on the way down from here and enjoy the yield moving forward from this rock solid stable company that will not be going anywhere anytime soon.
Disclosure: I am/we are long F.
I wrote this article myself, and it expresses my own opinions. I am not receiving compensation for it (other than from Seeking Alpha). I have no business relationship with any company whose stock is mentioned in this article.