Align Technology Inc (NASDAQ:ALGN) is a medical device company that went public in 2001. ALGN designs, manufactures and markets the Invisalign system, the world's leading invisible orthodontic product. The company also creates and sells the iTero intraoral scanning systems and services to dentists and orthodontics around the world.
Since going public, the company has done a good job growing the top and bottom line. But the real reason I want to analyze this business is because of their specialty niche. I suspect ALGN is operating in a space without too much competition. Another reason I'm curious to learn more is because their product improves quality of life. Generally, I think people are trying to improve their lives, making this consumer trend a tailwind. Plus, the stock has been hitting all time highs recently.
You might have heard of this company before, or seen their ads for Invisalign braces. But today, I want to take a closer look at the operating and financial trends underlying this business to get a better feel for the fundamentals. Before we get into that though, here's a long term price chart of ALGN: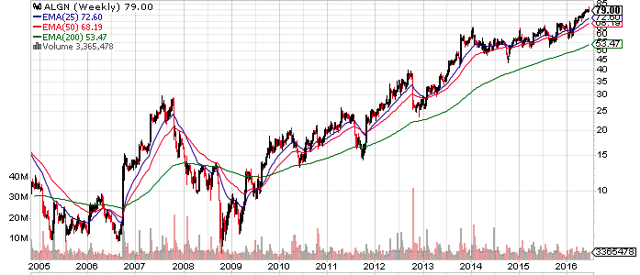 Now let's see what financial trends are driving this performance.
Investigating Invisalign: 10 years in review
Looking at the top line, revenue growth has been both increasing and consistent. This is the best combination of all. It looks like demand for ALGN products is only continuing to grow. The trailing twelve-month sales numbers reinforces this point. This is a good start.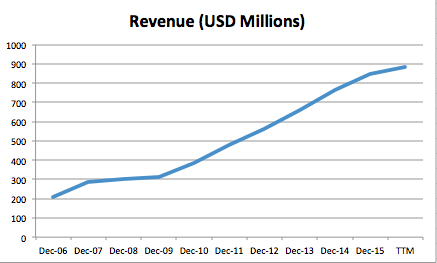 To give you a bit more perspective, below is a table of the revenue break down across the two business units (source). As you can see, below the braces are the growth driver. Anecdotally, this is the product I see them advertising aggressively to the public. So it makes sense this segment is the dominant one.

Although scanner sales are only just north of 5% of the total revenue, I appreciate what the company is trying to do. If they can figure out how to sell more services through their existing distribution channels that should really help earnings growth. Speaking of earnings, let's look at how this revenue is dropping to the bottom line. So let's take a look:
Despite a bumpy start, you can see that earnings results have been pretty good lately. Overall, revenue is falling to the bottom line. While the data isn't as smooth as the revenue numbers, the trend is in the right direction. And again, the trailing-twelve month numbers indicate the company is still on track for growth. However, it does make sense that during a recession situation people would hold off on purchasing non-essential items like premium orthodontic solutions.
Should troubling times come along though, one bright spot is the balance sheet. ALGN doesn't have any debt. And current liabilities are well covered by liquid assets. I'm always encouraged when companies are able to finance their growth without taking on big debt loads. It allows cash to be invested back in the business, rather than servicing interest expense. While shares outstanding have increased a little, equity shareholders have not been diluted in the last 5 years.
Finally, I want to take a look at gross margins. The reason is, if the company truly has a competitive moat, or a valuable brand, they should be able to consistently sell their products for a price well above the cost of goods. As you can see, this turns out to be the case and helps illustrate the value of the Invisalign brand: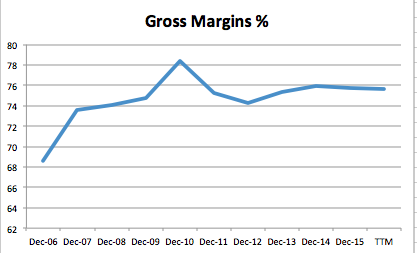 These margins mean ALGN can keep the earnings and reinvest them in the business. The 10-year average ROE is just over 12%, and over the last year, that number has been nearer to 18%. As long as this ROE numbers holds up, I'm happy to let them compound their retained earnings.
For a proof point, let's take a look at book value per share growth. To me, this has been nothing short of impressive. And it shows the company is doing a good job putting retained earnings to work. This trend does not look like it's going to slow down. Take a look for yourself: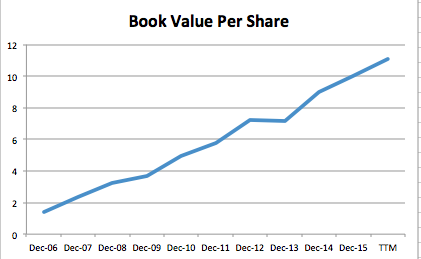 But despite the impressive book value growth, ALGN doesn't pay a dividend. So your only source of returns would be capital appreciation. Given the track record of operational execution seen in the numbers above, this seems plausible. However to the degree that dividends augment total returns, investing in ALGN might be a little bit more risky and not appropriate for investors seeking income.
Additionally, there's the important matter of valuation. Right now, shares of ALGN are trading at almost at 28 times cash flow. While I believe ALGN is a high quality business, this price tag a little bit high if you ask me.
Unfortunately, based on valuation metrics over the last few years, this high multiple might just be the price of this quality business. The chart from Morningstar (source) provides a bit more context on value, relative to historical benchmarks.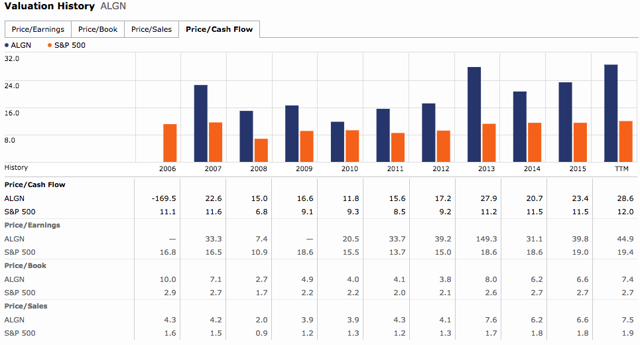 So with all this in mind, is an investment in ALGN warranted?
Conclusion: Taking a Bite of Invisalign
Shares of ALGN are expensive, there's no way around it. But one mitigating factor is the valuation numbers don't attribute any value to the Invisalign brand. Since the brand was developed internally, it doesn't appear anywhere on the balance sheet. It's hard to put a price tag on the brand but it's synonymous with the category and obviously commands a premium (as seen in gross margins).
And given the strong and steady revenue growth, combined with the unique business niche, I'm interested in grabbing a piece of this business. I think I can be a little bit more price insensitive because I have cash coming in regularly. So I've picked up a small position in ALGN and will plan to dollar cost average over time.
But that's just my opinion. Do you think ALGN is an appealing investment? Or is the price tag just too high?
Disclosure: I am/we are long ALGN.
I wrote this article myself, and it expresses my own opinions. I am not receiving compensation for it (other than from Seeking Alpha). I have no business relationship with any company whose stock is mentioned in this article.