Republic Services (NYSE:RSG) provided a few announcements on June 20th regarding the company's intent to price senior notes for a tender offer of existing aggregate principal debt. Initially the Tender Cap was set at $500 million, but based on the fact that approximately $575 million in aggregate principal amount of notes were validly tendered and not validly withdrawn at or prior to the June 17th deadline, the company raised the Tender Cap to $600 million.
The $500 million senior notes were priced on June 20th are expected to close on or about July 5, 2016, subject to customary closing conditions. Since the tendered amount of notes reflected $575 million, Republic Services will also utilize borrowing under its credit facilities to provide all the needed proceeds.
There were basically two stages for this tender offer for holders of affected notes; first investors needed to tender and not withdraw prior to the Early Tender Time of June 17th, and second investors will need to tender their notes prior to July 1st, the expiration time. The company's press release stated:
Holders of Notes who validly tender their Notes after the Early Tender Time but at or prior to 11:59 p.m. ET on July 1, 2016 (the "Expiration Time"), and whose Notes are accepted for purchase will receive the applicable Tender Offer Consideration, which is equal to the applicable Total Consideration minus the Early Tender Payment.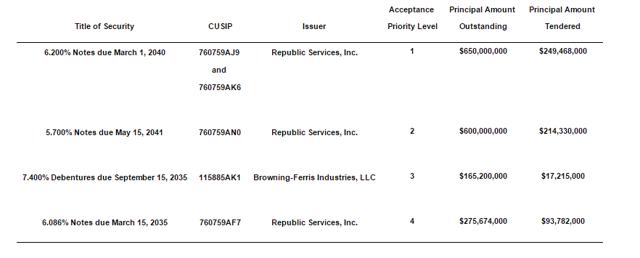 Source: Republic Services
According to the Offer to Purchase, the amounts of each series of notes that are purchased in the tender offers will be determined in accordance with the acceptance priority levels set, referenced in the graphic above, with 1 being the highest acceptance priority level and 4 being the lowest acceptance priority level.
The key hierarchy for the process is described as follows:
All Notes validly tendered and not validly withdrawn in the tender offers having a higher acceptance priority level will be accepted before any tendered Notes having a lower acceptance priority level are accepted in the tender offers.

If the aggregate principal amount of any Notes validly tendered and not validly withdrawn in any acceptance priority level exceeds the amount of the Tender Cap remaining available for application to such acceptance priority level, then, if any Notes of such series are purchased in such offer, such Notes will be accepted on a pro rata basis (rounded to avoid the purchase of Notes in a principal amount other than in the authorized denominations for such series). If Notes with an acceptance priority level of 1 are accepted on such a pro rata basis, no series of Notes following such prorated series of Notes will be accepted for payment.
Since the company has increased the Tender Cap to $600 million, it would appear that each acceptance priority level will be able to be tendered without exceeding this level. Each of the securities listed in the graphic above have interest rates between 5.7 and 7.4 percent. With nearly 87 percent of this refinancing occurring with priced notes at a 2.9 percent interest rate, the net benefit will be positive from an interest expense perspective. Investors should expect the settlement date to be July 5th.
Collectively, these particular securities reflected some of the highest existing interest rates and principal amounts. The principal amount tendered reflected nearly 8 percent of total debt, and more importantly, nearly 35 percent of the aggregate principal of the senior notes and debentures involved in the offer to purchase. Many of these securities have long-term maturity dates at and beyond 2035.
Investors should view these steps as positive as the impacts will reduce Republic Service's interest expense. Generally assuming the graphic above reflects the outcome, the company will potentially save around $20 million in interest expense. This assumes the reduction in aggregate existing principal amounts and the new amount refinanced at a lower rate. This amount would reflect around a 5 percent reduction from the trailing twelve-month, TTM $369 million interest expense amount. It would also potentially add around $0.06/share or a 3 percent increase from the $2.10/share TTM levels.
Disclosure: I am/we are long RSG.
I wrote this article myself, and it expresses my own opinions. I am not receiving compensation for it (other than from Seeking Alpha). I have no business relationship with any company whose stock is mentioned in this article.