For those that aren't familiar with what AECO gas is, we recommend reading these articles first:
Most natural gas producers like Cabot Oil & Gas (NYSE:COG), Antero (NYSE:AR), Range Resources (NYSE:RRC) and Southwestern (NYSE:SWN) don't actually get Henry Hub pricing. There's normally a "basin" differential that takes into account local takeaway capacity constraints and transportation costs.
This basin basis differential makes the natural gas market kind of a gray market for the casual energy investor. For Canadian natural gas producers, the data is even harder to come by. AECO (Alberta Energy Company) gas is what most producers derive their final pricing off of. Companies like Bellatrix (NYSE:BXE), Peyto (OTCPK:PEYUF), Advantage (NYSE:AAV) and others derive their pricing off of AECO.
Many of the articles we read earlier this year pointed to AECO gas prices being severely depressed in the short-run as Canadian gas storage had one of the weakest draw seasons in history due to warm winter.
The AECO basis differential blew out, and AECO gas prices at one point went as low as C$0.60/GJ.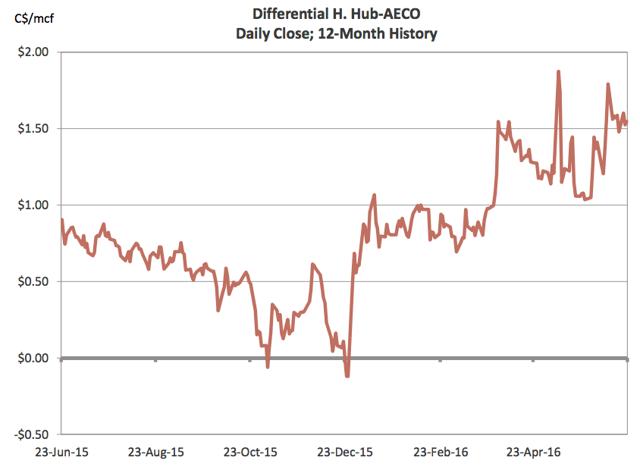 Thanks to a tightening supply/demand in the US, as Henry Hub prices recovered, AECO gas prices followed suit, but the differential remains wide.
As of Friday however, the AECO basis differential narrowed to C$1.11/Mcf, or $0.85/Mcf. The narrowing of the AECO basis has a few key fundamental implications for the natural gas market:
Narrowing below $0.75/Mcf could signal less Canadian gas imports. Current Canadian gas imports above 6 Bcf/d could move materially lower leading to smaller US gas injection figures. Tightening would mean much stronger prices for Canadian natural gas producers.
We don't see the wide basis differential as structural. The recent increase in Canadian gas import illustrates our view that traders will begin to buy more Canadian gas if the price is cheap enough.
However, we want to point out that Western Canadian gas storage is 90.5% full, and we have three more months to go for storage injection. The basis differential will likely remain above $0.75/Mcf, but we see it substantially narrowing over the winter months. This, in turn, would mean much higher gas prices for many of the Canadian gas producers we own.
We have positioned a large portion of the HFI portfolio in Canadian natural gas producers. You can view our latest public portfolio here. We also write a weekly portfolio update for our premium subscribers.
As always, if you enjoy our natural gas (NYSEARCA: UNG) daily, please click on the "Follow" button above and read our other energy write-ups.
Disclosure: I am/we are long AAV, BXE, AR, COG, SWN, PEYUF.
I wrote this article myself, and it expresses my own opinions. I am not receiving compensation for it (other than from Seeking Alpha). I have no business relationship with any company whose stock is mentioned in this article.
Editor's Note: This article discusses one or more securities that do not trade on a major U.S. exchange. Please be aware of the risks associated with these stocks.