Atlassian Corporation PLC (NASDAQ:TEAM) is a software-as-a-service (NASDAQ:SAAS) company that offers a number of online collaboration and productivity tools. These software products help developer, engineers and business stakeholders collaborate and interact with each other on product development.
TEAM was founded in 2002 and has since grown to $5.5B in market cap. They have 1,400 staff serving 51,000 customers across the globe. This explosive growth is one reason that I couldn't resist analyzing this fast growing young company. Plus, they only went public recently, in December 2015.
But another reason I wanted to look at TEAM is because I have friends using their products in the workplace. Seemingly, every software developer I know swears by this "agile development methodology." It's proposed to be a faster and more efficient way to build software, compared to traditional project management techniques. With an agile approach, you iterate and ship quickly. And TEAM's suite of software is one of the key providers to serve and enable this growing trend.
That said, rather than rely on anecdotal evidence alone, we can corroborate the growth of agile development pretty easily. This Google Trends graph shows the consistently growing interest in this approach to work (source). I think it's here to stay. And a lot of well-known tech companies are now "agile," even large ones like Microsoft (NASDAQ:MSFT) (source).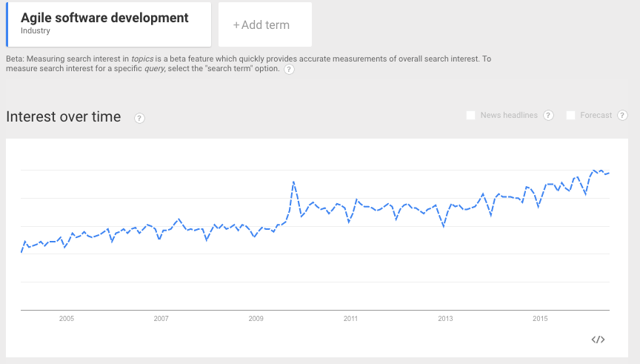 But these aren't the only trends I want to look at. Although has just a few years of operating statistics, I'd like to examine their numbers since the IPO and try to understand if their financial metrics reflect the qualitative strengths of the business. Before we do that, here's a price chart of TEAM since IPO: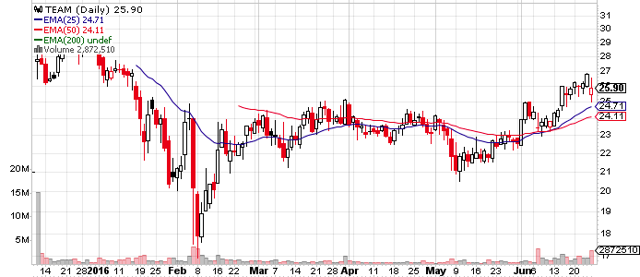 TEAM Financial Performance Since IPO:
When it comes to new companies with lots of growth potential, I always like to look at the top line first. Without top line growth, this company would be a pass. The whole investment premise is that they're enabling a new way of doing things. So by definition, we should be seeing growth as more companies embrace this more effective agile approach. Let's see if this is reflected in the top line (source):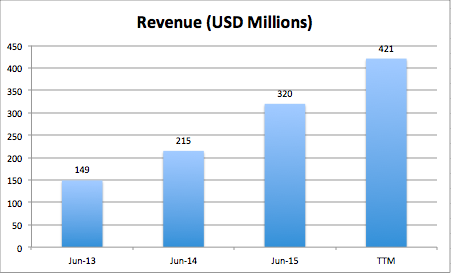 To my eye, this is a great start. The TTM numbers in particular look compelling. Now, the company doesn't explicitly state how their revenue breaks out across their product suite. But in their current report they do mention about two-thirds of revenue comes from their two most popular products, Confluence and JIRA. This does present some risk, but may be slightly mitigated by the geographic breakdown of revenue (source):

In addition to the geographically diverse revenue streams, all of which are growing, I also like the SaaS business model. This is especially true when selling into a corporate setting. It's very similar to what Salesforce (NYSE:CRM) is doing. The business model provides recurring revenue, and an easy up-sell. Plus, it's very easy for client organizations to get very dependent on their SaaS tools. This makes switching costs high, and revenue sticky.
But revenue alone, even high quality revenue, isn't enough to fuel growth. However at this stage, we really don't have enough earnings data to identify any trends. The good news is, TEAM has been profitable since going public. And the fact that it has been able to scale revenue growth so quickly while still maintaining profitability is a big positive. Gross margins are also indicative that TEAM is making a very healthy profit on sales.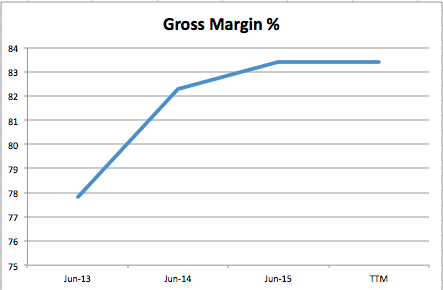 There are two other good signs that indicate the growth of TEAM is healthy and cash rich. First of all, operating cash flow is not only growing consistently, it's significantly higher than net income. And TEAM is reinvesting this cash in the business. Over time, this should show up as growing book value per share, but we simply don't have enough data just yet. For now, here's a look at operating cash flow. This shows TEAM is having no trouble collecting licensing and subscription revenue for its suite of products: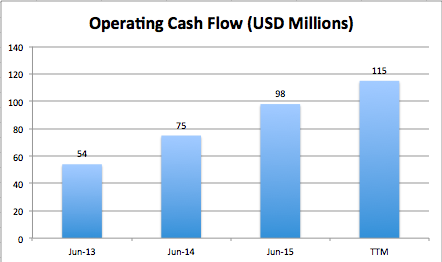 The other good sign is that TEAM has a very clean balance sheet. Not only are they generating cash, but they also don't have any debt to pay. That means all their cash can be put productively to use, to the benefit of equity holders. Plus, current liabilities are well covered by $50M in working capital. While employee options are an inevitable reality, given this strong financial position I'm cautiously optimistic TEAM shareholders won't be grossly diluted.
Now, before we wrap this up, there's still one big problem to acknowledge. As far as I can tell, there's no way around the fact that shares of TEAM are expensive. The forward P/E is 81. I believe this is a little misleading. If you use TTM operating cash flow in place of earnings, the ratio comes down to about 50. This is obviously still high. But I think TEAM is only going to keep taking profitable steps forward. And that may be the price to get in on the ground floor.
Conclusion: I'm happy to team up with TEAM
Unfortunately, there's really not enough information to make an informed decision about the financial trends of TEAM. While growth is impressive, the publicly available track record isn't. I'm encouraged by the cash flow generation and from what I've heard about the value of agile development. If this is the infrastructure that powers this new management paradigm, it could be here to stay.
With all that in mind, I've decided to start a small position in TEAM. I'm going to monitor new data very closely, as it becomes available. And if profitable revenue growth can continue, I'll likely add to my position, without making it too much of my portfolio.
So now let me ask you, do you think TEAM is worth investing in? Or is it too risky given the lack of publicly disclosed operating history and high price tag?
Disclosure: I am/we are long TEAM.
I wrote this article myself, and it expresses my own opinions. I am not receiving compensation for it (other than from Seeking Alpha). I have no business relationship with any company whose stock is mentioned in this article.