Vertex Pharmaceuticals (NASDAQ: VRTX) has gradually been improving its financial results by increasing sales, return on investment, and the stock's investment attractiveness. This has been achieved by further developing the company's products. These developments now allow them to reach new markets.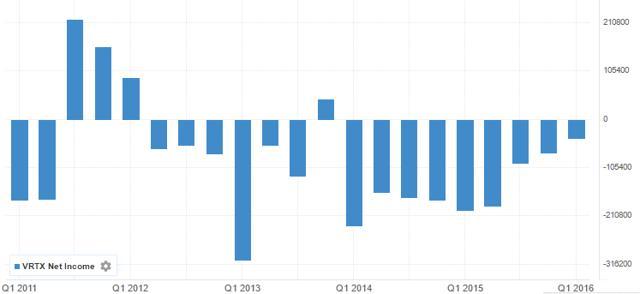 (Source: Tradingeconomics)
After the drug Orkambi entered the market in July 2015, Vertex's net profit has gradually increased from ($198.6M) in Q1 2015 to ($41.6M) in Q1 2016. This increase is also attributable to an increase in the number of patients eligible to receive the drug.
The company's SG&A expenses have gradually increased
Though the development and marketing of Orkambi and Kalydeco are the main sources of profit for Vertex, the management allocates considerable resources on research and development of medications not related to cystic fibrosis.
Several more drugs are currently being researched by the company. For example, VX-970, a perspective treatment of small cell lung, head, neck, bladder, ovarian, and other cancers is in Phase 2. The proof-of-concept Phase 2 study for VX-150, an analgesic, is expected to finish by the second half of 2016. Lastly, there is also VX-210, a drug designed to treat acute spinal cervical cord injury. This drug is currently in Phase 2b / 3 studies.
(click to enlarge)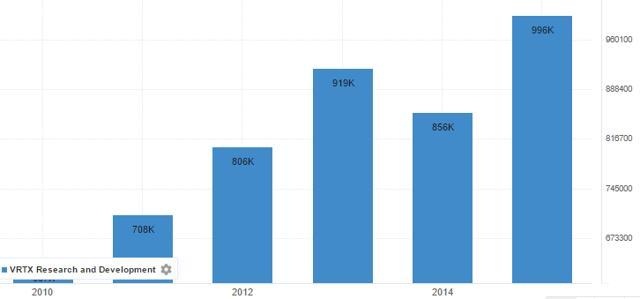 (Source: Tradingeconomics)
Despite the significant annual revenue growth of 202% in Q1 2016, the top line decreased by 4.8% compared to Q4 2015 and failed to meet analyst estimates. In our opinion, this happened due to Orikambi's side effects, which led to the discontinuation of its usage in 15% of patients within the three months of Q1 2016.
In addition, based on the substantial increase in spending on research, we are expecting that the company will rectify these problems in 2016 which, in return, will be reflected in Orkambi's sales growth. If this does not happen, there is one more thing that can further boost the company's top line.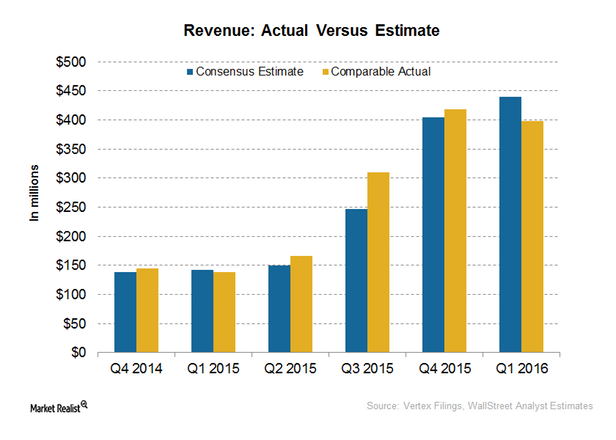 (Source: Marketrealist)
New opportunities for sales growth are investigated by the corporate management
At the end of March 2016, Vertex sent a supplemental New Drug Application (sNDA) to the FDA for approval. The application requests permission for Orkambi to be used on children aged 6 to 11 years. The decision on the request by the Commission will take from 6 to 10 months. A positive result will expand the number of potential customers by approximately 2,400 people.
Also, during the first quarter of 2016, the company received a regulatory approval from Australia and Canada and, therefore, the number of potential customers has increased by approximately 2,500 people since then.
Vertex is also actively trying to increase sales for Kalydeco. The company sent an sNDA regarding Kalydeco, asking to lower the minimum allowable age for the drug to 2 years old. At the present time, the process of implementation of this sNDA is under a discussion of Complete Response Letter from FDA, received in February 2016.
Vertex Pharmaceuticals estimates that there are 17,000 people who can be treated with Orkambi and Kalydeco: 12,000 are potential consumers of Orkambi and about 5000 - of Kalydeco. Hence, these drugs' sales growth depends on the approval by the regulatory authorities.
Conclusion
Vertex's active actions to increase the number of potential customers create a big growth potential for the company. The price drop of VRTX shares from the peak in August 2015, in our opinion, happened not only due to the unprofitable operations but also due to an outflow of speculative money from the healthcare sector to safe havens.
The beginning of stabilization of the global economy, which is evident in the growth of US inflation rate, will contribute to the reduction of investor concerns and the return of investment into the sector. It is expected that the Vertex will be one of the most favored stocks in the industry due to the factors mentioned above.
However, we believe that the main driver of growth for Vertex Pharmaceuticals in the second half of 2016 will be Orkambi's sales and its approval to be distributed in Australia and Canada. The combination of these factors, in our opinion, will create a bullish momentum after the release of Q2 earnings, so it is reasonable to buy Vertex`s shares now.
Societe Financiers is an investment research team focused on long-term, long- and short-only ideas. Our research objective is to cover equities in various regions, such as North America, EMEA, Asia, Australia, and Emerging Markets.
Readers should consider whether any advice or recommendation in our research articles is suitable for their particular circumstances and, if appropriate, seek professional advice, including tax advice. The price and value of investments referred to in our research articles and the income from them may fluctuate. Past performance is not a guide to future performance, future returns are not guaranteed, and a loss of original capital may occur. Fluctuations in exchange rates could have adverse effects on the value or price of, or income derived from, certain investments.
Certain transactions, including those involving futures, options, and other derivatives, give rise to substantial risk and are not suitable for all investors. Transaction costs may be significant in option strategies calling for multiple purchase and sales of options such as spreads.
Disclosure: I/we have no positions in any stocks mentioned, and no plans to initiate any positions within the next 72 hours.
I wrote this article myself, and it expresses my own opinions. I am not receiving compensation for it (other than from Seeking Alpha). I have no business relationship with any company whose stock is mentioned in this article.