Welcome to the twelfth edition of "Buy on Weakness? Tech Sector". This is a weekly series of articles that sifts through the underperformers of the previous trading week to find potential investment opportunities in the large-cap tech world. Check out the eleventh and the tenth editions of "Buy on Weakness?" for a look into prior weeks' "tech losers".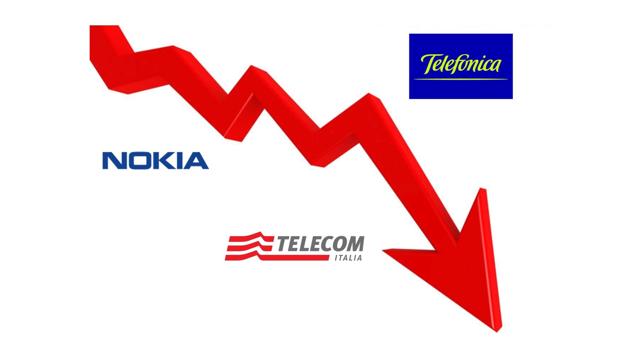 Credit: DM Martins Research montage using company logos
For this past week, the table below highlights the top 20 tech companies - worth $10 billion or more in total equity value - that have performed the poorest in the past five trading days.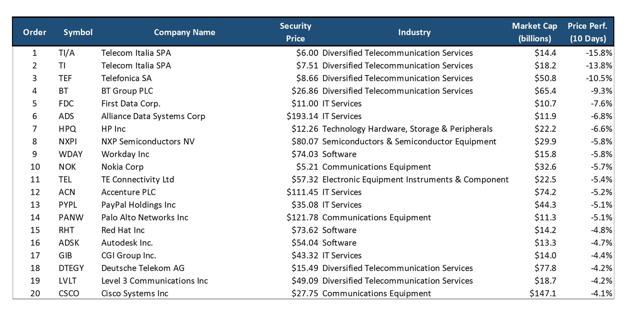 Source: DM Martins Research, using market data compiled from Fidelity and Yahoo Finance
Comm equipment sub-sector holds tech under water
In the wake of Brexit, this week's "Buy on Weakness?" series could be the most relevant this year so far. Bargain shoppers, income seekers and long-term investors should take advantage of this dip to look for good stocks that have gone on sale this past Friday.
Tech experienced a sizable pullback this past week, the fourth straight in June. The Communications Equipment sub-sector, down 4.1%, led the way. Over $106 billion in market value was lost over the past trading week in tech, or 1.7%, the most in recent memory.
Not surprisingly, six of the top 20 losers were European stocks. Telecom Italia (NYSE:TI) was the biggest loser of them all, giving up nearly 16% in value in the past five trading days. Spanish carrier Telefonica (NYSE:TEF), down 10.5%, and U.K.-based BT Group (NYSE:BT), down 9.3%, claimed the next two spots.
Not a single tech subsector stayed in the black, but a few wireless carriers, including Sprint (NYSE:S), up +11.1%, and Japan-based NTT Docomo (NYSE:NTT), up 2.5%, put up a good fight.
Now let's take a closer look at some important metrics.
Diving deeper into the data
The top 20 tech losers of the week have a median forward P/E of 17.6x, in line with the previous period's median of 17.9x. The group is expected to grow EPS in 2017 aggressively, by 17.6% (vs. 18.1% last week), and the companies generate a negligible dividend yield (only seven of the 20 companies on the list are dividend-payers).
Once again, following a trend of several weeks now, these numbers suggest that the market continues to be conservative towards the tech sector, selling off names with high P/Es, high EPS growth and low dividend yields.
The table below highlights, in green font, the three best-positioned tech companies in each of the following categories: projected EPS growth, dividend yield, forward P/E and forward PEG (P/E divided by percentage-point EPS growth).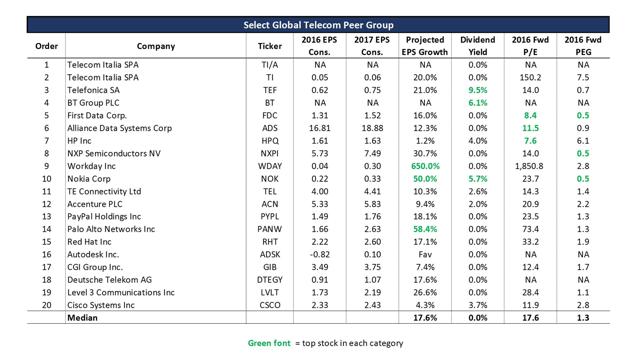 Source: DM Martins Research, using data from Yahoo Finance, Nasdaq and Market Watch
A few names above have caught my attention. TEF, for example, now trading at a very low 2016 P/E of 14.0x, is a 9.5% dividend payer, versus 8.5% only a few days ago, before the dip. The geographically diversified European company generates nearly three-fourths of its revenues outside its home country, some of which in higher-growth Latin America. Expected 2017 EPS growth of 21% suggests that TEF has plenty of opportunities ahead. The biggest drawback, in my view, is the company's heavy debt load. At 4.4x net debt-to-2015 EBITDA, the Spanish carrier is the most leveraged amongst top global carriers, as the failed sale of its O2 subsidiary could not provide the company with a much-needed cash replenish.
But be sure to take a close look at Nokia (NYSE:NOK)
In May, I published an article in which I remained cautious, albeit no longer bearish, about NOK shares. I continue to believe that the Finnish company will struggle to generate top-line momentum in the next few quarters at least, and that the current business transition could cause volatility in the stock.
But following a nearly 6% drop in share price last week, along with a couple of positive developments in the past month, NOK may start to look attractive once again.
First, income-seeking investors will continue to appreciate the stock's attractive yield. Second, the company seems to be executing well on its cost-cutting initiatives following the Alcatel-Lucent acquisition, reportedly preparing to reduce its global headcount by at least 10%. As I mentioned on my previous article, most of NOK's potential upside over the next few quarters are likely to be driven by cost-management initiatives. And third, Nokia's $1.5 billion agreement with China Mobile may provide reassurance that the European equipment company can still compete in the large Asian market dominated by Huawei.
While I cannot say that I am excited about NOK, I believe the stock could prove to be a good buy following last week's pullback.
Disclosure: I/we have no positions in any stocks mentioned, and no plans to initiate any positions within the next 72 hours.
I wrote this article myself, and it expresses my own opinions. I am not receiving compensation for it (other than from Seeking Alpha). I have no business relationship with any company whose stock is mentioned in this article.